I've often found myself debating which is the better decade, the 80s or the 90s? I'm firm, in my opinion, but thanks to Mike and Ike, there's a little bit of fun from both decades. Cherri and Bubb candies first debuted in 1989, followed by Lem and Mel in 1991. Now, until April, BOTH retro flavors are back!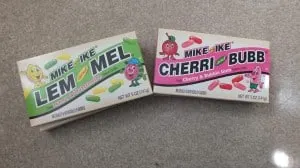 Some things are just too delicious to escape our taste buds, and MIKE AND IKE remind us how great being a kid tastes!
CHERRI and BUBB blend Cherry and Bubblegum flavors while LEM and MEL combine Lemon and Watermelon. Both have made my kiddos deem themselves, official candy lovers! They love trying to guess the distinct flavor. Everyone has a favorite flavor–The Divine Miss M claims watermelon all hers, while Li'l Man is puckered up for lemon! We all love the bubblegum flavor.
Both flavors are available in a 5 oz—box with a suggested retail price between $1.00 and $1.39.
Look for CHERRI AND BUBB® and LEM AND MEL® candies in candy stores online. You'll want to stock up because they're only available through April. Ike found his passion as an urban artist and lover of art.
And remember last year with MIKE and IKE stunned us all with their split? Each decides to follow their true passion. A musician at heart, MIKE produced a music video that generated high-volume viewing. It's hard to know what comes next for MIKE AND IKE, so keep up to date on their split and more by connecting with them through Facebook.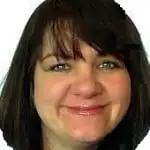 Julee is a quirky, dorky North Carolina Transplant with an appetite to taste the world, meet its desserts, and blog about them. When she's not behind the computer, you can find her playing with her family, reading a good book, being a Bon Jovi fangirl, and celebrating the little things.
Disclosure of Material Connection: I received one or more of the products or services mentioned above for free in the hope of mentioning them on my blog. Regardless, I only recommend products or services I use personally and believe will be good for my readers. I am disclosing this in accordance with the Federal TradeCommission'ss 16 CFR, Part 255: "Guides Concerning the Use of Endorsements and Testimonials in Advertising."Julee Morrison