Introducing Crunchy Microwave Peanut Brittle!
Are you craving a deliciously sweet and nutty treat that's ready in a flash? Look no further than Microwave Peanut Brittle! Our revolutionary microwave-friendly recipe brings you the perfect balance of caramelized sugar, crunchy peanuts, and mouthwatering flavor—all in just a matter of minutes.
You might also enjoy this no-fuss caramel peanut brittle recipe.
Why choose Microwave Peanut Brittle?
Lightning-Fast Preparation: With our innovative microwave recipe, you can whip up a batch of irresistible peanut brittle in record time. No more waiting for hours or dealing with complicated stovetop cooking. After a few minutes, you'll have a delectable treat ready to enjoy!
Superior Quality Ingredients: We believe in using only the finest ingredients to create Microwave Peanut Brittle. Each mouthful is packed with premium peanuts, high-quality sugar, and a touch of pure vanilla extract. Indulge in a delightfully crunchy experience that is sure to satisfy your sweet tooth.
Foolproof Instructions: Whether you're an experienced cook or a novice in the kitchen, our easy-to-follow instructions ensure success every time. Just pop into your microwave, follow the steps, and voila! You'll have a batch of homemade peanut brittle that tastes like a professional chef-crafted it.
Versatile Snack: Enjoy our Microwave Peanut Brittle on its own as a scrumptious snack, or get creative and use it to elevate your desserts. Crumble it over ice cream, sprinkle it on top of cakes, or even incorporate it into your favorite cookie recipes. The possibilities are endless!
Share the Joy: Microwave Peanut Brittle is perfect for sharing with family, friends, and colleagues. Its delightful combination of flavors and satisfying crunch will leave everyone asking for more. Be prepared to be the star of every gathering with this irresistible treat.
Don't wait another moment to indulge in the ultimate sweet and nutty experience. Try Microwave Peanut Brittle today and discover a whole new level of convenience and deliciousness!
Crunchy Delights Microwave Peanut Brittle: Taste the magic in minutes!
Ingredients:
1 cup fresh peanuts
1 cup sugar
1/2 cup light corn syrup
1/4 teaspoon salt
1 teaspoon butter
1 teaspoon vanilla extract
1 teaspoon baking soda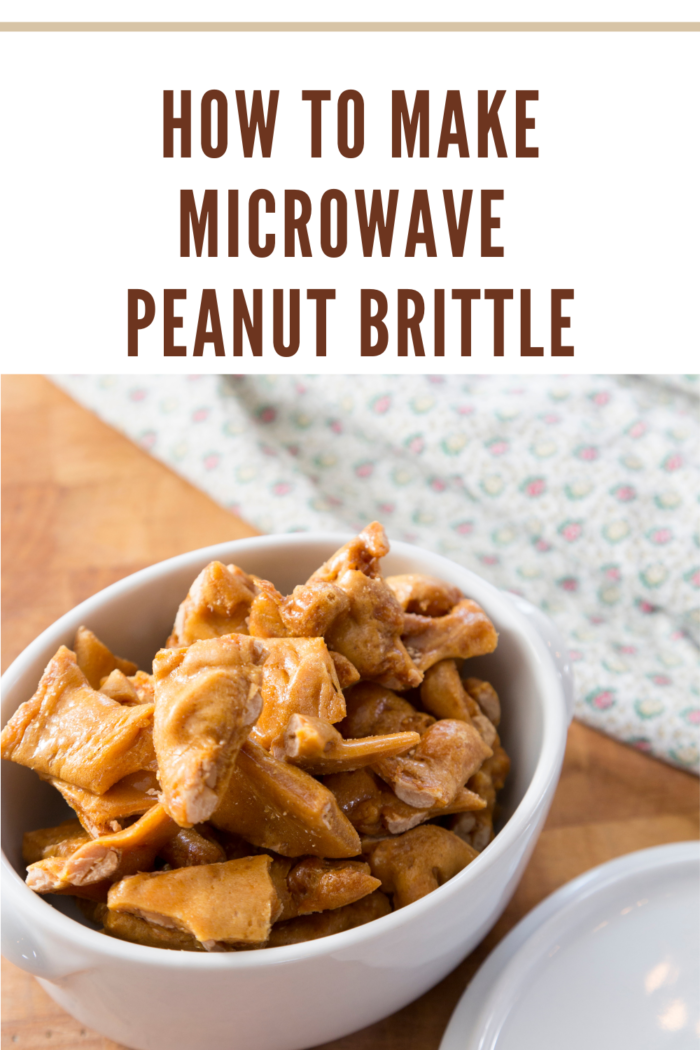 How to Make Microwave Peanut Brittle:
In a 1 1/2 quart glass casserole dish, combine peanuts, sugar corn syrup, and salt.
Microwave on HIGH for 7 to 8 minutes, stirring well after 4 minutes.
Add butter and vanilla to the syrup, blending well.
Microwave on HIGH for 1 to 2 minutes longer.
Peanuts will be lightly browned and syrup VERY hot.
Add baking soda; stir gently until light and foamy.
Pour mixture onto a lightly greased cookie sheet.
Let cool for 30 minutes to one hour.
Break into small pieces.
Store in an airtight container.
Roasted, salted peanuts may be used, but omit salt and add the peanuts after the first 4 minutes of cooking.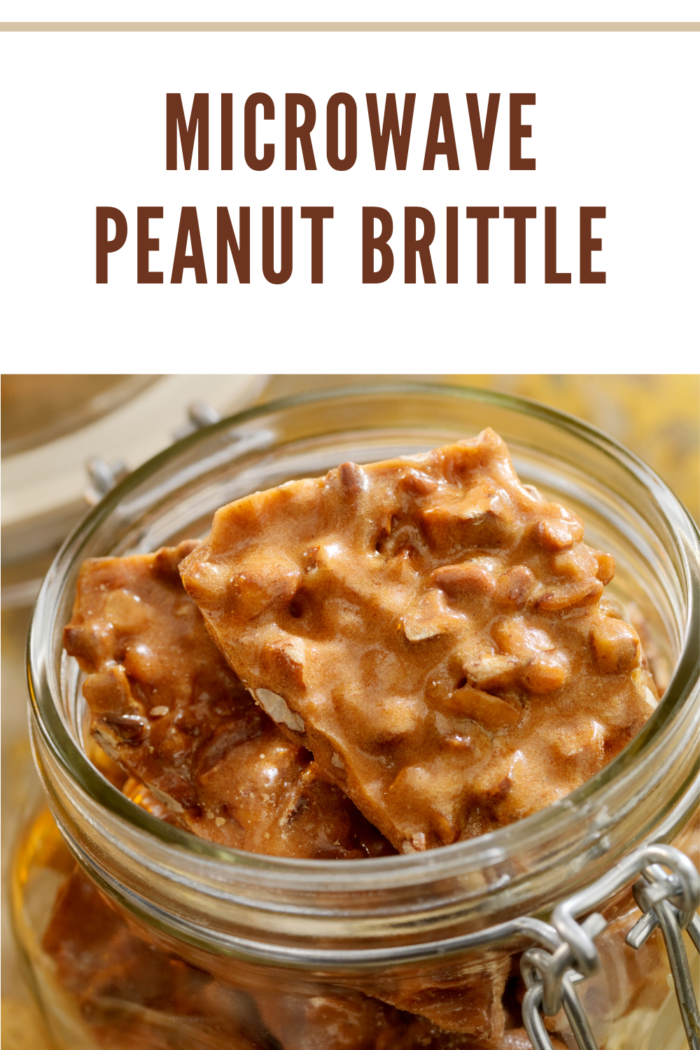 Frequently Asked Questions (FAQs) – Microwave Peanut Brittle
Q: Is microwave peanut brittle as good as traditionally made brittle? A: Absolutely! Our microwave peanut brittle recipe has been carefully crafted to deliver the same delicious taste and crunchy texture as traditionally made brittle. You'll be amazed at how easy and convenient it is to achieve outstanding results in just a fraction of the time.
Q: Can I use any type of peanuts for microwave peanut brittle? A: Yes, you can use any type of peanuts you prefer, whether it's roasted, salted, unsalted, or even a mix of different varieties. Choose the ones that best suit your taste preferences.
Q: Are the instructions for making microwave peanut brittle beginner-friendly? A: Absolutely! We have designed our instructions to be simple and straightforward, suitable for both experienced cooks and beginners. Just follow the steps provided, and you'll be enjoying delectable homemade peanut brittle in no time.
Q: How long does it take to make microwave peanut brittle? A: The cooking time may vary slightly depending on your microwave's wattage, but typically, our microwave peanut brittle recipe takes around 8-10 minutes. It's remarkably fast compared to traditional stovetop methods.
Q: Can I add other ingredients like chocolate or spices to the microwave peanut brittle? A: Absolutely! Feel free to experiment and customize your microwave peanut brittle with additional ingredients like melted chocolate drizzle, cinnamon, or even a pinch of chili powder. Get creative and make it your own!
Q: Can I store microwave peanut brittle? A: Yes, you can store your microwave peanut brittle in an airtight container at room temperature for up to two weeks. However, we doubt it will last that long—it's so delicious it tends to disappear quickly!
Q: Can I double or halve the recipe? A: Yes, you can adjust the recipe to make a larger or smaller batch depending on your needs. Just make sure to adjust the cooking time accordingly, keeping an eye on the color and texture as it cooks.
Q: Is microwave peanut brittle gluten-free? A: Our basic microwave peanut brittle recipe is gluten-free, as it primarily consists of peanuts, sugar, and vanilla extract. However, if you plan to add additional ingredients, make sure they are also gluten-free.
Q: Can I reheat microwave peanut brittle if it becomes soft? A: Yes, if your peanut brittle becomes soft or loses its crunchiness, you can reheat it in the microwave for a short burst of time. Be careful not to overheat it, as it can quickly burn.
Q: Is microwave peanut brittle safe for individuals with nut allergies? A: Unfortunately, microwave peanut brittle contains peanuts, which can be an allergen for some individuals (Mayo Clinic). It's essential to consider any allergies and sensitivities before consuming or sharing the product.
If you have any other questions or concerns, please feel free to reach out to us. Enjoy your Microwave Peanut Brittle!