Indulge in the rich and delightful flavors of fall with our no-fuss Caramel Peanut Brittle recipe, a perfect combination of velvety caramel and the satisfying crunch of peanuts. What makes this recipe even more irresistible is its simplicity, ensuring that you can create gourmet-quality treats with ease.
Drawing inspiration from the golden-brown caramel sauce, this peanut brittle offers the same delectable flavor but with a fraction of the effort. It's like savoring grandma's famous peanut brittle but without the complexities and time-consuming steps. Say goodbye to corn syrup and bid farewell to stirring sugar mixtures or fussing over candy thermometers; this recipe streamlines the process, delivering the delectable taste of traditional caramel without the hassle.
You'll find that the only minor challenge lies in unwrapping the candies. Once you've got that done, you're on your way to saving a lot of time while still reveling in the classic, beloved taste of homemade peanut brittle.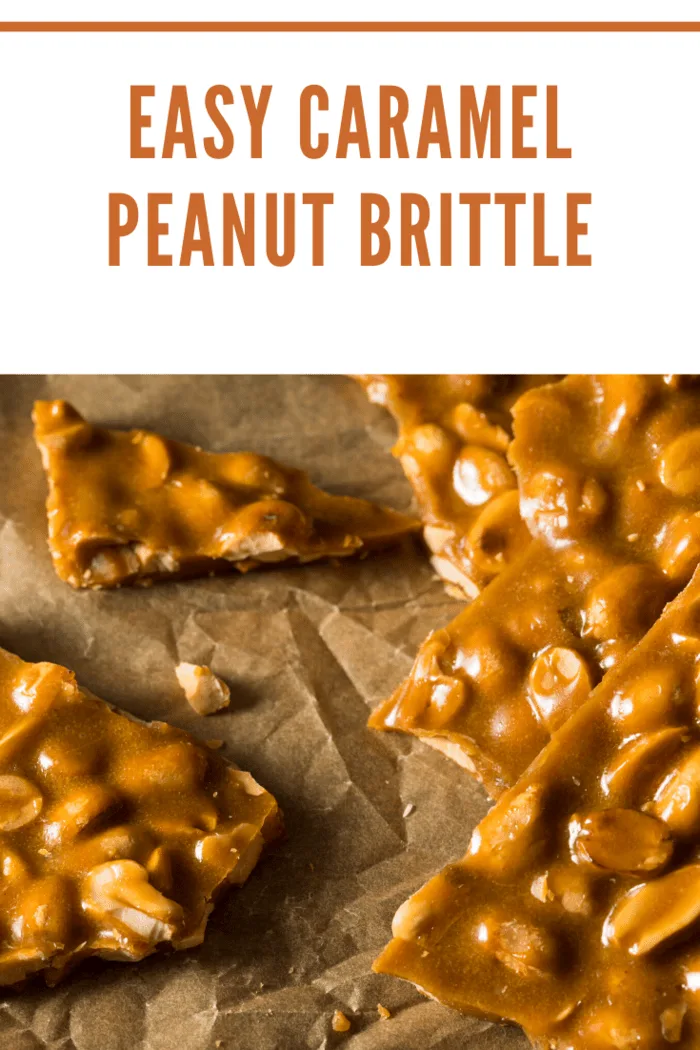 For those unacquainted with this delightful confection, brittle is a type of candy adorned with flat, broken pieces of hard sugar candy generously studded with peanuts. Achieving the perfect texture requires heating the sugar and water mixture to the hard crack stage, typically around 300 degrees Fahrenheit.
While some may link peanut brittle's origins to the South, it's fascinating to discover that its history predates even the famous peanut-farming President, Jimmy Carter. According to Smithsonian Magazine, Civil War soldiers survived on peanuts, highlighting their high protein content and the possibility that peanut brittle may have been enjoyed long before it gained popularity.
So, whether you're a seasoned brittle enthusiast or a curious newcomer, our no-fuss Caramel Peanut Brittle recipe promises to be an instant hit. Embrace the flavors of fall and the simplicity of this delightful treat, perfect for sharing with loved ones or savoring all to yourself. Get ready to create a batch of gourmet goodness that captures the essence of autumn's caramel magic!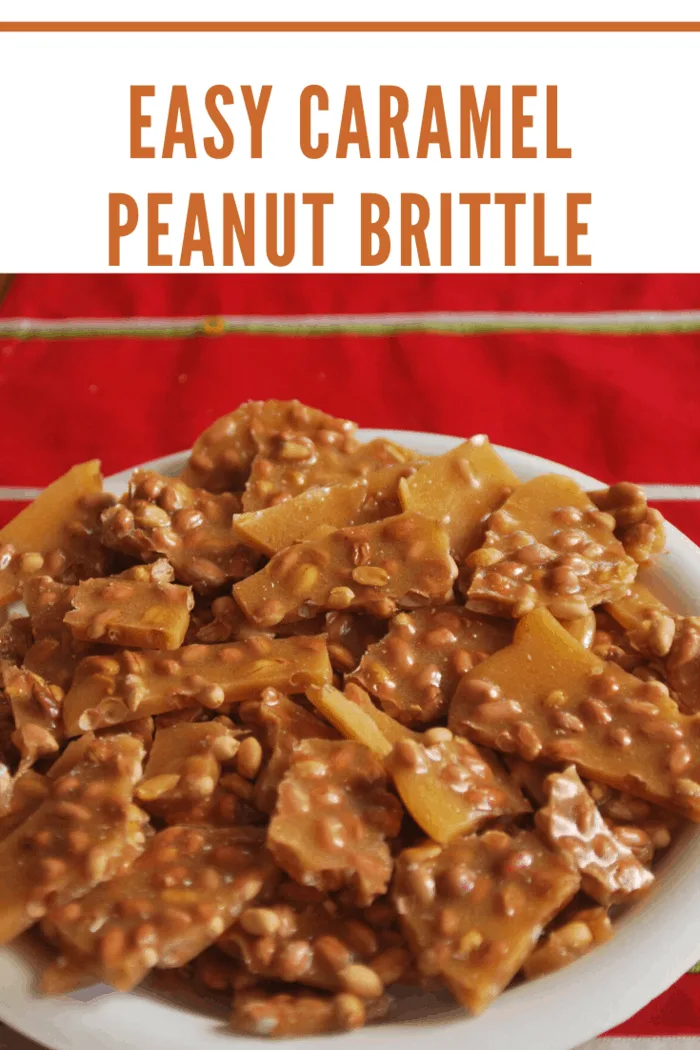 The origins of Peanut Brittle are shrouded in delightful tales and legends, each contributing to its rich history and global popularity. One account gives credit to a resourceful woman in the South, who, in 1890, attempted to make taffy but accidentally added baking soda instead of the specified cream of tartar. This happy accident led to the creation of the delectable, crunchy confection we know and love today.
However, there are intriguing variations to this story. Some claim that it was a woman in New England who mixed up the white powders while baking, giving birth to Peanut Brittle. The narrative diversifies even further, with the Celts showcasing their culinary creativity by combining sugar with peanut butter, and roasting the ingredients to form a holiday treat.
The Irish, too, have a claim in the Peanut Brittle heritage, with some attributing its introduction to America as early as 1830. As with any cherished delicacy, the origins remain a tapestry of possibilities, woven together by the love for this delightful candy.
Much like its mysterious beginnings, Peanut Brittle recipes also come in countless variations. While the classic version typically stars peanuts, others embrace almonds, pecans, or even pumpkin seeds for a unique twist. If you're feeling adventurous, why not explore international renditions? In the Middle East, pistachios take center stage, resulting in the most exquisite pistachio brittle recipe, while in Asian-inspired creations, sesame seeds complement the peanuts, infusing the candy with a delightful flair.
The beauty of Peanut Brittle lies in its adaptability. There are numerous ways to prepare it, and asking a hundred cooks for their recipes would yield a hundred delightful variations. However, we are proud to present a modern recipe that captures the essence of old-fashioned peanut brittle, evoking cherished memories of the treats we enjoyed growing up.
In a world that craves simple pleasures and comforting sweets, Peanut Brittle holds a special place. Its timeless appeal and diverse renditions bring joy to countless individuals. So, why not indulge in this delicious, easy-to-make Caramel Peanut Brittle and add your unique touch to this beloved confection? Let the world savor more of this delightful treat as we celebrate the wonder of Peanut Brittle together!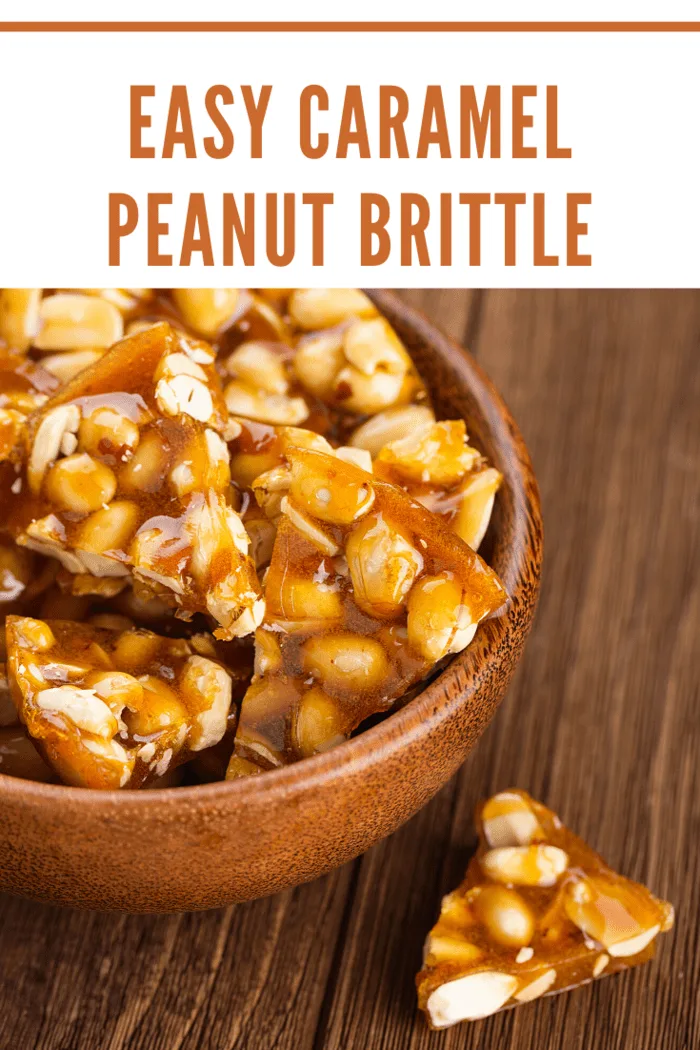 Caramel Peanut Brittle
Prep Time: 10 minutes
Cook Time: 20 minutes
Total Time: 30 minutes
Servings: 8 servings
Ingredients:
1 (5.5 ounce) package Werther's Original Hard Candies, unwrapped
5 pieces Werther's Original Caramels, unwrapped
1 tablespoon unsalted butter
1 tablespoon water
1 cup dry roasted peanuts
1/2 teaspoon baking soda
1/2 teaspoon vanilla extract
Coarse sea salt (optional)
How to Make Caramel Peanut Brittle
Spray a cookie sheet with non-stick cooking spray, or line it with non-stick parchment paper.
In a medium saucepan over low heat, melt Werther's Original Hard Candies and Caramels with the butter and water. Stir often with a wooden spoon until smooth and well combined, which should take about 15 minutes.
Add the dry roasted peanuts to the caramel mixture and cook for an additional 2 minutes, stirring continuously to coat the peanuts thoroughly.
Now, stir in the baking soda and vanilla extract until fully incorporated, creating a smooth, airy texture.
With oven mitts, carefully pour the hot caramel peanut mixture onto the prepared cookie sheet.
Working quickly, spread the mixture out thinly and evenly with the back of a spoon. This will help the brittle cool faster and maintain a desirable texture.
For an added touch, sprinkle coarse sea salt over the brittle while it's still warm, if desired.
Allow the Caramel Peanut Brittle to cool to room temperature, at which point it will harden into a delectable treat.
Once fully cooled, break the brittle into desired pieces and savor the irresistible combination of caramel sweetness and crunchy peanuts.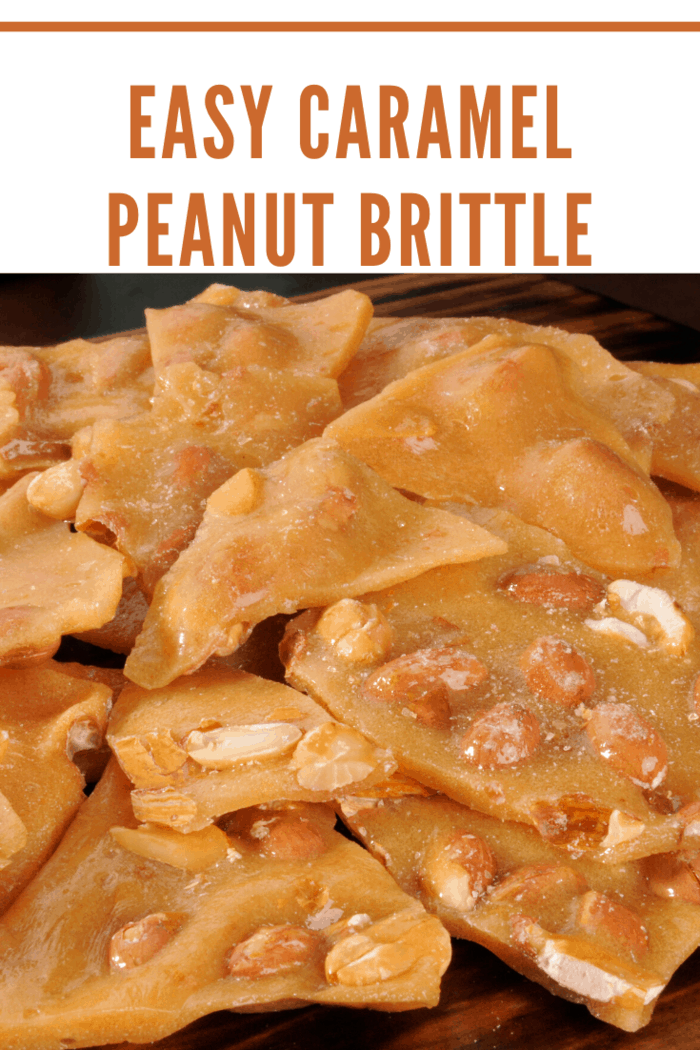 Chef's Tips:
To expedite the cooling process, you can place the prepared cookie sheet in the refrigerator for faster results.
While spreading the mixture on the cookie sheet, consider creating different shapes and sizes for an artistic presentation.
Store the Caramel Peanut Brittle in an airtight container to maintain its freshness and crispness.
Feel free to experiment with different nuts or add a dash of cinnamon for an exciting twist on the classic recipe.
Enjoy the delightful flavors of fall with this easy-to-make Caramel Peanut Brittle. The perfect blend of caramel sweetness and the crunch of peanuts make this treat an instant hit with family and friends. Whether as a homemade gift or a delectable treat for yourself, this recipe is sure to impress and satisfy your sweet tooth!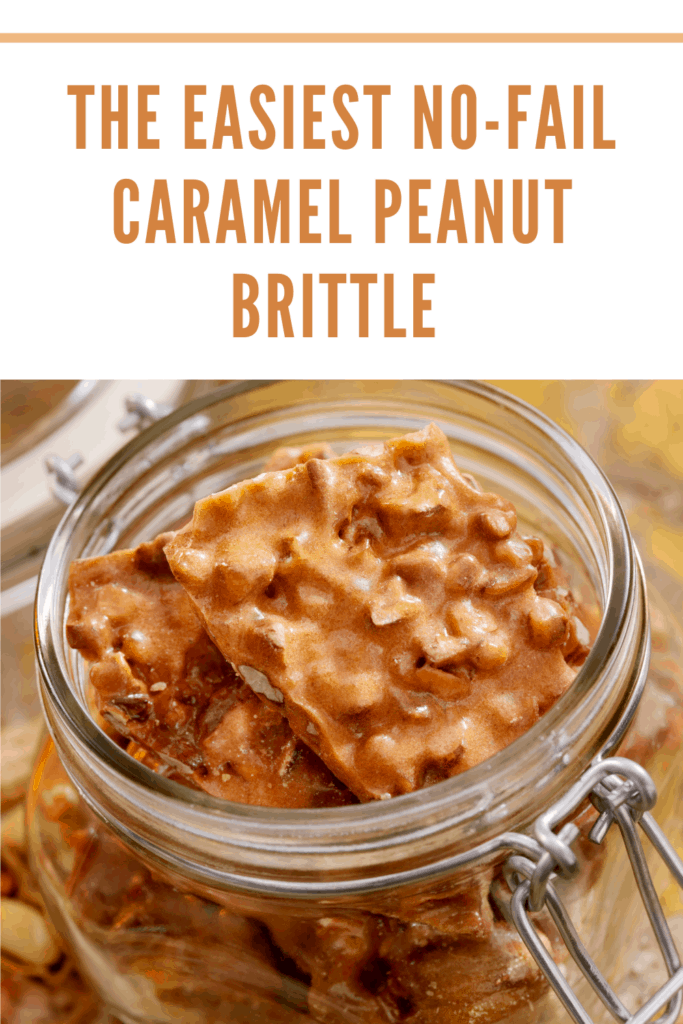 This caramel peanut butter recipe makes a great edible gift for the holiday season. It's a sweet treat any time of year. We love it broken and sprinkled over ice cream. I like it broken into smaller pieces to sprinkle over my toffee coffee.
Frequently Asked Questions (FAQs) – Caramel Peanut Brittle Recipe
1. Can I use a different brand of hard candies and caramels for this recipe? Yes, you can use other brands of hard candies and caramels as substitutes. However, the flavor and consistency may vary slightly from the original recipe.
2. Is it necessary to use dry roasted peanuts? While dry roasted peanuts provide a distinct flavor and texture, you can experiment with other types of peanuts or nuts of your choice for a unique twist on the brittle.
3. Can I skip the coarse sea salt on top of the brittle? Absolutely! The sea salt is optional and used for added flavor and a touch of sophistication. Feel free to omit it if you prefer a pure caramel-peanut taste.
4. How long does it take for the brittle to cool to room temperature? The cooling time can vary depending on the temperature of your surroundings. On average, it may take approximately 1 to 2 hours to cool completely. Placing the brittle in the refrigerator can expedite the process.
5. Can I reheat the caramel mixture if it hardens before I've spread it out on the cookie sheet? Reheating the caramel mixture after it has hardened is not recommended, as it may result in an altered texture and taste. It's best to work quickly when spreading the mixture on the cookie sheet to achieve the desired thin and even layer.
6. How should I store the Caramel Peanut Brittle? Store the brittle in an airtight container at room temperature. This will help maintain its freshness and prevent it from becoming sticky or soft.
7. Can I customize this recipe with other nuts or ingredients? Absolutely! Peanut brittle is highly versatile. You can experiment with other nuts, such as almonds, pecans, or cashews, or add a sprinkle of cinnamon or nutmeg for different flavor variations.
8. Can I double the recipe to make more servings? Yes, you can double or adjust the ingredients proportionally to make a larger batch. Just ensure you have a larger cookie sheet or use multiple sheets if needed.
9. Can I add any other flavors to the caramel mixture? If you want to enhance the caramel flavor, you can add a few drops of caramel extract to the mixture while it's melting. However, be cautious not to overpower the delicate balance of flavors.
10. How long can I store the Caramel Peanut Brittle? Properly stored in an airtight container, the brittle should remain fresh and enjoyable for up to two weeks. However, it's so delicious that it may not last that long!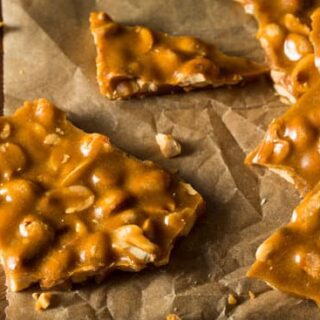 Caramel Peanut Brittle Recipe
Caramel is fall's flavored and this EASY Caramel Peanut Brittle captures the flavor perfectly. This is the easiest peanut brittle recipe ever.
Ingredients
1 package Werther's Original Hard Candies, unwrapped
5 pieces Werther's Original Baking Caramels, unwrapped
1 Tablespoon butter
1 Tablespoon water
1 cup dry roasted peanuts
1/2 teaspoon baking soda
1/2 teaspoon vanilla extract
Instructions
Spray cookie sheet with non-stick cooking spray.
Melt Baking and Hard Caramels with butter and water in a medium saucepan over low heat until smooth, stirring often.
Add the peanuts and cook 2-minutes longer.
Stir in the baking soda and the vanilla.
Immediately spread out thinly onto a cookie sheet to cool completely.
Break into pieces.
Nutrition Information:
Yield:

20
Serving Size:

1
Amount Per Serving:
Calories:

51
Total Fat:

4g
Saturated Fat:

1g
Trans Fat:

0g
Unsaturated Fat:

3g
Cholesterol:

2mg
Sodium:

38mg
Carbohydrates:

2g
Fiber:

1g
Sugar:

1g
Protein:

2g
The Nutritional Information may not be accurate.