Leather hats have been the epitome of rugged style for centuries. A leather hat is a successful comeback, showcasing the vintage leather hat, offering a classy look to men of all ages. Whether you opt for a decades-old original leather hat or a handcrafted modern tinge leather cap, a leather hat is this year's hottest gift.
Appearing great in a hat is simple. After determining your face shape, stature, and features, you can choose from the many available in the market. Men should choose a leather hat that is both practical and stylish to fulfill all purposes.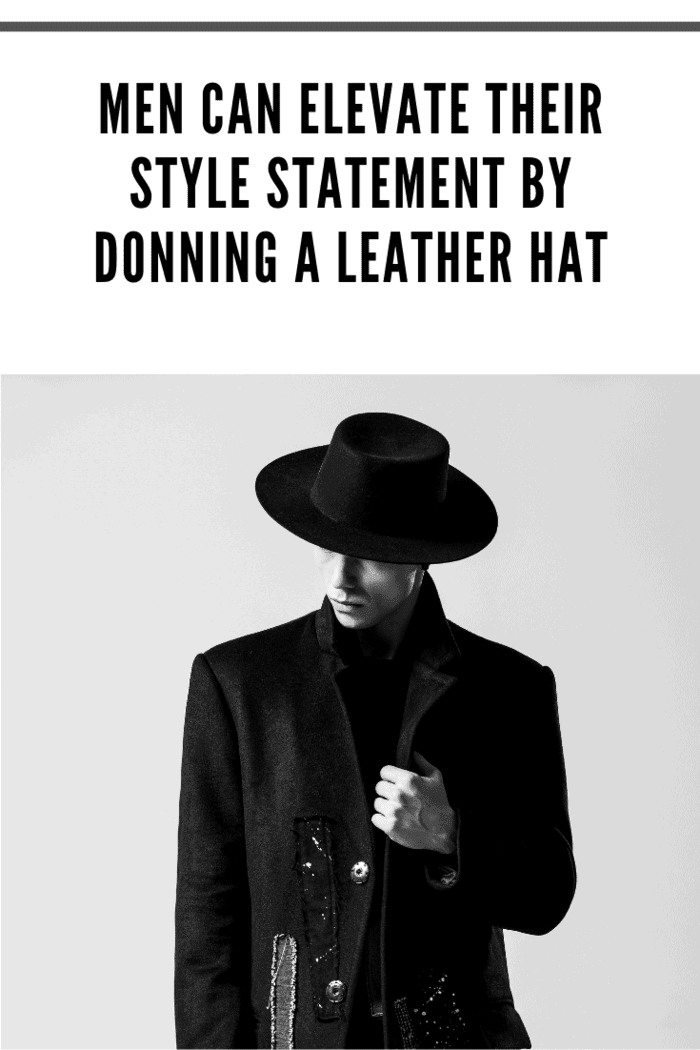 To narrow the field, you can follow these quick rules:
Men with a large stature and a big head look the best in taller peaks and wide brim hats.
A tall man can opt for a downturned brim, whereas an upturned brim is ideal for a short man.
If you are slim, one should avoid wide brim hats.
If you are quite tall, it is wise to avoid hats that have very high peaks.
If you have a big face with prominent facial features, choose a wider brim, as it will balance the proportions.
On the other hand, if your face is angular, opt for a sharp, trilby hat.
The Wide Options
Men's leather hats come in several designs and styles, such as fedora, safari, porkpie, ivy standard, wilderness, newsboy, baseball, and so on. Moreover, the leather types can include suede, lambskin leather, and hide natural leather.
When choosing leather hats for men, one must focus on three prime elements: the hat's style, details, and quality. These elements will assure as to how to buy an ideal leather hat.
Style
Leather hats are inherently stylish, without a doubt. Before, donning a leather hat is always related to high confidence levels—a leather hat suits all men, from pilots, bikers, rockers, and rebels. Moreover, the vintage leather hats add a unique look, making a person's personality pop out in the crowd. The vintage factor crafts a striking image, preserving the effortless style even to date.
Details
When choosing a leather hat, one needs to calm down and not rush the purchase. Many people believe that leather goods have changed from the beginning, so you need to pay attention to the details before you buy a leather hat. Indeed, many online and offline stores state they sell original leather. However, one needs to distinguish between authentic and faux leather thoroughly. An actual leather hat will last long with appropriate treatment options, whereas a faux leather hat might only occur as a visitor.
Purchase a leather hat from a reputable company that has sold thousands and millions of hats from their inception, such as Americanhatmakers.com, which has sold iconic leather hats for more than forty years. Moreover, make sure you also give a chance to new startups who are employing the best strategies to offer high-quality leather hats to their customers.
Well-made leather hats make a point to safeguard the most minute particulars that made the originals worth recreating. The perfect tapering, comfortable interior, ideal crown, and brim are the characteristics of a reliable leather hat. You will not find such marks on a cheap imitation. Therefore, when it comes to leather hats, details play a contributing role in the overall appearance.
Quality
Experts create leather from animals' skins and hides, such as cattle, goats, and sheep. The professionals surface coat the semi-aniline and pigmented leather types with a specific pigment to offer consistent color and stain resistance. Moreover, they abrade the surface of the leather to remove any imperfections. However, one must remember that the sanding process is mostly not carried out for full-grain leather. The finished split and antique grain leather undergo a treatment to mimic grain leather or a worn-out vintage look. Also, when one treats leather with a napped finish, it results in suede leather.
If the leather hat results from inferior quality materials, it will not matter to check the details. Decades-old leather hats still exist because the experts created them to last for an extended period. Whether you choose a vintage piece or the one made yesterday, fine leather craftsmanship quality is key. A good leather hat feels comfortable the first time you wear it and appears better the longer you possess it.
Several trendy hat styles are emerging, which can make you feel underdressed. However, opting for a leather hat will indeed help you stand out and create an edge over others. Snap up a leather hat immediately to turn to your next event, vacation, road trip, or casual outing, as it goes well on a formal as well as on casual attire.
---
Resources:
https://www.huffpost.com/entry/the-best-hat-shops-on-etsy-you-should-know-about_l_5d02aca9e4b0dc17ef068a7b