Mayo River Corn Maze and Pumpkin Patch in Spencer, VA
The Mayo River Corn Maze and Pumpkin Patch is a charming agritourism destination located in Spencer, Virginia. It's a perfect spot for family fun, offering a variety of activities like navigating the corn maze and picking your own pumpkins.
The Mayo River Corn Maze and Pumpkin Patch has been a staple in Spencer, VA, for over a decade. The Mayo Corn Maze family's owners transformed their family farm into this beloved attraction to share their rural heritage with the community.
The Rea family started this tradition on their farm back in 2019. The family has been working on the maze since the spring with designs. It begins with planting in June.
Location:
Seasonal Availability:
Open from September through October.
Hayride included with admission price. The maze will be open every Saturday and Sunday in October. Admission $8. Saturdays: 10 AM – 6 PM Sundays: 12 PM – 6 PM
Here's a Preview of Mayo River Corn Maze
Our Afternoon at Mayo River Corn Maze and Pumpkin Patch:
We visited Mayo River Corn Maze and Pumpkin Patch over the weekend. The weather was soggy but by the time we arrived (12 Noon) it was clear and we were greeted by the friendliest woman at the ticket booth.
After she gave us an overview of everything available at the farm, we headed to the corn maze.
Activities:
Corn Maze Adventure:
Explore the 9-acre corn maze with various paths and challenges. Don't forget to wear comfortable shoes and bring your sense of adventure! There's a fun scavenger hunt.
Average Time: 1 hour
This was a fun maze where you find letters from clues to guess the secret word.
There is an opening in the center where you can use colored chalk to write your name on a crate, a few photo opportunities around the opening, and of course, the corn maze is loaded with great spots to take pictures.
It was so neat to see the corn on the stalk and walk through the maze. The corn was also very tall. My son is 6'2 and the corn was taller than he was.
Once we solved the secret word, we found our way out and were treated to a field of gorgeous sunflowers.
Sunflower Fields
Enjoy scenic sunflowers around the farm, offering a relaxing way to take in the countryside. It's a great photo opportunity.
The sunflowers were at various stages. There were some still waiting to bloom, some that were just beginning to bloom and full blooms. It was gorgeous.
There is also an adorable photo opportunity in the sunflower field.
Fun Games for the Entire Family
There is a giant Jenga game, pumpkin checkers, corn hole, and more!
The sunflowers border a game area.
There were plenty of options here, with lots of seating to enjoy watching the games, or participate.
Corn Hole and Pumpkin Tic-Tac-Toe.
We played Jenga.
Giant jenga pieces made for a very intense game between the kids.
They also loved Pumpkin checkers.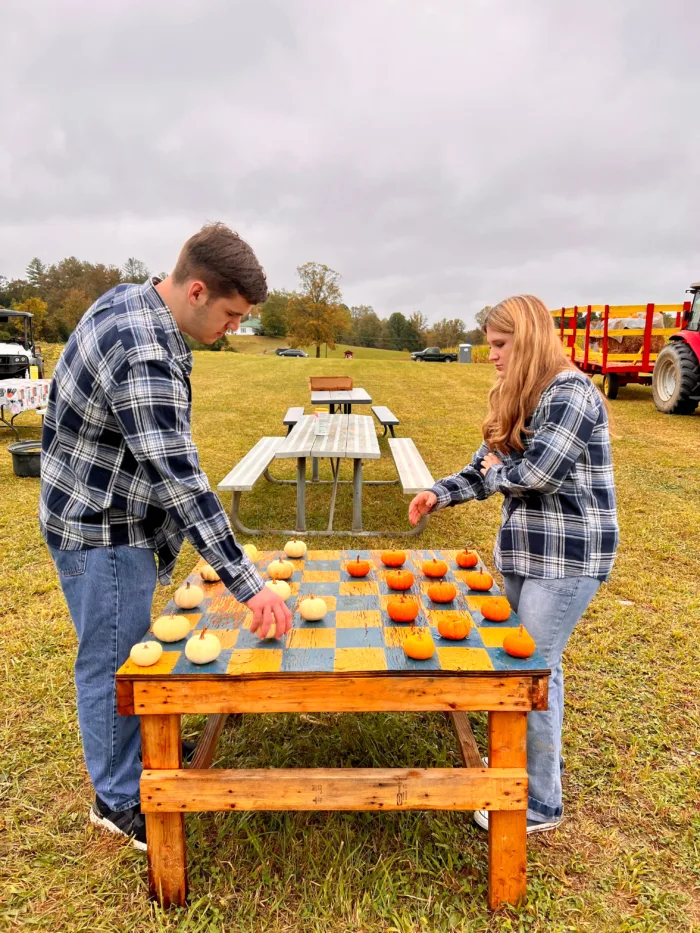 Then we headed into the pumpkin patch.
There were so many different pumpkins.
Jack-O'-Lantern Pumpkin: A Dual-Purpose Gem
True to its name, the Jack-O'-Lantern pumpkin is perfect for carving spooky Halloween decorations. However, these versatile pumpkins also bring a delightful, rich flavor to your autumn culinary creations.
Cinderella's Carriage Pumpkin: A Magical Heirloom
Looking for a pumpkin coach fit for a fairy tale? Cinderella's Carriage, with its elegant appearance, serves as a stunning centerpiece or a delicious choice for your pies.
Wee-Be-Little Pumpkin: Petite and Charming
Behold this cutie! The Wee-Be-Little pumpkin, weighing in at 8 ounces to a pound, is perfect for compact spaces. With vines reaching only 8 feet, it's a delightful addition to small gardens.
Casper Pumpkin: The Ghostly Elegance
White pumpkins, like the Casper, have gained popularity for their stunning decor appeal. Beneath that snowy exterior lies thick, orange flesh, perfect for crafting delectable pies and culinary delights.Pumpkin
Picking:
Choose your own pumpkins from the patch. Great for carving, decorating, or making delicious pumpkin recipes.
Average Time: 30 minutes
Hayrides:
Enjoy scenic hayrides around the farm, offering a relaxing way to take in the countryside.
Expert Tips:
Visit on weekdays for a quieter experience, as weekends can get busy.
Dress appropriately for the weather and wear sunscreen.
Check the farm's Facebook or call ahead for hours and availability.
FAQs:
Are dogs allowed?

Unfortunately, pets are not permitted for the safety and comfort of all visitors.

Is there food available on-site?

Yes, they have a small concession stand with snacks and beverages. Enjoy grilled corn, fried Oreos and Funnel Cakes.

Do they accept credit cards?

Yes, credit cards are accepted for admission and purchases.
Known Alternate Names:
Mayo River Maze
Spencer Corn Maze and Pumpkin Patch
Whether you're navigating the corn maze, picking pumpkins, or simply enjoying the autumn ambiance, the Mayo River Corn Maze and Pumpkin Patch is a wonderful place to create lasting memories with your loved ones. Don't miss this seasonal gem in Spencer, VA!