Introducing Marcella Valladolid's Easy Corn Tamales Recipe from the movie McFarland!
Are you ready to embark on a flavor-packed journey inspired by the heartwarming movie McFarland? Join us as we bring you a delicious recipe that will transport you straight to the vibrant streets of Mexico. Say hola to Marcella Valladolid's Easy Corn Tamales Recipe!
Bursting with Authentic Flavors: Savor the mouthwatering taste of traditional Mexican cuisine right in your own home. Marcella Valladolid, renowned chef and culinary expert, has crafted a tamale recipe that effortlessly combines the freshest ingredients to create an explosion of flavors. Each bite will transport you to the sun-soaked landscapes of McFarland, immersing you in the rich culture of Mexico.
Simple Yet Delicious: Don't let the idea of making tamales intimidate you! With Marcella Valladolid's easy-to-follow recipe, anyone can create authentic corn tamales with confidence. The recipe is thoughtfully crafted, ensuring that each step is approachable and achievable, even for beginners. Let Marcella guide you through the process, sharing her expert tips and tricks along the way.
Perfect for All Occasions: Whether you're planning a movie night with friends, hosting a family gathering, or simply craving a taste of Mexico, these corn tamales are the answer. Their versatility allows them to shine as a main course or a delightful appetizer. From festive celebrations to cozy evenings at home, Marcella Valladolid's Easy Corn Tamales Recipe is a crowd-pleaser that will elevate any occasion.
Unleash Your Inner Chef: Get ready to impress your loved ones with your culinary skills. By following Marcella's recipe, you'll unlock the secrets of creating light, fluffy tamales filled with a savory corn masa and a choice of delectable fillings. From succulent meats to flavorful vegetarian options, there's a tamale variation for every palate. Get creative, experiment, and make each batch uniquely yours!
Bring the Magic of McFarland Home: The movie McFarland touched hearts with its inspiring story and vibrant setting. Now, you can experience a taste of that magic in your own kitchen. Marcella Valladolid's Easy Corn Tamales Recipe allows you to recreate the flavors that captivated audiences worldwide. Invite your loved ones to join you on this culinary journey and share the joy of delicious food and heartwarming memories.
Ready to Delight Your Senses? Don't miss out on this incredible opportunity to try Marcella Valladolid's Easy Corn Tamales Recipe. Unleash your inner chef, immerse yourself in the vibrant flavors of Mexico, and create unforgettable moments with your loved ones. Get started today and experience the magic of McFarland, one delicious bite at a time!
"Marcella Valladolid's Easy Corn Tamales Recipe: Bringing the Taste of Mexico Home!"
My family loves the movie McFarland USA, now available on Disney Blu-ray Combo Pack, Disney Movies Anywhere and Digital HD! You can read my McFarland USA review here.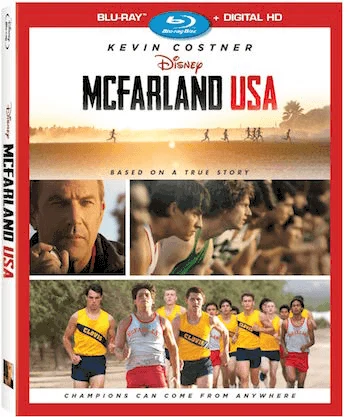 McFarland USA Synopsis:
Based on the 1987 true story, "McFarland, USA" follows novice runners from McFarland, an economically challenged town in California's farm-rich Central Valley, as they give their all to build a cross-country team under Coach Jim White (Kevin Costner), a newcomer to their predominantly Latino high school. Coach White and the McFarland students have a lot to learn about each other but when White starts to realize the boys' exceptional running ability, things begin to change. Soon something beyond their physical gifts becomes apparent—the power of family relationships, their unwavering commitment to one another and their incredible work ethic. With grit and determination, the unlikely band of runners eventually overcomes the odds to forge not only a championship cross-country team but an enduring legacy as well. Along the way, Coach White realizes that his family finally found a place to call home and both he and his team achieve their own kind of American dream.
To celebrate the release of the film, I'm sharing this great Tamale recipe.
Who is Marcella Valladolid?
The recipe is from Marcella Valladolid, American chef and author. She is the host of the Food Network television series Mexican Made Easy, and a co-host of the Food Network television series The Kitchen.
Marcella Valladolid is a well-known chef and television personality, particularly recognized for her expertise in Mexican cuisine. She was born on July 19, 1978, in San Diego, California, and her culinary journey began at an early age, inspired by her Mexican heritage and family traditions.
Marcella Valladolid gained prominence when she hosted the Food Network television series called "Mexican Made Easy," which premiered in 2010. The show focused on simplifying Mexican cooking techniques and showcasing delicious and accessible recipes. Her warm and engaging personality made her a favorite among viewers, and she became widely recognized as an authority on Mexican cuisine.
Besides her television career, Marcella is also an accomplished cookbook author. She has written several popular cookbooks, including "Mexican Made Easy" and "Fresh Mexico." Her books offer a wide range of authentic Mexican recipes, with a focus on using fresh ingredients and simple techniques to create flavorful dishes.
Marcella Valladolid continues to share her passion for Mexican cuisine through various culinary projects, including appearances on cooking shows, hosting events, and collaborating with renowned chefs. Her dedication to promoting the rich flavors and cultural heritage of Mexico has made her a respected figure in the culinary world.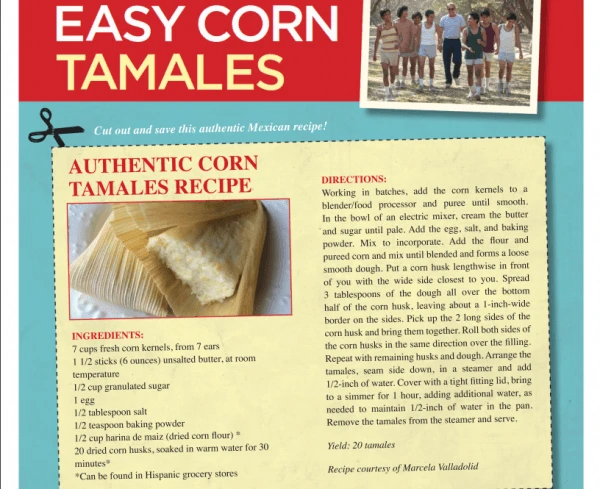 Ingredients:
7 cups fresh corn kernals, from 7 ears of corn
1 1/2 sticks (6 ounces) unsalted butter, at room temperature
1/2 cup granulated sugar
1 egg
1/2 tablespoon salt
1/2 teaspoon baking powder
1/2 cup harina de maiz (dried corn flour-found in Hispanic grocery stores)
20 dried corn husks, soaked in warm water for 30 minutes.
How to Make Corn Tamales:
Working in batches, add the corn kernels to a blender/food processor and puree until smooth. In the bowl of an electric mixer, cream the butter and sugar until pale. Add the eggs, salt, and baking powder. Mix to incorporate. Add the flour and pureed corn and mix until blended, forming a loose smooth dough. Put a corn husk lengthwise in front of you with the wide side closest to you. Spread three tablespoons of the dough all over the bottom half of the corn husk, leaving about a 1-inch-wide border on the sides. Pick up the two long sides of the corn husk and bring them together. Roll both sides of the corn husks in the same direction over the filling. Repeat with remaining husks and dough. Arrange the tamales, seam side down, in the steamer, and add 1/2 inch of water. Cover with a tight-fitting lid, and bring to a simmer for 1 hour, adding additional water as needed to maintain 1/2 inch of water in the pan. Remove the tamales from the steamer and serve.
Yield: 20 Tamales