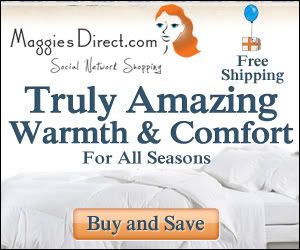 Maggie's Direct Social Rewards Program! It's like getting money back while you shop!
Do you Want to Earn 100 Social Bucks?
Just follow a few short steps and you'll be a registered member – eligible for Social reward bucks you can use anytime on MaggiesDirect products. Not only do you earn social bucks on your purchases, but also on the purchases of the friends that you've referred to MaggiesDirect!
Anything on the Hotel Collection page will earn the purchaser 50% in Social Bucks.
Exclusive Shopping Event for friends of this blog. Get 50% back in Social Bucks (1 Social Buck = 1 dollar in product credit) on any of these items.
There is no minimum order.
Free shipping on everything to lower 48 ($15 to AK/HI and $20 to Canada).
This is an amazing deal – As an example: Their Queen Warmer level comforter has a normal MSRP (compared to their parent company's website: C*ddled*wn.com) of $239 plus shipping. They normally retail this comforter for $149 for the equivalent material and same factory in Maine. Then the customer gets 50% back in Social bucks or $74. This is like getting a $239 comforter for $75.
1 Social Buck equals 1 Dollar in product credit for anything on Maggies site including clearance and sale items (we have a big clearance event coming up with up to 75% off). Social Bucks from product orders vest in 30 days to allow for returns.
Your Social Bucks account will grow FAST!
For more information, please visit www.maggiesdirect.com or contact[email protected]
If you like saving money on high quality items you'll love Maggie's. Their product mix is always growing. Right now you can find fantastic deals on the finest products for you and your home. From wonderfully cozy comforters, pillows, and featherbeds, in their own factory in Maine. Check out their bath category for amazing towels, our sleepwear section for super soft pjs, and their new gift & decore area.
Disclosure of Material Connection: I am a MaggiesDirect blogger. The information was provided to me by Maggies Direct. Regardless, I only recommend products or services I use personally and believe will be good for my readers. I am disclosing this in accordance with the Federal Trade Commission's 16 CFR, Part 255: "Guides Concerning the Use of Endorsements and Testimonials in Advertising.".