Luna Organics designs and produces all natural play makeup kits for children and first makeup kits for tweens. Our products are hypoallergenic, non-toxic, and easy to use! We have over 12 kits with different colors and contents. Our bestseller is the All Natural Fancy Fairy Makeup Kit which contains 5 glittery eyeshadows, Fairy Dust powder, and organic purple cinnamon lip balm.
My girls LOVE makeup. They are both mini-Divas, and their attraction to makeup is, I think, just part of their DNA. In 2007, I captured these pictures of the Beauty Queen and The Divine Miss M playing in Grandma's makeup while we were on vacation.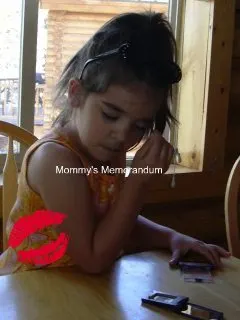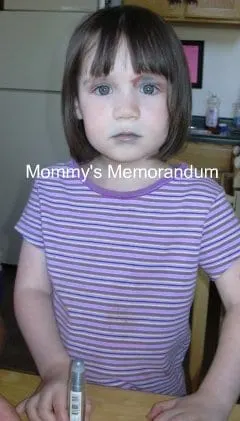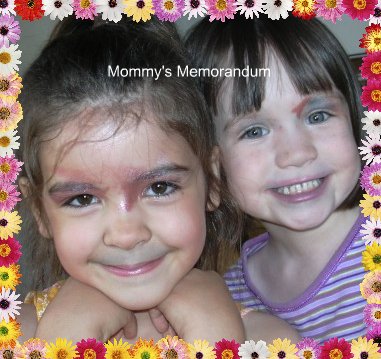 I try and be particular about what goes into my girls' bodies and carrying that over into what goes ON their bodies, especially their face, is important to me. Luna Organics is hypoallergenic, all of the ingredients are FDA approved, and all of their suppliers are in compliance with the standards set by the Campaign for Safe Cosmetics. This means they are non-toxic and they don't test on animals.
Luna Organics makes me feel good about giving my girls every day play make-up.
Unlike Grandma's make-up, Luna Organics play make up is made for little girls to stay little girls. The make-up is a very fine dust powder that can be applied with the double-sided applicator included in the set, or as my girls discovered the use of a finger when the sister is selfish works just fine too. The colors and texture of the makeup are soft so there's no "Yikes" when the makeover is complete.
My favorite part is that Luna Organics play make up washes off easily with just a tad of soap and water.
Using the Luna Organics Fancy Fairy Set which includes:
20g Fairy Dust (sparkly silver and purple)
Rainbow sparkly eyeshadow pack: 5g each of pink, gold, green, blue, purple
Organic glittery purple lip balm with cinnamon flavor
all contained in a purple zip-up pouch
The finished look is much more "girl"–though they did talk me into using mascara! Oh. My!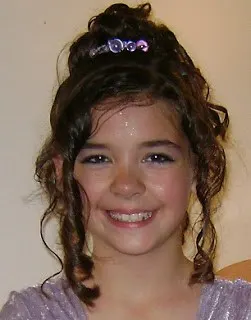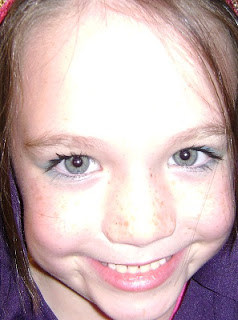 Luna Organics many sets of play makeup include; Rainbow, Pixie, Animal Medley, Clown & Bunny. Throwing a fairy or princess party? Luna Organics has organic play makeup party favors. Luna Organics also has a Natural Girl makeup line for 'tweens.

Luna Organics is the perfect makeup to make your li'l girls pretend to play a moment to remember.
I received the Luna Organics Fancy Fairy Set in order to facilitate an honest review. No other compensation was received. The opinions where expressed are my own and were in no way influenced by the sponsor. Others experiences may vary.