Luden's Moisture Lozenges: A Refreshing Throat Soother
History of the Lozenge
Luden's Moisture Lozenges have been a comforting companion during scratchy throat episodes for over 140 years. These soothing lozenges were first created by William H. Luden in 1881, a pharmacist from Reading, Pennsylvania. Luden's vision was to provide relief to individuals suffering from dry, irritated throats, and his timeless creation has continued to serve that purpose ever since.
What Are Luden's Moisture Lozenges?
Luden's Moisture Lozenges are small, flavorful candies designed to ease throat discomfort. They are renowned for their ability to provide rapid relief from dryness, irritation, and scratchiness. These lozenges are not just your average throat drops; they are a delightful blend of comfort and taste.
Ingredients Expanded Information
Luden's Moisture Lozenges are made with a thoughtful combination of ingredients:
Pectin: This natural thickening agent gives the lozenge its characteristic gummy texture.
Corn Syrup: Provides a touch of sweetness to balance the soothing properties.
Sucrose: Another sweetening component to enhance the taste.
Glycerin: This key ingredient helps lock in moisture, keeping your throat feeling refreshed.
Natural Flavors: Luden's offers an array of flavors, such as wild cherry and honey licorice, to suit your taste buds.
Expert Tips
Stay Hydrated: While Luden's Moisture Lozenges work wonders, don't forget to drink plenty of water to keep your throat moist.
Read Labels: Always check the ingredients to ensure you're not allergic to any components in the lozenges.
Limit Usage: Luden's are effective, but don't overindulge; moderation is key.
Storage: Keep your Luden's Moisture Lozenges in a cool, dry place to maintain their freshness.
FAQs
Q1: Can I give Luden's Moisture Lozenges to children? A1: Yes, Luden's is safe for children but should be given under adult supervision.
Q2: Are there sugar-free versions available? A2: Yes, Luden's offers sugar-free options for those watching their sugar intake.
Q3: Can Luden's Lozenges be taken with other medications? A3: It's always best to consult with a healthcare professional if you're unsure about potential interactions.
Known Alternate Names
Luden's Moisture Lozenges are also known as Luden's Throat Drops, Luden's Cough Drops, or simply Luden's Lozenges. They go by various names, but their soothing properties remain unchanged.
So, the next time your throat needs a little TLC, reach for Luden's Moisture Lozenges, and experience the soothing relief that has been trusted for generations.
Luden's Moisture Lozenges Review
It's the season for everything as we bid farewell to summer and enter fall. My job is to keep my family healthy and, if possible, avoid the cold and flu season unscathed. I trust the makers of Luden's and we stock up on the iconic throat drop to put an end to those scratchy throats. Luden's has launched a new Moisture Drops line that are great tasting and soothe the dryness and discomfort associated with dry mouths and ease everyday throat irritations.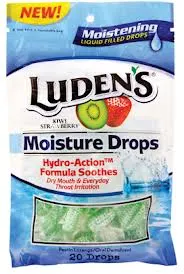 I'm loving the Luden's Moisture Drops! The Kiwi-Strawberry flavor is delicious and my children don't complain they taste like medicine.
I became a fan of the moisture drops during our drive through Wyoming. It is higher elevation there than I'm accustomed to here in Salt Lake City. I was dry everywhere. Luden's Moisture Drops kept my mouth and throat moist. It was welcome comfort. It allowed me to maintain my husband's insane travel where stopping is zilch! The drive home was awful and I couldn't drink enough water to keep my mouth moist. I sucked on a Luden's Moisture Drop and found relief.
Luden's Moisture Drops are new to the line of Luden's Throat Drops. The Luden's Moisture Drops are available in 20-count bags with a suggested retail of $1.79.
For over 130 years, Luden's throat drops have offered a delicious method for soothing dry, scratchy throats. For more information on Luden's and their full line of products visit the Luden's website.
Disclosure of Material Connection: I received one or more of the products or services mentioned above for free in the hope that I would mention it on my blog. Regardless, I only recommend products or services I use personally and believe will be good for my readers. I am disclosing this in accordance with the Federal Trade Commission's 16 CFR, Part 255: "Guides Concerning the Use of Endorsements and Testimonials in Advertising.".