I believe in the power of affirmation.
I have several affirmations that I repeat to myself often. Lately, my favorite has been, "I'm a Lean, Mean, Fat Burning Machine" and "I am worth this moment".
My mantras change often but they each confirm I. Am. Beautiful. I think it is important to #LiveHappy.
Mantras enable us to focus. A personal mantra is an affirmation to motivate and inspire you. Its purpose is to focus your mind and help achieve your goal.
To Live Happy is tough. It's easy to keep getting beat back to the shore by the waves of negativity that surround us. There are toxic people out there and they disprove the childhood saying, "Sticks and Stones may break my bones, but words will never hurt me." It's an old adage that means: True courage consists in doing what is right, despite the jeers and sneers of our companions.
Why not be a vessel of change? Take control of your attitude and spread it. Live Happy magazine, the first ever lifestyle magazine to balance positive psychology and practical tips to help readers in their ever-evolving pursuit of happiness, offers a fun way to spread your mantra to #LiveHappy.
I am loving the LiveHappy Notes.
Not just for myself, but Live Happy is also part of my Postive Parenting Tips and Techniques.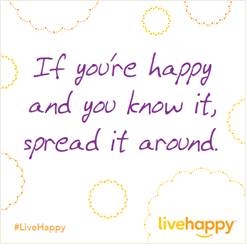 It's a post-it note style grouping of some powerful statements of being happy. I love them.
I have a few that stand out hanging above my work area at home.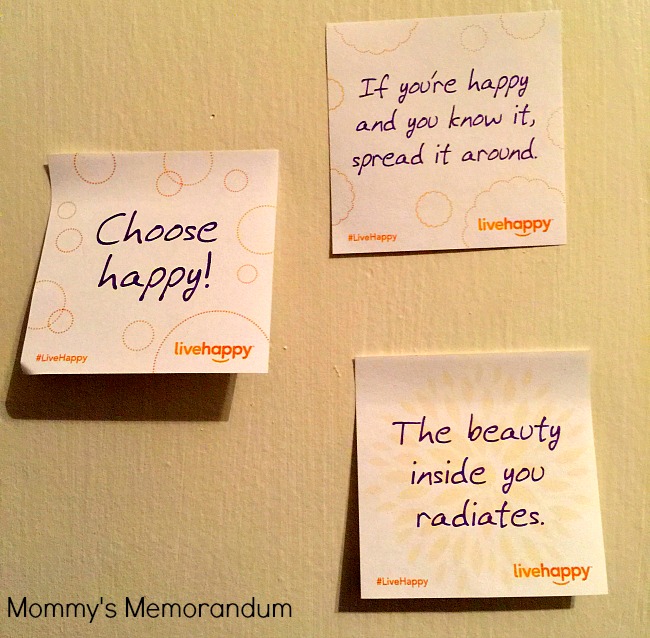 They are great reminders that I make a difference. That I am in control of my happiness. I can't help but spread the joy when I feel good and allow happiness to exist. I deserve to be happy and so do you.
Follow #LIVEHAPPY on social media to spread good cheer to make 2015 a year to be happy!
---
Resources: