Discover the ultimate laundry duo: Samsung AddWash & Steam Dryer. Never miss a garment with AddWash, while Steam Dryer ensures fresh, wrinkle-free clothes. Upgrade your laundry game today!
Introducing the Perfect Laundry Duo: Samsung AddWash and Samsung Steam Dryer!
Are you tired of those moments when you discover a stray sock or a forgotten item of clothing after starting your washing machine? Say goodbye to laundry regrets with the Samsung AddWash and never miss a thing again!
Our Samsung AddWash washing machine revolutionizes laundry by featuring a unique extra door. It allows you to conveniently add forgotten clothes, detergent, or fabric softener even after the cycle has started. No more waiting for the next load or rewashing just because of a missed item. With the Samsung AddWash, you can effortlessly toss in that elusive sock or that one item you forgot, ensuring a complete and thorough wash every time.
But that's not all! Pair your Samsung AddWash with the powerful Samsung Steam Dryer, and experience a new level of convenience and care for your laundry. With its advanced Steam Care technology, this dryer eliminates stubborn odors, wrinkles, and static, leaving your clothes fresh, soft, and ready to wear. The gentle steam penetrates deep into the fabric fibers, refreshing your garments without the need for excessive heat or harsh chemicals.
The Samsung Steam Dryer also features Sensor Dry technology, which detects the moisture level in your clothes and adjusts the drying time accordingly. Say goodbye to over-drying or damp clothes with this intelligent feature. And with a large capacity drum, you can dry even more clothes in a single load, saving you time and energy.
Both the Samsung AddWash and Samsung Steam Dryer are designed with cutting-edge technology and sleek aesthetics. They seamlessly blend into any modern home, offering efficiency, convenience, and outstanding performance.
Don't let laundry hassles get in the way of your day! Upgrade to the Samsung AddWash and Samsung Steam Dryer, and make laundry time a breeze. Experience the future of laundry care today!
Visit your nearest Samsung retailer or our website to explore the amazing features of the Samsung AddWash and Samsung Steam Dryer. Elevate your laundry routine and enjoy exceptional results every time with Samsung!
Our Samsung Addwash and Samsung Steam dryer Review
Laundry is my thing. It is the one chore that I don't cringe at having to do. I love that I can put in dirty clothes and they come out clean and smelling amazing. I love the warmth of a load of clothes out of the dryer and folding.
Putting clothes away…that's another story.
A few years ago, my husband brought home a new washer and dryer. He had taken the time to pick out a machine he thought I'd love. I was disappointed because I had my hopes on a front loading washing machine, but he told me the salesman told him once you've started a cycle, you can't just open the door and drop in the sock that fell out of the laundry basket on the way to the machine.
He was right. That was a deal breaker.
Then we met the Samsung Add Wash, and suddenly a front-loading machine was everything I dreamed it would be.
Let's start with aesthetics. The Samsung Add Wash is a great-looking machine. It looks like a traditional front-load washing machine.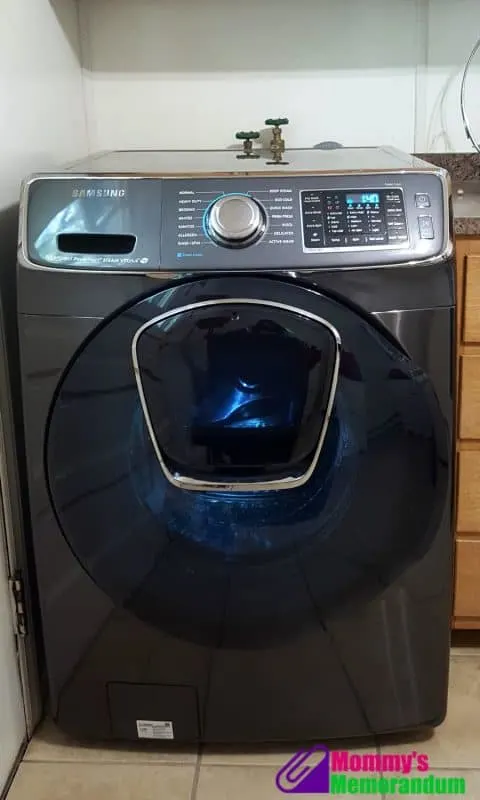 What makes the Samsung Add Wash unique is there is a small opening inside the main door that lets you add items after the wash cycle has started.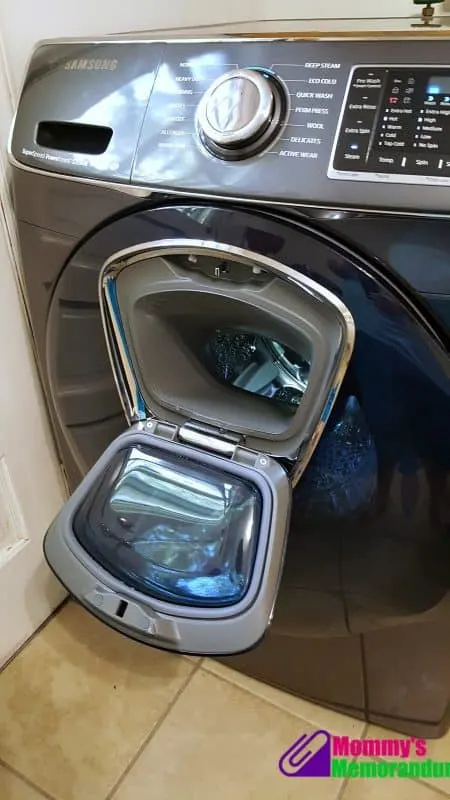 I love that you don't have to press pause and wait for the washer to drain. I love that I don't have to push pause and wait for a door to unlock. I press on the door, and the drum stops immediately, allowing me to insert clothing or softener through the door mid-cycle!
Our clothes come out of the Samsung Addwash machine clean. I was running an extra rinse cycle on our previous machine to make sure all soap was gone and our clothes were fresh and clean. I have not had to do that at all with the Samsung Addwash.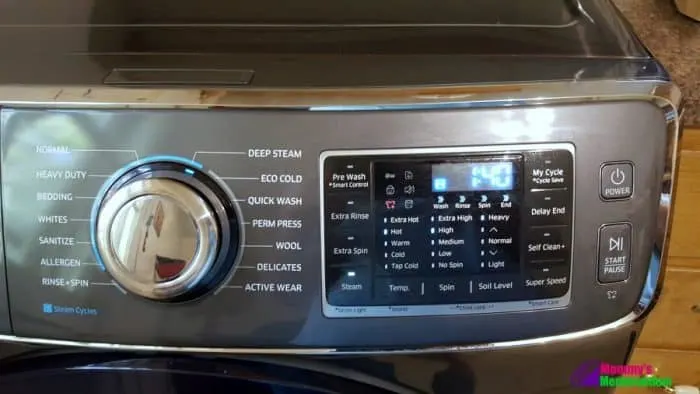 There are so many different cycle options to customize the wash. I love the "sanitize" cycle for stubborn stains. There's Active Wear for our sportswear. A cycle for bedding, making the dreaded comforter and sheets chore a piece of cake. We also get a lot of use from the Quick Wash feature; it's a load that takes just 30 minutes and gets the clothes clean…so good for when your child tells you they have to be somewhere and wears the clothing item that's at the bottom of the hamper.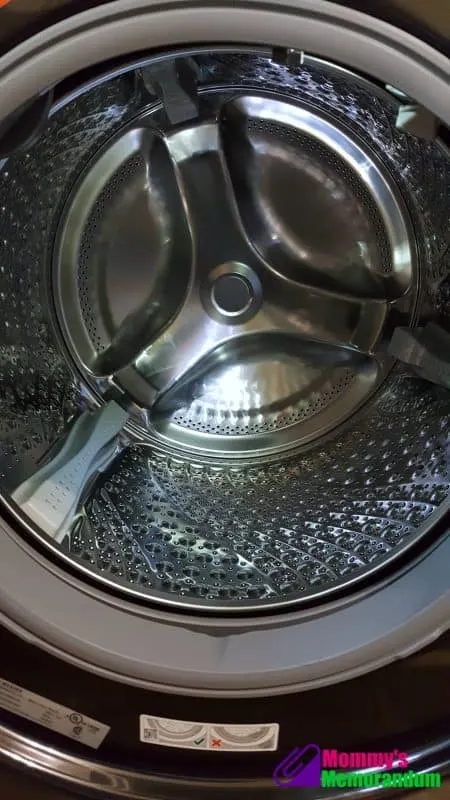 The Samsung Addwash is 5.0 cubic ft., which makes it one of the largest front-load washers on the market. It makes laundry so much easier, being able to do large loads. It saves time and money.
What good is a great washer with a large load capacity if the dryer can't keep up?
Samsung has me covered.
The Samsung Steam electric dryer gets clothes dry and is energy-star-rated, so I'm saving money on each load.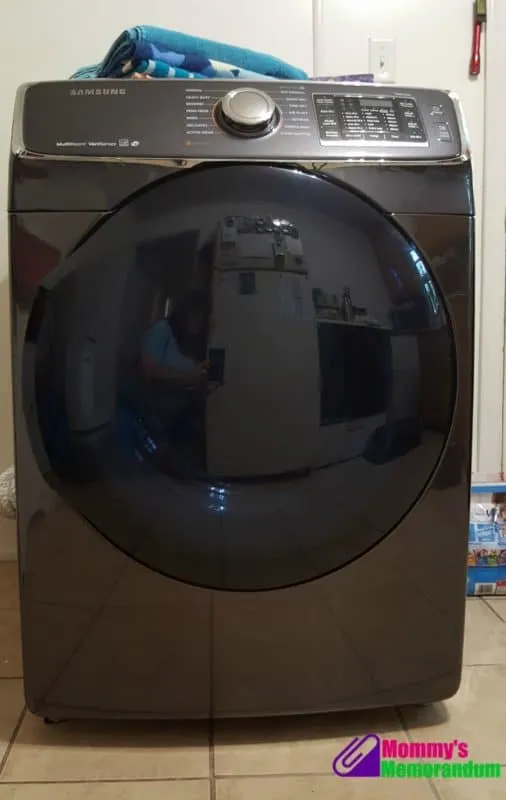 The dryer has a large drum–to keep up with the large drum on the Samsung Addwash. It's 7.5 cubic feet.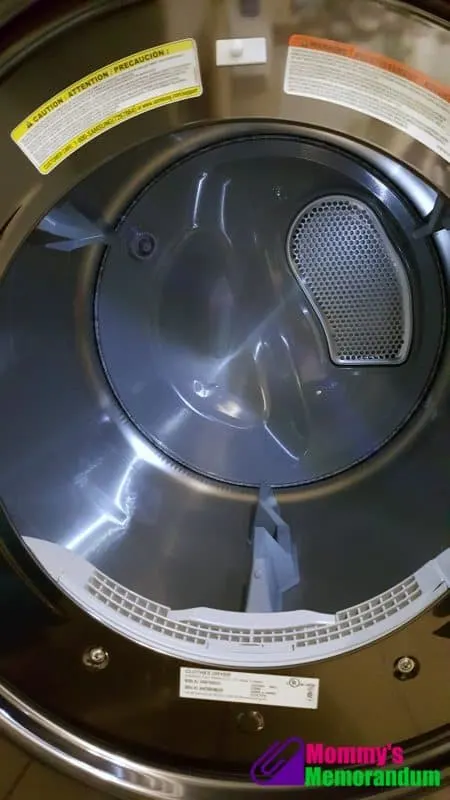 My favorite feature is the steam cycle. You can steam the wrinkle out of clothes without touching an iron. There are so many other cycles to customize the drying to suit the garments needing to be dried.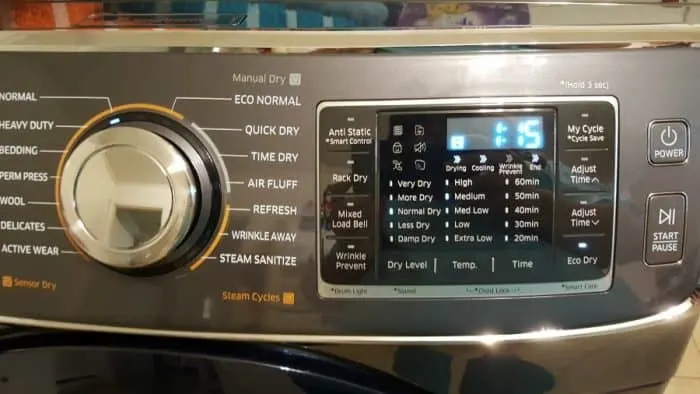 Both the Samsung Addwash and Samsung Steam dryer are awesome machines that tackle laundry, unlike any other machines I've used.
Both of these machines are very large. The dryer is 32 inches deep, and you'll need another 5-6 inches for the vent tube. The washing machine is also 32 inches deep. Make sure you measure your laundry space before purchasing.
There is an optional pedestal for both the washing machine and dryer. They are an additional cost. We are considering the pedestals so we don't have to bend down to get laundry in and out.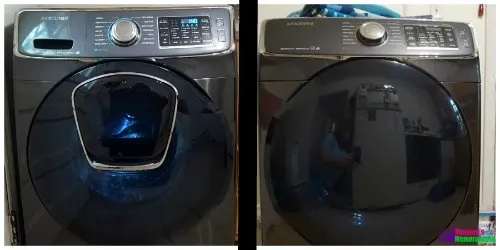 These Samsung appliances are energy star rated and save us time and money and provide a great clean for our laundry.
Visit your local Best Buy to learn more about Samsung Addwash and Samsung Steam dryer.
---
The reviewer has been compensated in the form of a Best Buy Gift Card and received the product/service at a reduced price or for free