In this article, you will learn about laundry room countertop options and the best laundry room countertop materials for different designs and uses.
Are you aware that 35 billion loads of laundry are done every year in the US, and the average American spends eight hours every week in the laundry room?
Though the time spent in laundry rooms is more than the amount of time spent in bathrooms, laundry rooms are somewhat neglected for home renovations.
However, this trend is slowly changing as more and more people upgrade their laundry rooms.
The purpose of such remodels to improve functionality and make laundry rooms more comfortable to work in and visually appealing.
The laundry room countertop is one of the critical elements of revamping your laundry area.
Depending on your design and style ideas, there are many laundry room countertop materials you can choose from.
Each has its distinct qualities, making it suitable for different designs and uses.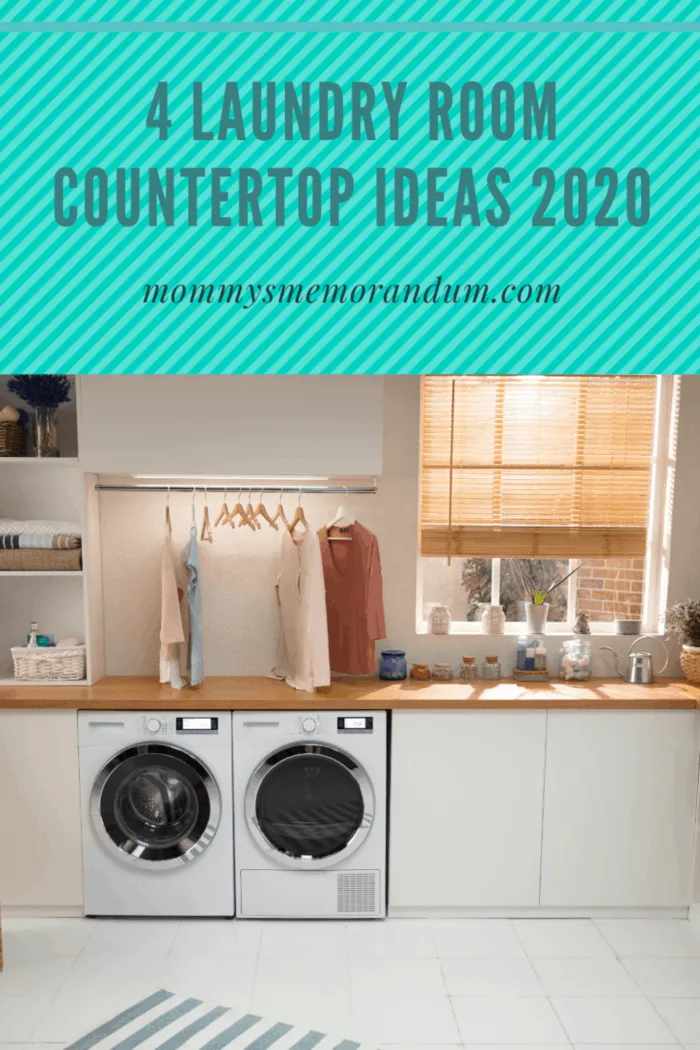 Laundry Room Countertop Materials
It's safe to say that doing laundry is not the ideal way to spend your Saturday afternoon.
However, using the right laundry room countertop ideas can be more accessible and less tedious.
1. Laminate Countertops
Though laundry room renovations do not add much to the resale value of your property, you can still revamp it with a minimal budget.
In this regard, laminate is one of the best laundry room countertop options as it's cost-effective.
According to The Spruce, other benefits of a laminate countertop for the laundry room include:
Easy to maintain– Laminate does not require the application of polishes or sealers to prevent seepage
Easy to clean– Laminate does not need unique cleaning methods as you can use water and soap
Does not hold on to germs– Since laminate is non-porous, it does not harbor harmful germs
Offers creative freedom– Laminate is available in a myriad of patterns and colors that you can use to test your unique laundry room countertop ideas.
When it comes to the practical aspect, the smooth surface of the laminate makes it suitable for folding your clothes.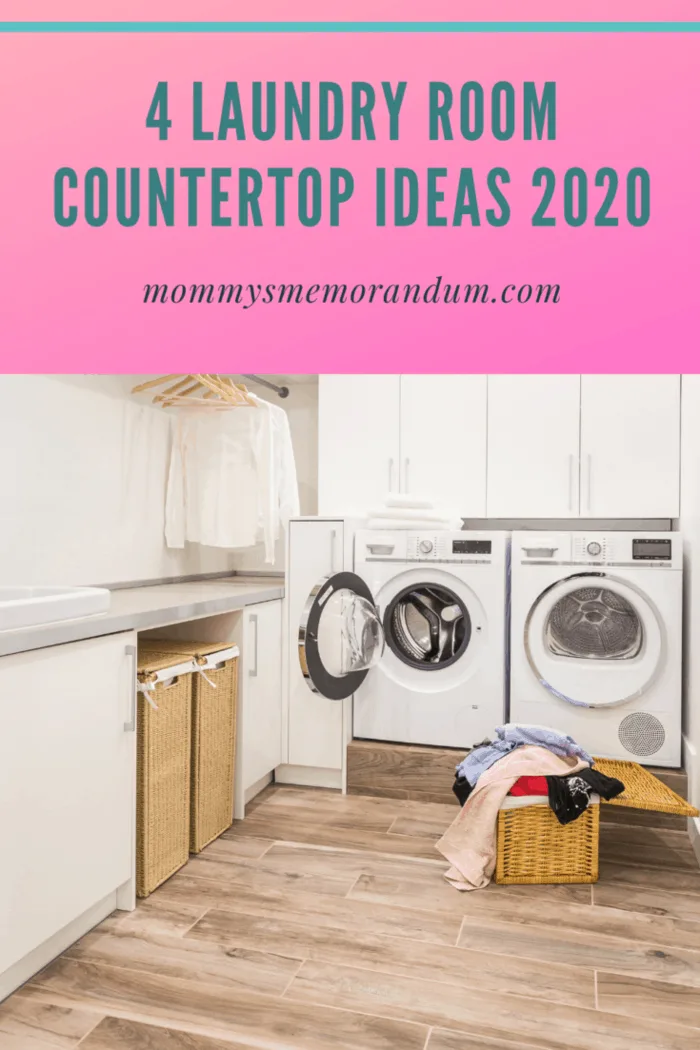 2. Quartz Countertops
When it comes to the countertops market today, quartz is the most popular option.
Quartz is an engineered material that has the beauty and elegance of natural stone but comes without the limitations of natural stone.
As such, it is an excellent material for a laundry room countertop.
Some of the benefits of a quartz countertop for the laundry room include:
Highly durable– The combination of strong minerals, polymers, and resins makes quartz a solid and durable material
Low maintenance– Since quartz is non-porous, it does not absorb liquids that may damage it; thus, sealers and polishes are unnecessary
Different varieties available– Quartz manufacturers use different minerals, which result in quartz countertops of varying colors and designs.
Among the laundry room countertop options, quartz is undoubtedly the most exquisite.
Seek more information on quartz countertops to know how best to use them in your laundry room.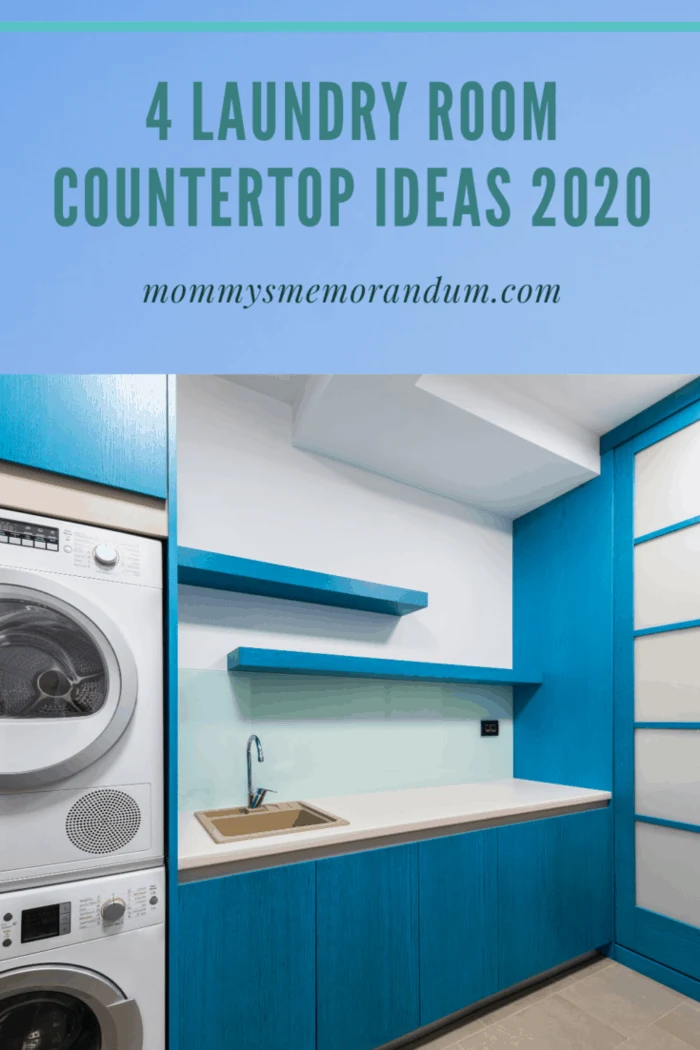 3. Ceramic Tile
Another material you can use for your countertop is ceramic tile.
Though ceramic tile is a cheap and relatively durable countertop material, it's essential to understand its features before installing it.
Pros
It comes in a variety of designs that can significantly enhance the aesthetic value of your laundry room.
It can last well over a decade if well maintained.
However, for ceramic tile to last long, it must not be subjected to a lot of pressure.
Excessive force or weight can cause it to chip or crack.
4. Wood
For a natural look and rustic charm in your laundry room, you can try wooden countertops.
Though you can use natural untreated wood, its rough surface will make it challenging to fold clothes.
Instead, use flat and seam-free wood.
Some of the key benefits of using wood include:
Relatively durable and can last for decades if kept sealed and dry
Wood can also be used to stunning design ideas to life
You should be careful when ironing clothes with a wooden laundry countertop as wood is susceptible to burns.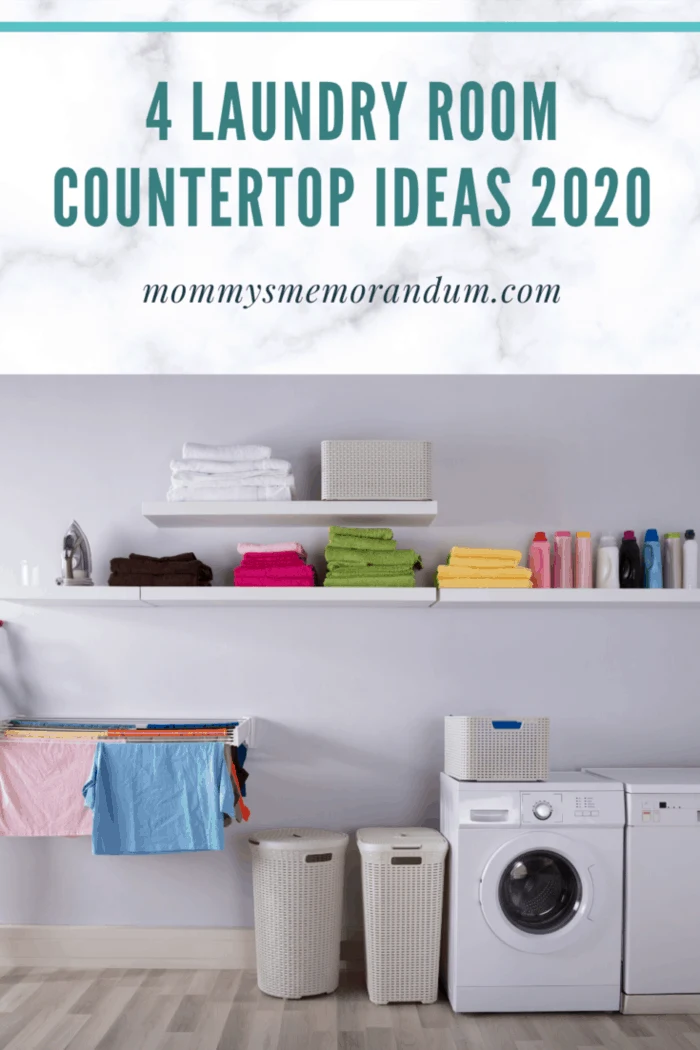 Bonus Laundry Room Countertop Ideas
Laundry rooms are primarily a functional area in your home.
This is where you clean, dry, iron, and fold clothes.
In most homes, the laundry room is usually small.
In such cases, some minor adjustments during remodeling can help you free up more space and make the laundry room more functional.
Ensure that your washer and dryer are front-loading.
This will allow you to add a counter above them.
Another excellent tip for a laundry room countertop is adding task lights under cabinets.
This will make tasks such as ironing and folding clothes easier to perform.
Bottom Line
Whichever style you want or budget you are working with, you can use plenty of countertop ideas and materials.
All you need to do is summon your creativity and do a little research.