I received a Knives Ranch Damascus Steel Knife at a discounted price to facilitate an honest review. All opinions are my own.
Knives Ranch Knives Review
Not all knives are created equal…sometimes you get a good knife, and sometimes you get a Knives Ranch Damascus Steel knife. This knife is both a tool and art.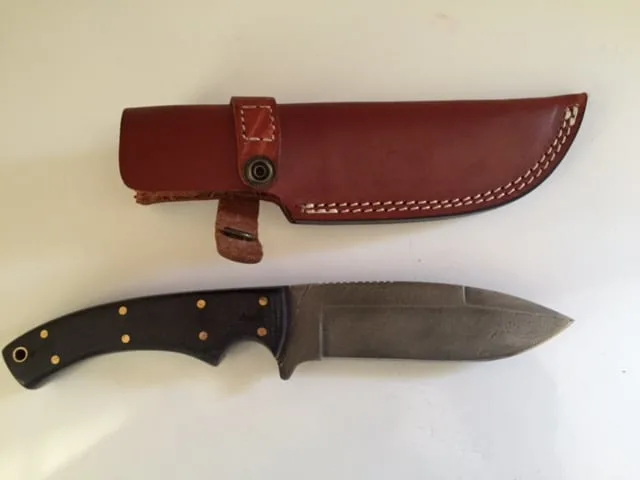 Damascus Steel
Damascus Steel–characterized by distinctive banding patterns and mottling reminiscent of flowing water. In this Knives Ranch knife, its 176 layers are stacked, heated, and folded to create a stunning blade.
The folding and hammer forging yields a distinctive pattern in the edge. This knife is gorgeous!
We own another Damascus steel knife from a different manufacturer that costs twice as much–the Knives Ranch has far more detail and beauty.
I think the design resembles tree rings and knots.
There is authentic craftsmanship in this knife. The lines are clean and well defined—the blade sharp right out of the box.
The blade itself is 5″ in length. The thumb serrations on the knife's spine are extremely useful for smaller jobs like skinning.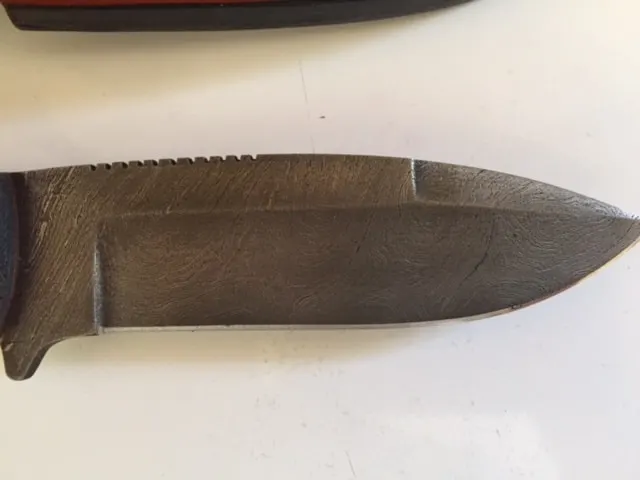 Micarta
Micarta is layers of linen stacked. The handle on this knife is a black canvas micarta. It is smooth and complemented by red inlays.
It's an easy, comfortable grip. It has a vertical loop mount on the handle. The handle is 5″ in length.
The Vegetable Tanned Cowhide sheath is well constructed and fits the knife snugly, and is included with the knife. It has high-quality stitching along the blade area and a snap closure between the blade and handle.
Whether you're looking for a display knife or one to use daily, the Knives Ranch Damascus Steel 10″ Fixed Blade Knife is an excellent choice.
It is made with quality craftsmanship unique blade design, ready to be worn or shown out of the box!
Not all knives are created equal–the Knives Ranch is raising the bar on quality and craftsmanship.
About Ranch Knives
Since 2010, Ranch Knives has been selling knives in the US market. Initially Ranch Knives focused on customized manufacturing for retailers at several trade shows nationwide. From here, they upgraded their skills of knife manufacturing and learned the needs of North American outdoors-men and knife enthusiasts. Later, Knives Ranch was established in 2014 to offer performance grade semi-custom knives and tools at affordable prices.
Knives Ranch stands behind every knife that comes off its production line. Every knifed in their product line is crafted to bring about quality that meets industry standards and customer's expectations. Practicality is the key feature behind their designs. Knives Ranch's knives are real hunting tools, gorgeous collectibles, and their feel boldly speaks for itself. .