The Last Kids On Earth by Max Braller Review
Trending right now in middle-grade reading is narrative novels that integrate illustrations. My children become immersed in the characters and story. We just finished reading The Last Kids On Earth by Max Brallier, author of Galactic Hot Dogs, with illustrations by Australian comic book designer and artist Douglas Holgate. It's a story that is part adventure and part comic.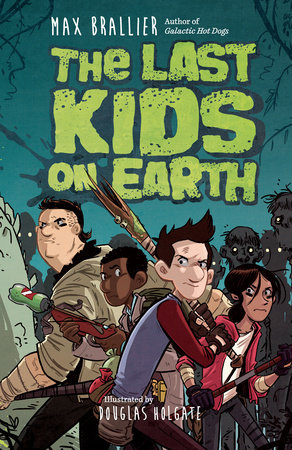 The Last Kids On Earth Synopsis:
Meet Jack Sullivan, your average 13-year old. He takes on the monster Apocalypse in a hilarious adventure, battling the slimiest monsters and zombies in his hometown with a bit of help from his friends.
Ever since the monster apocalypse hit town, Jack has been living in his treehouse, which he's armed to the teeth with catapults and a moat, not to mention video games and an endless supply of Oreos and Mountain Dew scavenged from abandoned stores. But Jack alone is no match for the hoards of Zombies and Winged Wretches and Vine Thingies, especially not for the eerily intelligent monster known only as Blarg. So Jack builds a team: his dorky best friend, Quint; the reformed middle school bully, Dirk; Jack's loyal pet monster, Rover; and Jack's crush, June. With their help, Jack will slay Blarg, achieve the ultimate Feat of Apocalyptic Success, and be average no longer! Can he do it?
Told in a mixture of text and black-and-white illustration, this is the perfect series for any kid who's ever dreamed of starring in their own comic book or video game.
The Last Kids on Earth-Our Thoughts:
My children found this book to be hilarious. The creatures are unique and fun. Jack, as the protagonist, offers a goofy, spirited, and hilarious storyline. They love when Jack attempts to be the "tough guy."
Miss M loved the character June. She needed a larger role in the story. She is fierce, and fearless and makes things look easy. She needs to be a more prominent character.
Douglas Holgate is a great artist, and his illustrations enhance the story. It has a comic-book feeling and brings the story to life.
The Last Kids on Earth is an excellent book for those who want a taste of scare with fun characters and an adventure for more than the just-your-average hero.
We are looking forward to the sequel of The Last Kids on Earth and catching up with the characters. Pick up your copy of The Last Kids On Earth at bookstores nationwide.