This salad made with bulgur, fresh herbs, cucumber, pistachios, feta and chickpeas is Jennifer Aniston's "perfect salad."
It's the Tik Tok viral salad.
Legend has it Aniston ate this salad every day while filming Friends for ten years.
The Los Angeles Times said it was more of a cobb salad with turkey bacon.
It originated on the Living Proof Brand's Instagram Takeover in 2015, where the caption described this salad as her "perfect salad."
Get your bowl ready; you're going to love this salad with fluffy bulgur, creamy feta cheese, pistachios, a spritz of lemon juice for some tart contrast, and crisp cucumbers.
It's a complete meal with protein, smart carbs, texture, and taste!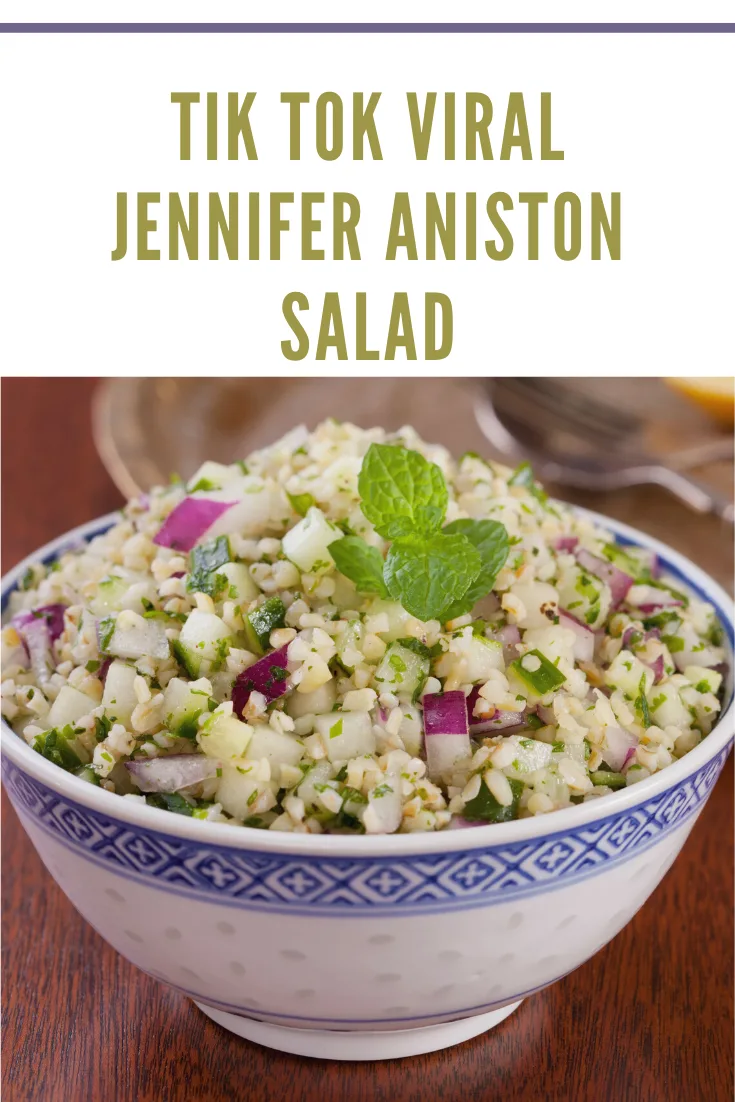 You'll need:
Bulgur – Bulgur contains a variety of vitamins and minerals, as well as a good amount of protein and fiber. You can substitute with Quinoa or Farro.
Red Onion – It's colorful, and adds crunch. Known as a "superfood", Red onions are rich in anthocyanins, which are powerful plant pigments that may protect against heart disease, certain cancers, and diabetes.
Cucumber – opt for the mini cucumbers, but regular will work. Cucumbers are loaded with Vitamin K vitamins B and C, along with minerals like copper, phosphorus, potassium, and magnesium
Fresh parsley – flat-leaf parsley and curly parsley both work well in this recipe. Be sure to wash the parsley well before use. Parsley is rich in vitamin C and other antioxidants, folate, and Vitamin A.
Fresh mint – It adds a great flavor to this salad. Wash and dry before use. Mint is a particularly good source of vitamin A.
Pistachios – opt for roasted and salted. Pistachios are high in protein, fiber, and antioxidants. They also boast several other important nutrients, including vitamin B6 and potassium.
Chickpeas –canned chickpeas are "garbanzo beans" and work just fine. Chickpeas are also loaded with vitamins and minerals, such as choline, which helps your brain and nervous system run smoothly, as well as folate, magnesium, potassium and iron, and vitamins A, E, and C.
Feta cheese – Feta cheese is a good source of calcium, phosphorus, and protein. You can opt for vegan feta if you want.
Dressing – it's simple, lemon juice, olive oil, and salt and pepper. It's the perfect finale for this salad.
Ingredients
This salad serves 4 generously
• 3 1/2 cups bulgur wheat
• 1/3 cup red onion, chopped
• 1/2 cup fresh Italian flat-leaf parsley, chopped
• 1/2 cup fresh mint, chopped
• 1/2 cup pistachios, coarsely chopped
• 2 cups chickpeas, drained
• 3 tablespoons lemon juice
• 1/4 cup extra virgin olive oil
• 1/2 teaspoon kosher salt
• 1/4 teaspoon freshly ground black pepper
• 1/2 cup feta, crumbled, plus more for serving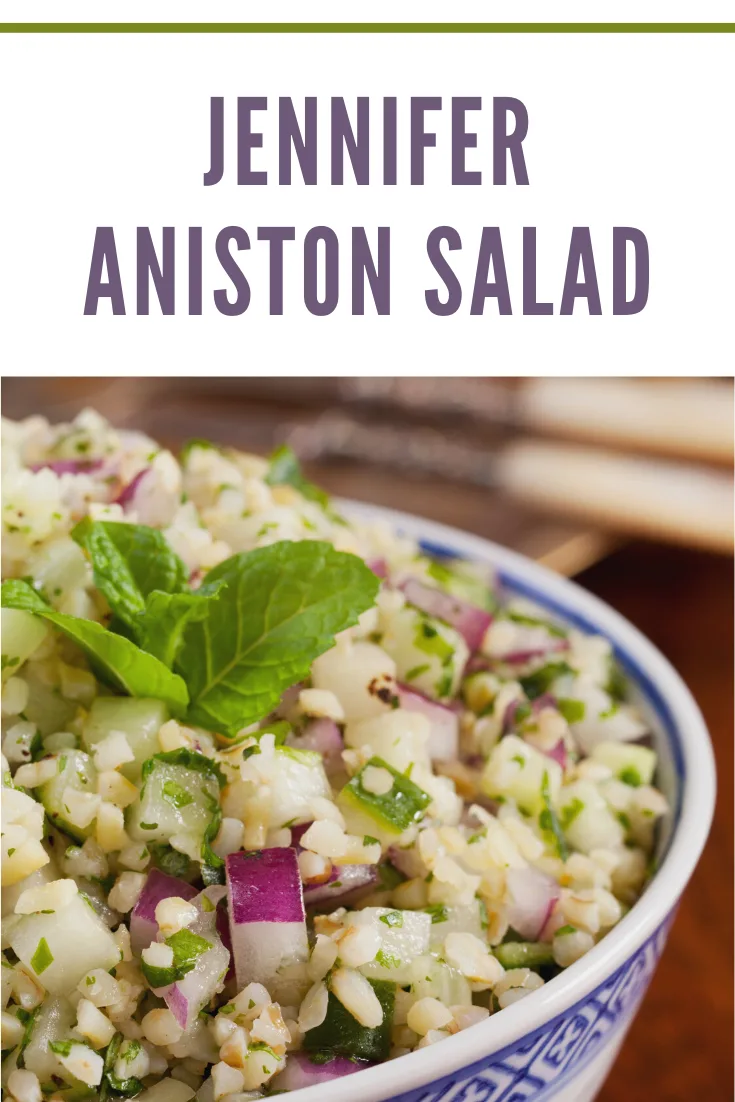 How to Make Jennifer Aniston Salad
Prepare the bulgur wheat according to the package directions.
Once done, allow to cool, and then fluff the bulgur wheat with a fork
While the bulgur cooks, add the chopped red onion to a bowl of ice water (this will minimize its bite).
After 10 minutes, drain the onions.
In a large bowl, toss the bulgur, red onion, cucumber, parsley, mint, chickpeas, lemon juice, olive oils, and feta cheese.
Add salt and pepper to taste.
Serve topped with additional feta cheese.
Store leftovers in an airtight container in the fridge for up to 5 days.