For nearly thirty days, I have been trying a product called SmartMune. After reading about the benefits, it seemed a great way to help my immune system, and after that virus we had that mutated through March and April, I'm open to anything that can help me stay healthy.
SmartMune activates billions of innate immune cells that are part of the body's natural defenses without overstimulating the immune system. It might as well be the equivalent of Jaime Sommers (The Bionic Woman), with more than $300 million spent in research to perfect!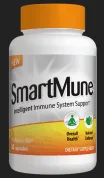 SmartMune actually works with the body's immune system to:
Strengthen the function of key immune cells
Maintains energy, vitality, and mental clarity
Activates key immune cells to protect against the harmful effects of stress
A natural carbohydrate known as Wellmune WGP is the active ingredient in SmartMune. These primes neutrophils, the largest population of immune cells in the body and an important part of the body's natural defenses. I encourage you to do a Google Search to learn why this works. It's been clinically proven to strengthen the key immune cells that keep a body healthy, and it is recognized as Safe by the FDA.
My experience has had no side effects, and I feel confident after avoiding another 24-hour bug at our house that seemed to hit my family.
SmartMune has an entire line of dietary supplements containing Wellmune WGP, including a children's version. They're each available through their website.
Disclosure of Material Connection: I received one or more of the products or services mentioned above for free in the hope that I would mention it on my blog. Regardless, I only recommend products or services I use personally and believe will be good for my readers. I am disclosing this in accordance with the Federal Trade Commission's 16 CFR, Part 255: "Guides Concerning the Use of Endorsements and Testimonials in Advertising.".