The Kurti is available in various styles and colors, which makes it a must-have for your wardrobe. It is a versatile piece of clothing that works well for different occasions and people. The comfortable and versatile Kurti can be what you need to spice up your look.
With over 30 different Kurti trends and styles available, finding one that fits you perfectly can be challenging.
Some Kurti designs will be limited to specific body types or occasions, meaning that you have to be careful to wear them suitable. But what do you need to keep in mind when styling your Kurti? Is it the right design for you? What accompaniments pair well with your preferred style of Kurti? This detailed comparison explores different Kurti designs available online like rayon Kurtis and Gown Length Kurti.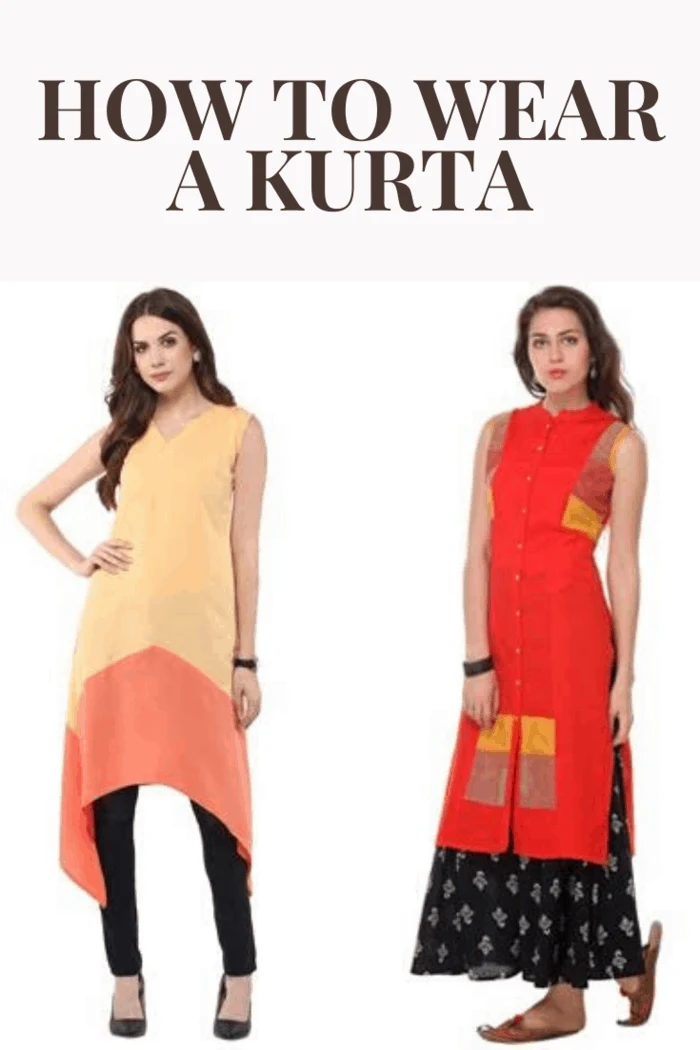 Color Block Kurti
If you are looking to make a fashion statement with your Kurti, opting for a color block option could be an ideal solution.
Color blocking uses contrasting colors to deliver a bold statement, making it an ideal choice for casual wear.
Your color block Kurti will work well as an outing fit and a be matched with a range of bottom options. The color block will pair very effortlessly, from skirts to straight pants through ankle jeans.
This type of Kurti is well suited for apple, hourglass, and rectangular body shapes. It can be accessorized with stud and cuff earrings, sunglasses, multi-strand neckpieces, and large bags.
We recommend polyester, spandex, poly-cotton, and crepe for the color block, Kurti.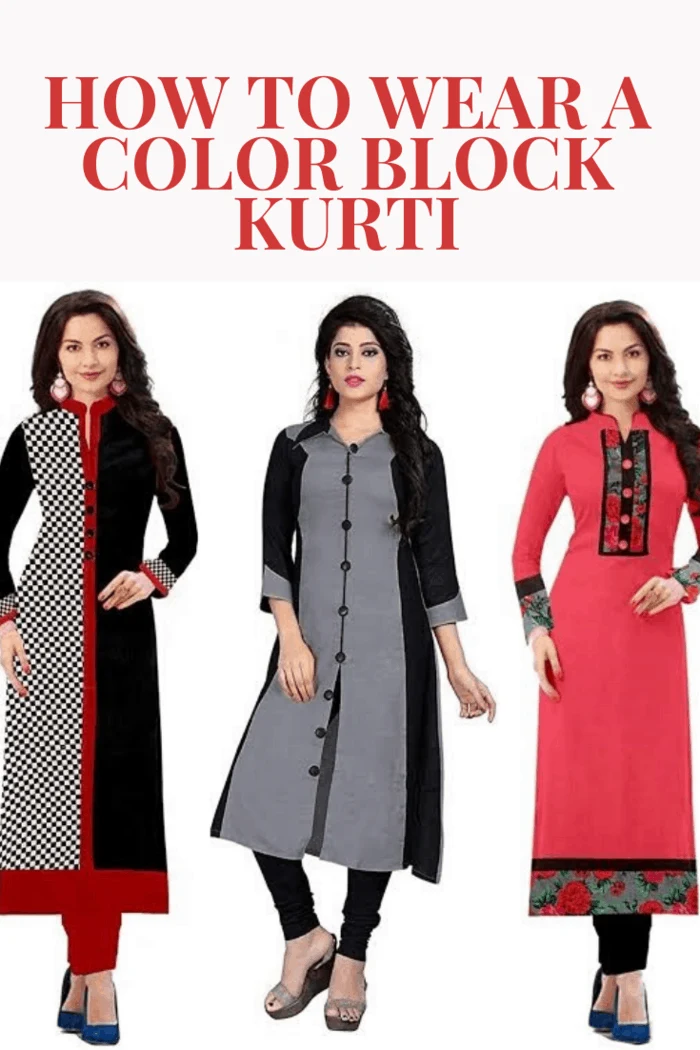 Pakistani Kurta
If you want to try something new and exciting, the slightly baggy Pakistani Kurti could be what you need.
The trendy Kurti design features very comfortable wear and a ton of embroidery.
The result is often a very comfortable and well-finished Kurti. Pakistani Kurtis is ideal for warmer months and daily wear and on trips.
The Kurti pairs well with heels, sandals, pumps, and Kolhapur's.
It will tend to be longer, at a calf or ankle length, which means you need to pair it with long pants. A skirt could work well too!
Pakistani Kurtis is ideal for rectangular, pear, and hourglass body shapes. You should always avoid pairing your Pakistani Kurti with dhoti pants or shorts.
The style might also be unsuitable for apple body shapes.
Gown Length Kurti
The gown length Kurti is Indian fashion's answer to the evening gown.
It is a more stylish and comfortable option than the evening gown while still offering perks.
You will not need a bottom pairing with the gown length option as it already covers you down to your feet.
The style statement is a popular choice for parties and other non-formal events; it works best for apple and pear body shapes but will suit rectangular and hourglass figures.
Gown length Kurtis goes well with contrasting accessories. If your gown is vibrant, more subtle accessories will be ideal. If your gown is low-key, drop earrings, chandball earrings, jhunkis, and Kada bracelets could be great accompaniments.
Indo Western Kurta
The western look can be achieved with a Kurti in the right style. Indo western Kurtis, when paired well, offers an engaging sleeve style, characteristic neckline, and unique cuts.
They are an excellent choice for non-traditional occasions, casual wear, and dating.
They pair well with leggings, stockings, tights, shorts, dhoti, and tulip pants.
Indo western Kurtis can be short or long and will work well for all body types. The available footwear choices range from bellies and boots to sandals and sneakers.
You can also consider lighter materials for this Kurti, such as rayon, silk, georgette, viscose, and crepe.
We suggest that you do not wear a skirt with your indo-western Kurti.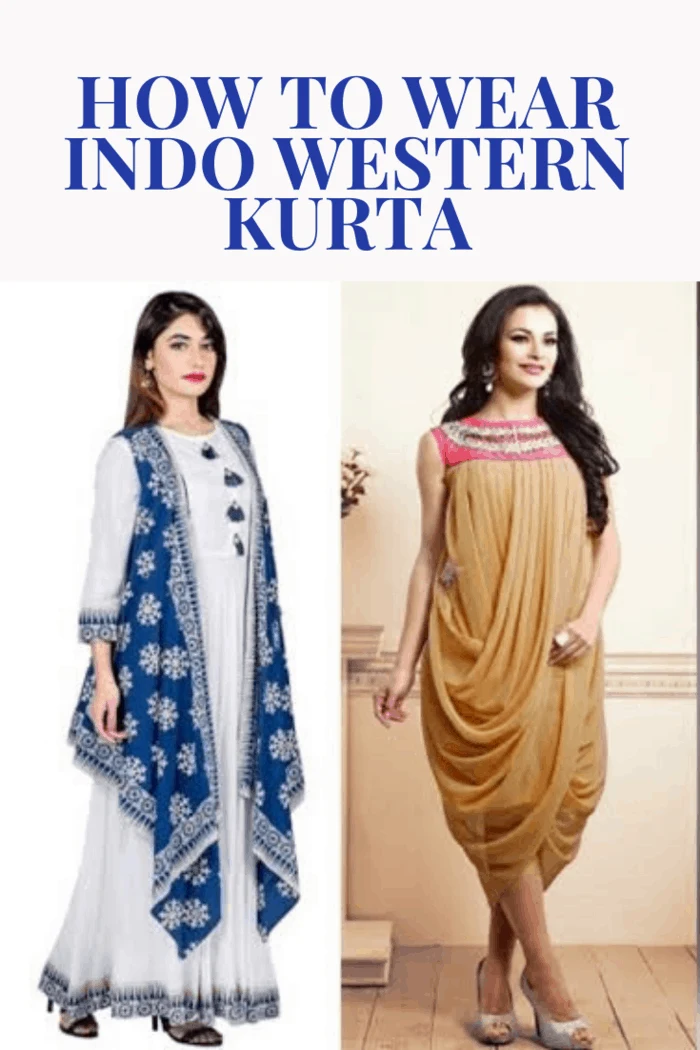 A-line Kurti
A popular trend with young women, Kurtis set the standard for versatility.
They can be worn for both formal and informal occasions and pair well with various bottoms.
The versatile a-line Kurti will work well with just about anything from leggings to straight pants.
The A-line Kurti will go great with a range of accessories and footwear. You can pair it with anything from sandals and dangle earrings to pumps and studs.
While all fabrics will work well for this style, Lighter options work best for a more comfortable outfit. Your material choice may dictate the use of your Kurti. For instance, A-line rayon Kurtis could be an elegant and stylish choice for everyday use and college wear.
Tail Cut Kurta
The layered design of a tail-cut Kurti makes it ideal for informal occasions; the trendy Kurti style offers a tail-like effect with your asymmetrical Kurti slanting downwards and outwards.
The casual wear pairs well with leggings, jeggings, and treggings and works with stockings, jeans, and ethnic jackets.
Your accessory options range from dangling and stud earrings to cuff bracelets, clutch bags, and jhunkis. We prefer the tail cut Kurti a bit shorter than most. With a knee-high length.
This style, according to wikiHow, is best suited for pear and hourglass shapes but works for tall women too. The tail cut Kurti goes well with pumps, wedges, chapels, peptone heels, and open sandals.
We recommend cotton, polyester, crepe, and georgette fabric for the tail cut kurta style.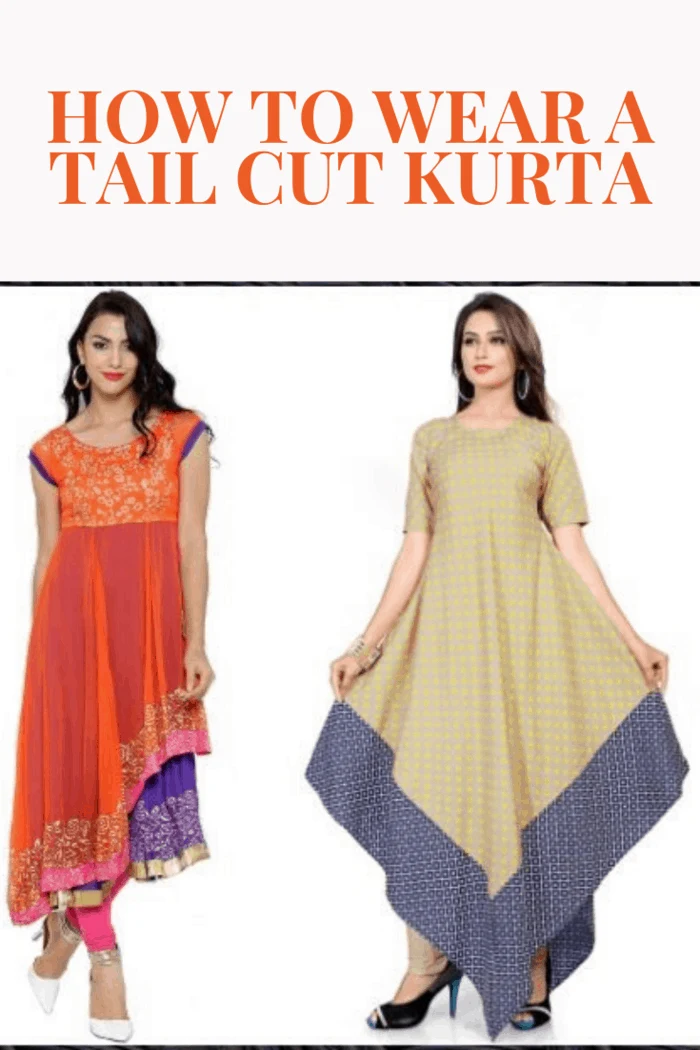 Final word
If you have only recently taken up an interest in Kurtis and are looking to buy one, you need to sweat the details to get the right fit.
Finding the best Kurti for your needs begins with understanding your body type and the various Kurti styling options.
We have not covered all the trends on offer, but you should wear those well by focusing on the key points of note.
Remember to keep your Kurti stylish by taking innovative and edgy steps to improve your look. With the right accessories, footwear, and accompaniments, you should be able to look dashing in your Kurti.