While exercising can be a very enjoyable activity, it can be hard to get started. If you are struggling at heading to the gym, why not look see what you can do to make it a little more exciting. What better way to have fun than turning your workout into a playout?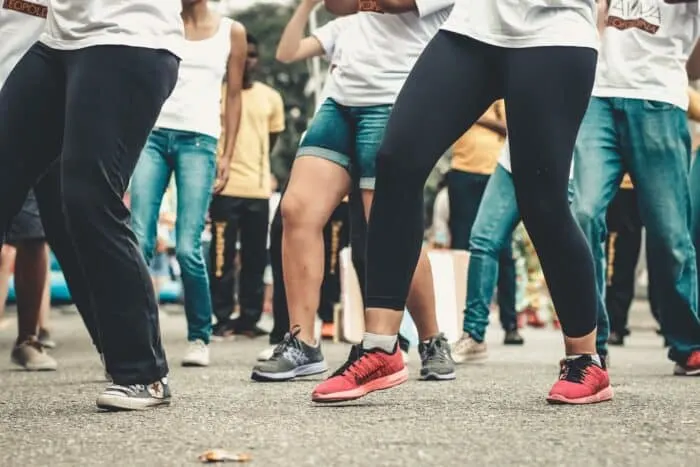 How to Make Exercising Entertaining
1. Get Dancing
Dancing is an excellent form of exercise. Even better, there are so many different styles to choose from, including:
Ballet
Jazz
Tap
Hip-hop
Ballroom
Latin
Contemporary
Have a look at what style might suit and search for your most local classes. As you learn new skills and become better, you'll be more motivated to continue to go and burn those calories.
And burn calories it does! Targeting all your core, arms, and legs working at a medium intensity, a 30-minute dance class burns between 130 and 250 calories estimates WebMD. It's also can be a fun activity to start with a partner – so if you have been looking for more things to do together, dancing is the perfect solution.
2. Get Bouncing
So, if dancing isn't quite your thing, what about bouncing? No, we don't mean up and down off the ground, but rather by using trampolines.
Trampolining can be a serious workout. In fact, The American Council on Exercise reported that a 20-minute workout on a trampoline burns as many calories as running 10km/h for the same period of time.
There are more and more trampoline parks opening every year. Many also incorporate obstacle courses that have been made famous from contest shows like Wipeout and American Ninja Warrior. What better way to work up a sweat then bouncing and running through a range of challenging obstacle set pieces!
If making it to a trampoline park (and consistently paying) is going to be difficult, don't discount the idea of buying your very own trampoline, like these from vulyplay. Look for a quality one that has a safety net, and you can bounce whenever you like (and if you have kids, you'll be the parent of the year).
3. Get Surfing
Ok so we are cheating a little bit with this one because not everyone has the opportunity (or lucky enough) to live close to a beach. But if you do, maybe you should consider learning to surf if you haven't.
According to The Inertia, surfing is one of the best cardiovascular exercises and allows you to develop local muscular endurance through holding your quads in a flexed position. While it may look hard, the good news is that it's quite easy to learn the basics of surfing, says Surfer Today.
And don't forget you can always look at engaging in some surfing lessons. It may end up being a better investment than paying for personal training sessions.
4. Get Hiking
Hiking is an amazing exercise activity, both solo and with friends. Nothing quite beats getting the great outdoors, and hiking has to be somewhere at the top of the list.
No matter where you are, websites like AllTrails are fantastic resources when finding a nearby hiking trail. This lets you plan in advance so you can fully enjoy your trip without getting lost or stuck somewhere you shouldn't.
The experts at Nature and Nosh say, Hiking makes you stronger, as the terrain is often uneven, and thus you have to work harder to navigate. But hiking does more than the physical side; it lets you clear your mind and reconnect with nature.
5. Get on a Team
If you a still lacking motivation, then getting involved in a team sport may just be the answer. When joining a team, it's much harder to skip on your responsibility as no one ever wants to let down the team, right?
Better yet, (and like dancing), there are multiple choices to get involved in, even at a more casual level. Online tools like findaplayer.com have made it easier than ever to connect with like-minded people of the sport of your choice.
---
Resources:
https://acewebcontent.azureedge.net/certifiednews/images/article/pdfs/ACE_MiniTrampoline.pdf
https://www.vulyplay.com/en-AU/trampoline
https://www.theinertia.com/health/why-surfing-is-one-of-the-best-cardiovascular-exercises-you-can-do/