Hunting the best toilet from long lists of brands and models is a challenging task. Not everybody can cope with it. If you are also on the way to buying a new toilet, you may get stuck reading features and sorting the best one per your preference.
To organize things and give you an idea about what you have to consider before finalizing a toilet, we have researched the 6 most important things you must consider before buying a toilet for your bathroom. So, don't panic when making a decision and must choose a toilet that gives you the ease of usage and maintenance, keeping the interior integrity.
Come with me and see what we have to reveal!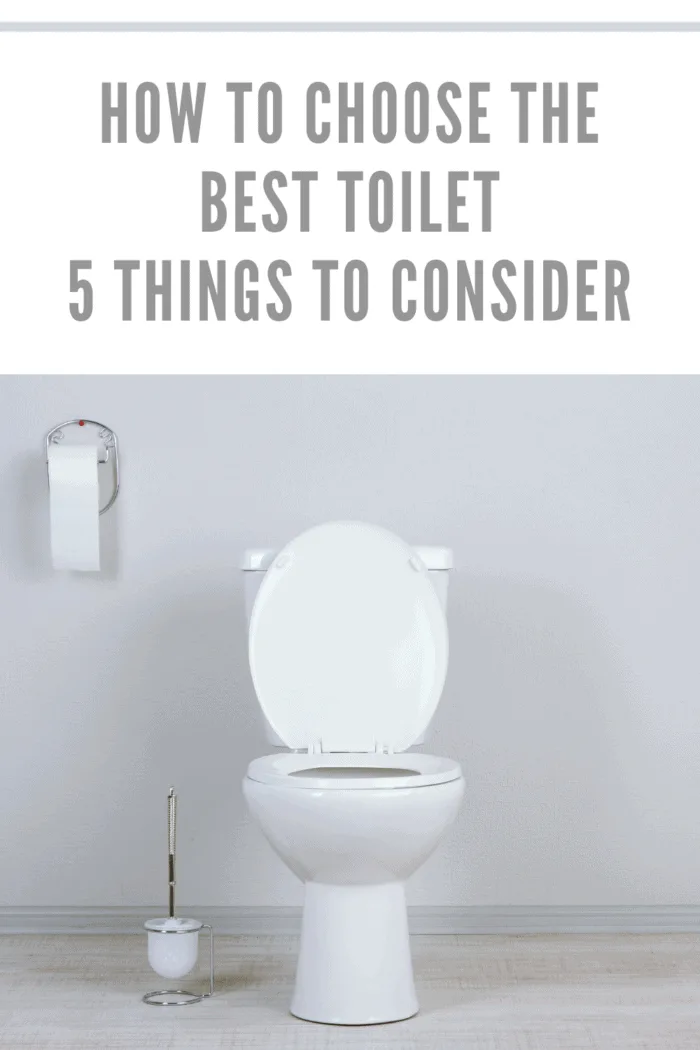 How to choose the best toilet – 5 important things to consider
Whether you are buying a new toilet online or are going to purchase manually, just be smart and check the best toilet reviews to have a quick idea.
Next, don't forget to consider these most important checkpoints to prevent any wrong purchases.
Height
Most of the toilets come in standard heights of about 15 inches, but if you are tall or prefer tall toilets, you may choose a toilet of big height.
If you have back or knee issues, 17 – 19 inches toilets will best suit you.
These high toilets may serve as a blessing for you.
They could be problematic for short people and children.
You may choose it for the bathroom of your bedroom rather than the kid's washroom.
Style and fitting
The two-set toilet, bowel, and tank, is not the last option left, as there is a considerable variety of toilets that come to fit your style and desire.
These different configurations ensure that you have the best toilet without undermining functionality and looks.
You can select a one-piece toilet in which the bowl and tank are already attached without any crevices to accumulate dirt.
They are also easy to clean. Another style of toilet that is now getting common is wall-fixed toilets.
They add a dramatic effect and give a unique look to the bathroom.
If you want to have a fixed toilet, the bathroom's walls must be strong enough to bear the heavy weight.
Cleaning these toilets is also easy as there are no debris collets at the bowl base.
Next comes the elongated and round bowl toilets.
The choice is still yours.
The main difference between these toilets is that round bowls are space savers.
Most people find elongated bowls more comfortable than round toilets, but the drawback to installing an elongated toilet is they cover more space and are comparatively expensive.
So, if you are short of space, round toilets are the best for you as they save about 3 inches of space and hundreds of dollars.
Compare the toilet efficiency
If you haven't decided yet, add one more parameter of selection which is the performance of the toilet.
As toilets are used several times a day, and if you fix low-quality toilet¸, the result would be leakage and, more often, clogs.
Toilet performance is rated in the MaP score, and a toilet with a 600-1000g score is recommended for greater flushing performance.
This must check the criteria by which flush performance is tested, and high-quality toilets must be selected.
Comfort comes first!
Comfort level should be your top priority before paying for a toilet because if you fix a disturbing toilet, you will be repenting later on.
You can enjoy toilets with heated comfort seats and soft-closing seats with a foot warmer.
There are self-deodorizer and automatic flushing toilets, too, and you would be amazed to know that smart technology has not left the toilets out.
You can have an innovative toilet in different aspects but be aware of the fact that novelty costs more.
Water-saving flushing systems
When it comes to water loss during each toilet flush, you must consider a toilet with maximum water-saving capability.
Contrary to traditional toilets, innovative models have come up with solid water conservation technology.
These latest toilets flush 1.6 gallons per flush, while old models flush 3.5 gallons per flush. In this way, modern toilets tremendously serve to prevent water loss.
If you want more than this, ultra-high efficiency and dual flush toilets are there for you with immense water savings.
You will not only play your role to save water for nature, but you will see a drastic change in the water bills.