With the countdown to the Royal Wedding everyone, including me is dreaming of being a princess. Kate Middleton is living every little girl's (and some grown-up girls) fantasy.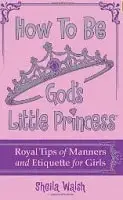 We've heard about Kate's lessons on how to be a Princess. Perhaps Sheila Walsh's new book, How to be God"s Little Princess, is at the forefront of the Royal training. I've read it and found it to be a great resource and a creative approach to teaching my girls all they need to know to be a Princess.
With its pink-themed cover, it instantly attracted my girls. Together we enjoyed learning how to wear a tiara, how to care for a pet, how to use good manners, how to help Mom, how to make cookies (pink, of course) and how to act like a princess even when things go in a direction we'd prefer it hadn't.
This book is geared towards the 5-12 aged girl and addresses the issues of etiquette, manners and everyday life like dressing in clothes that are appropriate in fit and style.
My girls read the book on their own and loved the quizzes. We had a great time learning "Which Tiara is for You" by reading about the shape of our face. Each of my girls had a different "perfect" tiara which set their imaginations into over-drive!
We usually hold a fashion show at the change of seasons where the girls put on clothes and walk the runway while we determine if they fit. How to be God"s Little Princess has a chapter on how clothes should fit and my girls took it to heart. They were able to determine on their own what clothes, regardless of how much they loved them, didn't fit–which drastically reduced our fashion show length!
We love this book. We're not the only ones; the book has received so many rave reviews. Take a look at what people are saying about this fun and informative book.
What does it take to be a princess? Sheila Walsh has some important answers to share with every little girl. This hardcover book features black and white line art and a two-color pink and black interior. The art tie's into each how-to topic in the book.
Topic's include:
How to make the best pink cookies.
How to wear a tiara.
How to earn money at home.
How to care for a royal dog.
How to be respectful.
How to use good manners.
How to help Mom.
How to follow Jesus.
How to act like a princess when things go wrong.
And many more.
About Sheila: Sheila Walsh is the creator of Children of Faith and the Gnoo Zoo, a ministry to children that communicates God's love for them. She is the author and co-author of the books "Honestly," "Living Fearlessly," "The Best Devotions of Sheila Walsh" and "How to Be God's, Little Princess." An accomplished musician, she has recently released, the CD "Love Falls Down." Walsh is also the creator of the award-winning Gigi, God's Little Princess® brand which has sold over 1.5 million units. Sheila is also a powerful communicator, Bible teacher, and a featured speaker with Women of Faith®, Sheila has reached more than 3.5 million women by artistically combining honesty, vulnerability, and humor with God's Word. Sheila Walsh co-hosted The 700 Club and her own show Heart to Heart with Sheila Walsh. She is currently completing her Masters in Theology.
I received a copy of the book from Litfuse to facilitate an honest review. The opinions where expressed are my own and were in no way influenced by the sponsor. Others experiences may vary.
We appreciate your subscription to Mommy's Memorandum