Wear Your Karate Belt on Your Wrist
Just in time for those New Year's Resolutions comes GOAL BANDS GAME. We've been using the Goal Bands Game at our house to help Mom with drinking more water, Li'l Man with his finger sucking, Spelling Tests, Putting clothes in the hamper and so much more. and we are having a great time!
This clever game involves wristbands (in three sizes: small, medium and large). The child makes a daily goal (clean room, do homework, a life-skill, etc.) Then the fun begins. On Day One, the child wears the first band (yellow) as a reminder of their goal.
If the child achieves their Daily Goal they progress through the colored wristbands. The bands are colored after Karate Belts (yellow, orange, green, red, black). If you accept your challenge, but fail to meet your daily goal on any day, you must wear that same colored wristband for another day as a reminder to reach the goal.
Goal Bands Game is one that I can get behind. It's a great reminder and helps children set goals and strive to reach them. We have an incentive in place if they make it through all the colors of the band. There are so many possibilities with Goal Bands and it give personal accountability, self-discipline and self-confidence. My children are very much aware of their goal and whether they choose what their band represents this week with anyone is up to them. After all, it's their own personal journey.
I appreciate the ease of this game. It's so easy to change bands, or if you're like Li'l Man, wear them all as you earn them as a reminder of your progress.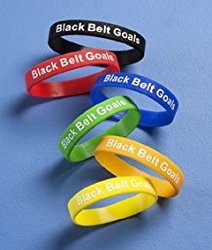 My goal the first six days was to drink more water. I found the colored wristband to be a great reminder that I need to step up my game. I found myself looking forward to getting a new band and completing my challenge.
The Divine Miss M had a goal to score 100 percent on her spelling test. She used the Goal Bands Game to remind her to study her word list every night. There was no need to remind her. She did it on her own. There is something so heart-warming about seeing her set goals and work towards achieving them. I loved seeing her at the table every day after school writing her spelling words. She was on her last band on Friday and I laughed because on Monday she got off the bus with her last color in the Goal Bands Game and handed me her spelling test. It was still sealed with the sticker and I asked, "Did you get 100?" She smiled and said, "I haven't checked but I'm sure I did. I already gave myself a new band!" I then laughed out loud when I saw on the back of her spelling test she had written, "I got 100% again, Mrs. Anderson (her teacher)." She had turned in her test with that note. We opened the spelling test together and sure enough, she got a stamp and red 100%!
Lil' Man is on a quest to stop sucking his finger. His Goal Bands Game isn't progressing as rapidly as ours. He is still working on it and getting a new band is such a big deal to him that he refuses to remove any that he has "earned". I have confidence that he can achieve his goal and am very proud of him for not becoming discouraged.
What are "BLACK BELT GOALS"?
There is a place inside each of us where we know only strength. Where we are invincible. BLACK BELT GOALS are the paths made of personal achievements, both big and small, that take you there.
What is GOAL BANDS GAME?
GOAL BANDS GAME is the new, simple to use, and inexpensive game system that enables anyone to set and then achieve their own BLACK BELT GOALS.
How does it accomplish this?
GOAL BANDS GAME uses colored wristbands, much like belts in Karate, to maximize self-accountability and to encourage an "I Can do anything I put my mind to" attitude in those who use them. (How to play GOALS BAND GAME).
What type of goals?
Goals can be anything that a participant chooses so long as they are 1) truly within the ability of one to control the outcome of, and 2) capable of being measured daily for progress. (i.e. daily study, daily exercise, daily dietary, daily behavior, daily safety, etc.).
How long does it take to work?
A GOAL BANDS GAME cycle consists of seven daily stages making up, ideally, one week of play. Participants actually benefit the moment that they begin to "play," though, as the growth dynamic is just that fast, simple and strong..
What's in my package of GOAL BANDS GAME?
Each GOAL BANDS GAME is a collection of 6 wristbands that are patterned along the traditional karate belt color system (yellow, orange, green, blue, red and black). Each is imprinted with the reminder "BLACK BELT GOALS". Also included:
Each GBG kit includes everything you will need to teach your children to break bad habits and start great ones in their place
6 super wristbands, each a different karate-belt color and imprinted with our trademark "Black Belt Goals"- Small size (fits ages 4-7 )
2 'game' Journals
Instructions and Goal Achievement Tips
Distinctive packaging
They retail through the Goal Bandz. Website for a reasonable $5 per set!
I was sent Game Bands Game in order to facilitate an honest review. No other compensation was received. The opinions are my own and were in no way influenced by the sponsor. Others experiences may vary.
We appreciate your subscription to Mommy's Memorandum