A Golden birthday only happens once in your lifetime. It's when the date you were born lines up with your age. For example, if your birth date is February fifth, then your fifth birthday is the golden birthday. A golden birthday is an opportunity for kids to make what's already considered a magical day even more special! Kids will remember this kind of special event for years to come.
f you're looking forward to throwing a party, you should know that your kids are thrilled to experience this once-in-a-lifetime event. The party's theme should be exciting and fun not just for the children themselves, but also for the parents since some of them will surely be attending the party to look after their kids. A very important tip to remember is to make sure you take your time planning the party. Kids would willingly participate in the birthday party in all aspects, including the planning process. Involving your child in the planning and preparation will make them feel the excitement leading up to their special day. The details of planning a golden birthday party are easy! Consider your color theme, and the number concept can also be used for decorations, invitations, party favors, gold candles, etc. A golden birthday is a fun way to celebrate the date of your birth and make it a special birthday.
The Tradition of Golden Birthdays:
So? Where did the tradition and idea of a Golden Birthday originate?
In the 1950s, a midwestern author named Joan Bramsch started celebrating her five children's golden birthdays.
The concept of a lucky birthday caught on with her friends and family, spreading across the world.
Pull inspiration from Joan's genius idea by adding a little extra shine to your next birthday!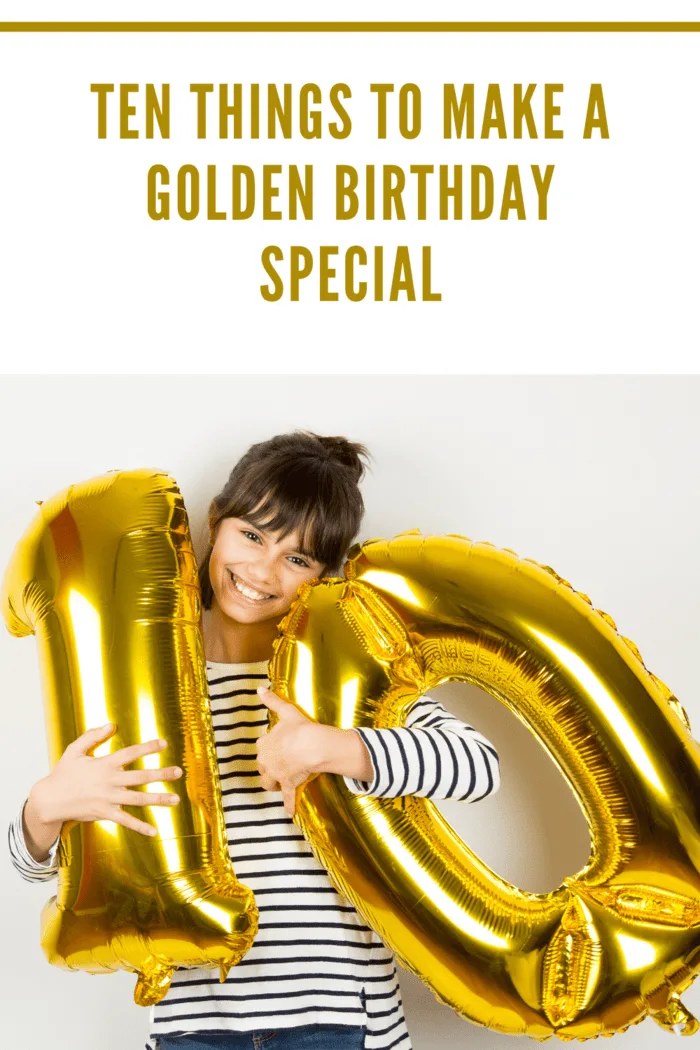 I
Ideas for Surprising Someone on their Golden Birthday:
Plan a surprise party: Organize a surprise party with their closest friends and family. Decorate the venue with gold balloons, streamers, and banners.
Gift them something special: Find out what they've been wanting or something that would make them happy and give them that as a gift. You can also personalize the gift by adding something gold, such as a gold necklace or a gold watch.
Take them on a golden trip: Surprise them with a trip to a place that has a connection to gold, like a gold mine or a city with a gold rush history.
Create a golden memory: Take them out for a day filled with activities they love, such as hiking, bowling, or going to a museum. Make sure to take lots of pictures and create a scrapbook or a video montage for them.
Make a golden meal: Cook them a special meal or take them to their favorite restaurant and order all their favorite golden foods, such as golden potatoes, golden beets, and golden squash.
10 Things to Make a Golden Birthday Special
Custom Party Shirts
What better way for your child to show everyone that it's their special day than with a custom party shirt outlining their age? Imagine how amazing they'll feel when the whole family wears a custom birthday shirt to celebrate their day. Work with a reputable T-Shirt Printing service to have custom shirts designed for the big day. Then surprise the birthday boy or girl by having them on when he or she wakes up.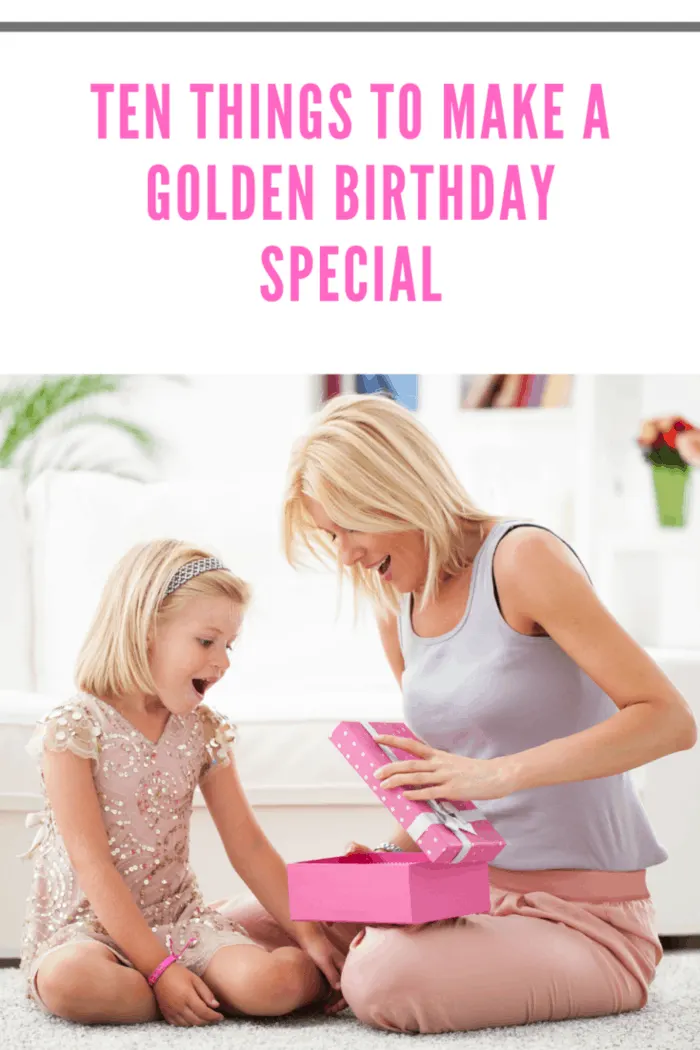 A Photobooth
A golden birthday is an occasion you'll want to remember. Whether you're having a family party or a big bash with your child's friends, create a photo booth for them to pose and get silly with props. Think oversized Mylar gold balloons of the birthday numbers or a golden balloon arch. Arches are popular decor ideas that also create a perfect photo-op setting. If a professional photographer isn't in the budget, create your own photo booth with a gold tablecloth or streamers. You can buy a variety of printable props from Etsy or party stores and make your own custom ones with your child's name.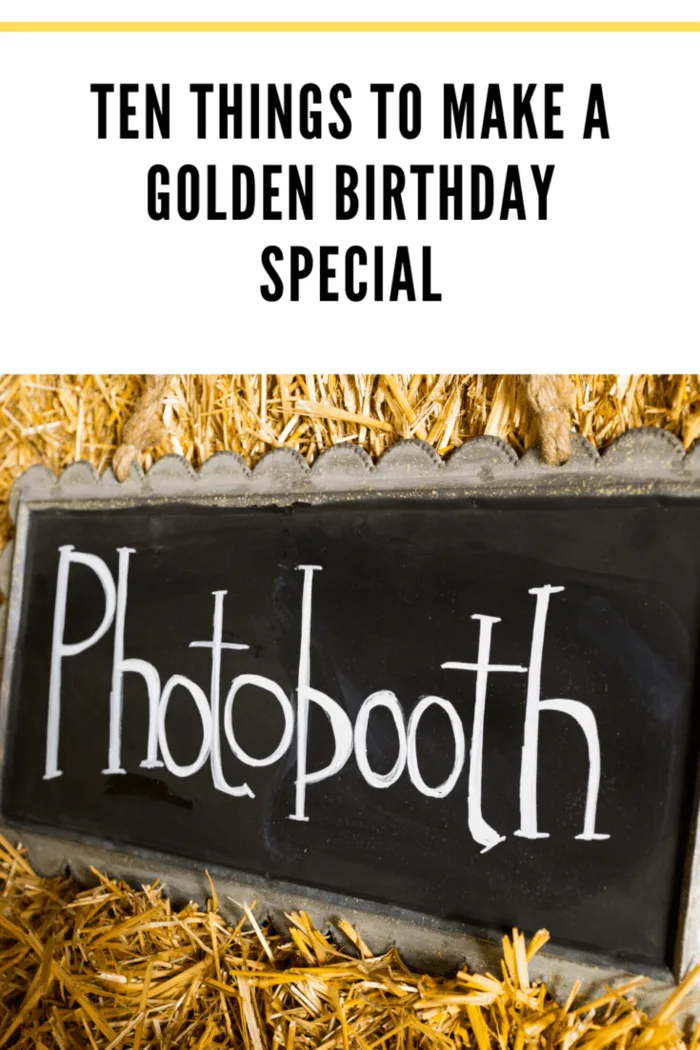 Balloon Door Wake Up
Imagine the joy and excitement on your child's face when they wake up to a wave of balloons falling in their door. After they go to bed at night, close the door and tape streamers across the frame. Then, fill the space with as many golden balloons as you can. When your child opens the door in the morning, all the balloons will fall in and greet them. Then they can burst through the streamers and start the day with a smile.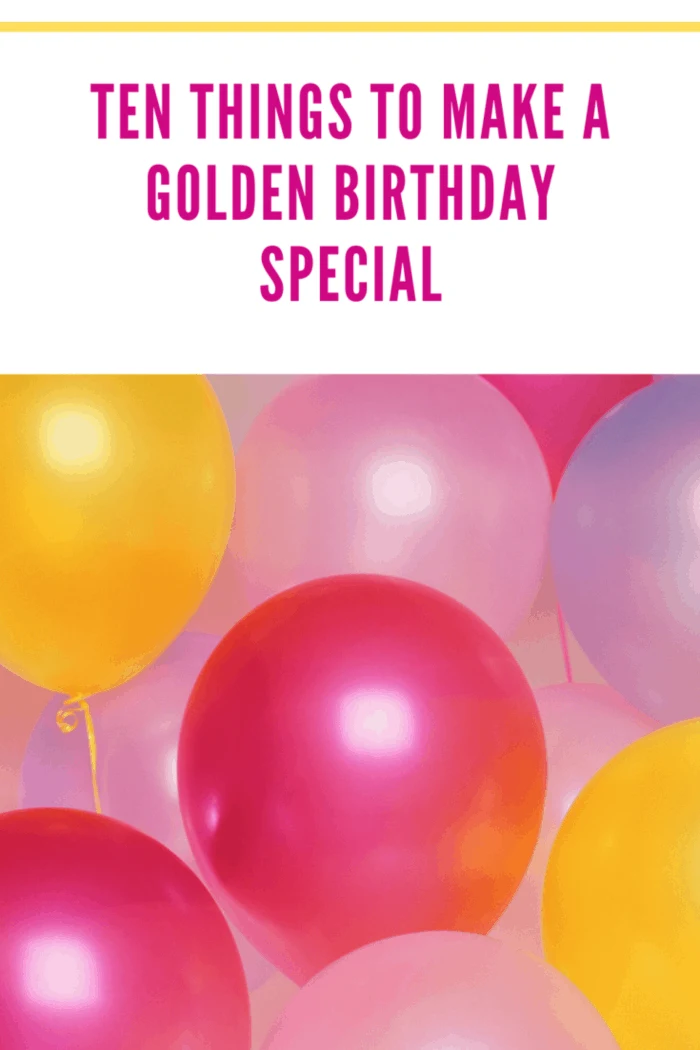 Golden Glitz and Glam
When designing a golden birthday party, it makes sense that the theme should be golden glitz and glam.
Gold paper plates, napkins and utensils, confetti, and balloons are inexpensive golden decorations such as Happy Birthday golden banners or opt for just a touch of gold with accent gold napkins and regular plates or a centerpiece with gold as the accent.
Use a golden ticket as a party invite.
Get gold decorations, plates, and utensils, and use golden wrapping paper when wrapping your gifts.
Buy a cute golden dress or golden tie and top hat for the special guest.
You can even get gold flakes and edible glitter for the cake!
For older kids, ask guests to wear black and white so that the birthday boy or girl can be decked out in gold.
Apart from gold-inspired trinkets, another good idea would be giving birthstones that match the celebrant's birthday.
This add-on will please all the visitors, being able to bring something meaningful with them.
This theme looks incredible in pictures and works well in large events.
24K
Using the "24K" concept is another way to elaborate on a golden theme.
Ideas here might be to wrap 24 small gifts (perhaps in gold foil), create 24 clues for a scavenger hunt, make a speech with 24 things you love about the birthday celebrant, and gather 24 pieces of advice for family members who love them and know them best.
Invite 24 friends.
It's especially fun if the golden birthday is for turning 24!
About that scavenger hunt–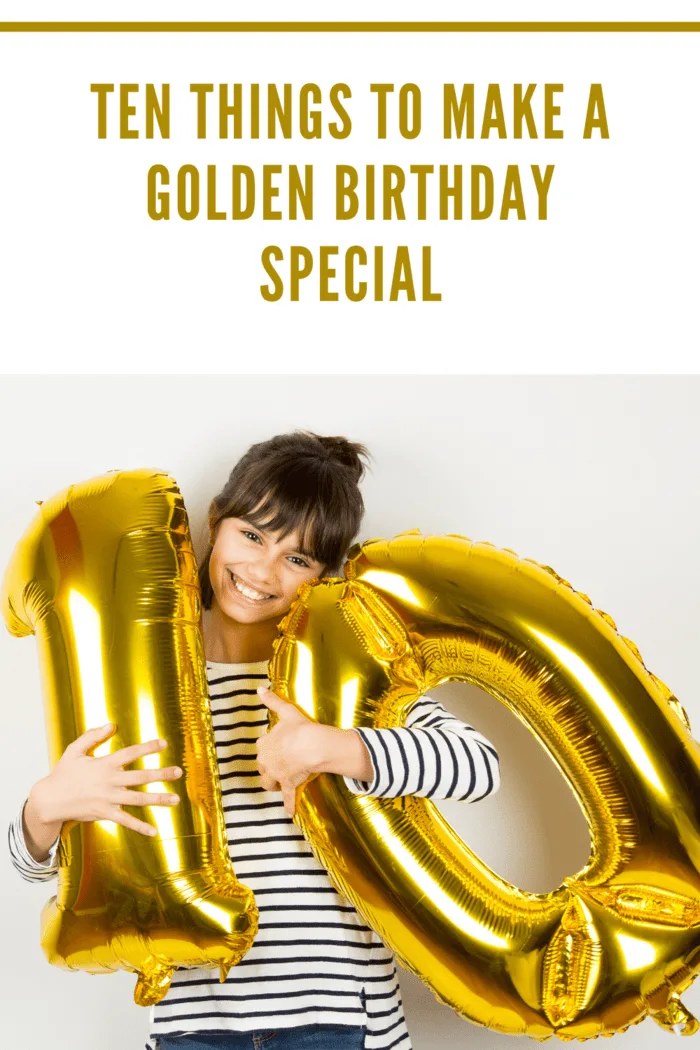 Birthday Scavenger Hunt
Make the birthday number an underlying theme for the day.
One of the most effective ways to do this is to create a birthday scavenger hunt.
If your child is turning eight, give them an eight-step hunt to find their presents.
Write the clues on golden cards to make it extra special.
A scavenger hunt is also a great way to pass the time at a birthday party.
Get the kids searching for various gold-painted treasures hidden around the home or have the clues lead to the birthday cake.
A Disco Dance Party
Nothing says "golden" like the golden age of disco.
Have a disco-themed dance party that kids of any age will love.
Think karaoke or rollerskating with disco-era hits, and give the gues a gold medal or trophy with the best Disco-themed costume.
It will keep the kids active at the party, but it will help them burn off the energy from the cake.
Get a gold disco ball and spraypaint some cheap heart-shaped glasses for guests to wear.
Your golden birthday disco can be a portion of the party or the overarching theme, complete with costumes.
To keep both the adults and kids entertained during the party, you should hire a professional DJ who can provide a great music mix suitable for all ages.
Make a dance floor and make it a great excuse to have fun and share those dance moves.
Guaranteed, it's not only the kids who will have themselves dancing away but the parents too.
It's a great way to have fun while looking after the kids.
The good music (I'm singing to you doing The Hustle) will genuinely make the party memorable.
Faux Champagne
Golden birthdays are often called a champagne birthday.
Unfortunately, popping some bubbly isn't an option for kids who celebrate their golden birthday before reaching the legal age.
However, there are a lot of sparkling non-alcoholic beverages to use instead.
Soda water or Sprite can be used with a splash of juice to make virgin mimosas.
Create a champagne bar and decorate with told gold pretzels and a basket of treats.
Make it extra special by pouring sparkling water over champagne flutes with cotton candy inside.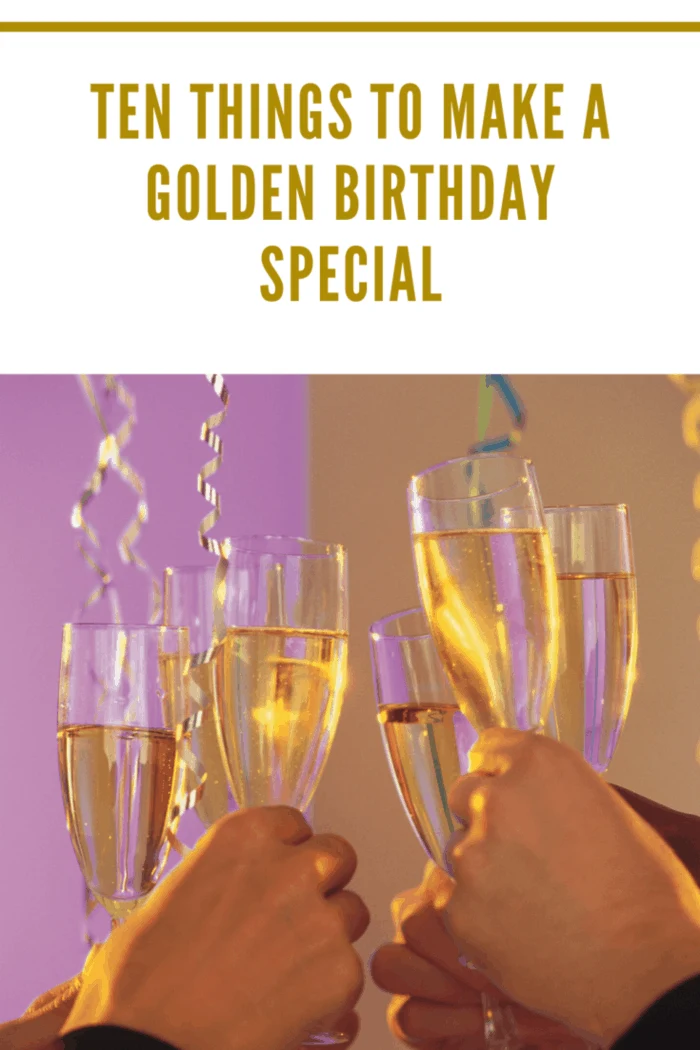 Gold Medal Games
Sports enthusiasts who love competition might enjoy a series of games in the backyard with golden trophies awarded to winners.
If you're celebrating your child's golden birthday outside, add an element of a field day with some competitive Olympic-style games.
This is a great opportunity to pull out some classic birthday party games, such as the three-legged race or potato sack race.
Or got with classic field day games like a water balloon toss, tug of war or hula hoop contests. Guests of all ages will love these.
For little birthdays add in other activities like egg-and-spoon or sack races.
Tailor it to a more adult-friendly golden birthday with beer pong or disc golf.
You can also use Olympic events, like the long jump or some basic gymnastics.
Every time a child wins, award them with a gold medal.
Be sure to have various games that give everyone a chance to succeed.
In the end, have a closing ceremony to celebrate the day.
Celestial Delights
Having a celestial-themed golden birthday is perfect for older children who can have a party in the evening.
Light the party space with twinkle lights and golden balloons in the shape of stars and moons.
Use starry table cloths and tones of navy blue to complete the look.
When serving treats at your celestial party (marthastewart.com is a great resource), make cookies and snacks in the shape of stars and use edible glitter to bring them to life.
Shake things up with a galaxy-themed cake and astronaut food.
Give the birthday boy or girl a starry golden crown to wear as they celebrate.
For an extra special treat, hire a fortune teller or tarot reader to do for-fun readings at the party. Most people, believers are not, get a kick out of a "glimpse" into the future.
As decorating motifs, gold stars, the moon, or the sun evoke celestial parallels to a rare planetary alignment, a great analogy to a golden birthday.
All twelve signs in the zodiac are composed of either fire, water, earth, or air, so if you can incorporate foods or decorations that nod to each of the elements, all the better.
For example, food with a kick of spice such as siracha or buffalo wings can represent fire, seafood menu items such as Sicilian tuna salad is water, and more earthy foods such as mushroom smothered chicken is earth, and cotton candy is air.
Or adorn the cake with a little celestial sparkle with sparklers.
How to Decorate for a Golden Birthday:
Decorating for a golden birthday can be a fun and creative way to make the celebration even more special. Here are a few ideas to get you started:
Gold balloons: Fill the room with gold balloons in different sizes and shapes, and attach them to walls, ceilings, and chairs.
Golden streamers: Hang golden streamers from the ceiling or across the room to create a festive atmosphere.
Golden table settings: Use golden plates, cutlery, and tablecloths to create a cohesive look for the table settings.
Golden centerpieces: Create unique centerpieces using gold-colored flowers or candles.
Golden photo booth: Set up a photo booth with a golden backdrop and props, such as gold hats, glasses, and signs.
Golden letters: Spell out the person's name or a special message using golden letters on the wall or as a centerpiece.
Golden lighting: Use golden string lights or candles to create a warm and welcoming ambiance.
Remember, the most important thing is to make the celebration special and memorable for the person celebrating their golden birthday. So, choose decorations that they would enjoy and that fit the overall theme of the party.
Gold Party Favors
Party favors are a great way to show the guests how much you appreciate them for sharing this day with your child.
Using gold party favors is the cherry on top of the golden birthday celebration and creates an opportunity to give out sugar-free loot bags.
Include golden, glittery sunglasses, notebooks, stickers, bubbles, bangles, and toy cars.
Alternatively, stick with the theme by offering a few golden macrons or cookies instead of mass-produced sugary treats.
You can even send guests home with a plastic champagne flute decorated with gold glitter.
Celebrating Your Child's Big Day
All these considered, it shows that there's so much you can do to make your child's golden birthday special.
Don't wait for later to make some arrangements to make the party extraordinary.
Plan ahead to avoid cramming last minute.
Take some time to talk to your child about their golden birthday and its meaning.
They may not want a gold theme at their party but like some other ideas for celebrating.
Before even purchasing some supplies for the party, ask them what they want.
Kids easily change their minds, so it's better to ensure you're on the same page.
Moreover, as mentioned, do everything ahead of time.
There's a long list of tasks to do and only so much one person can handle.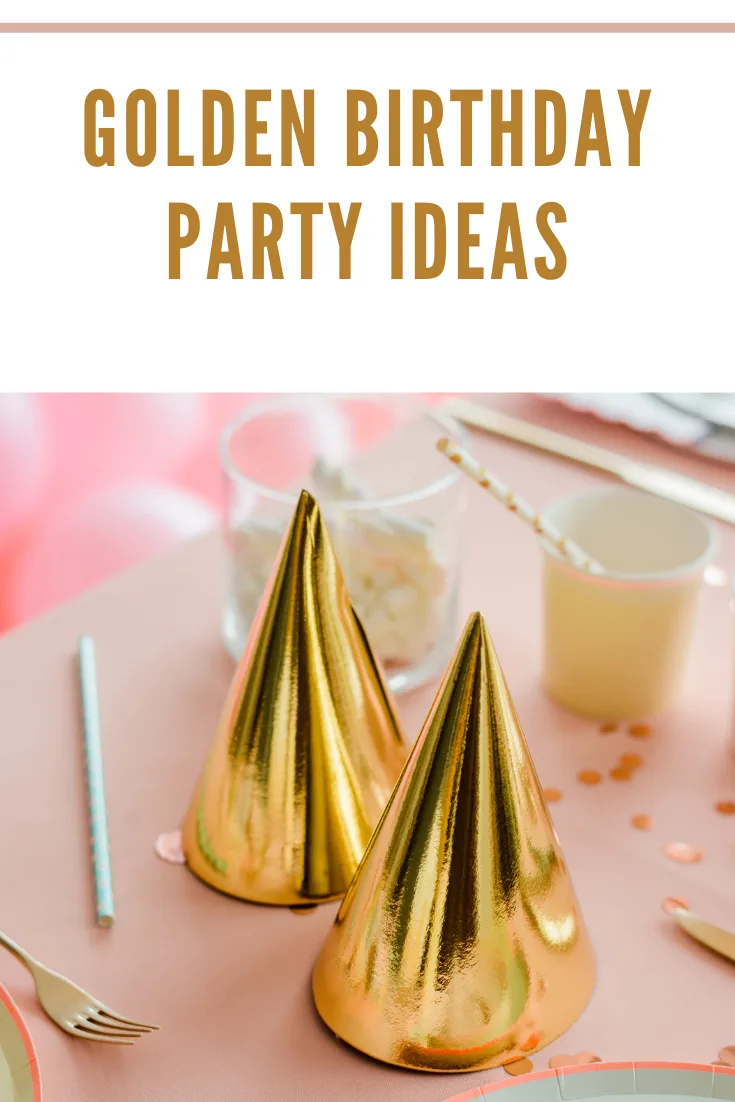 Missed the Golden Birthday? Make It Magic with a double golden birthday
You have another opportunity to celebrate with a "double golden birthday.
A double golden birthday is a rare event that occurs when a person's age matches the day and month of their birth. For example, if someone was born on the 15th of March and they turn 15 years old, they are said to be celebrating their double golden birthday.
The term "golden birthday" usually refers to when a person turns the same age as their birth date (e.g., turning 25 on the 25th of March). A double golden birthday is considered even more special because it only happens once in a lifetime. However, it's worth noting that some people may not have a double golden birthday at all, depending on the day and month of their birth.
Celebrate with "Golden" Birthday Refreshments:
If you're planning a golden birthday celebration, you may want to serve some refreshments that fit the theme.
Here are a few ideas:
Gold-themed cocktails: For those whose Golden Birthdays that fall on the last ten days of the month 21-31. Serve cocktails with a golden twist, such as a Gold Rush (made with honey and bourbon), a Golden Margarita (with gold tequila), or a sparkling Gold Champagne Cocktail. Otherwise, try Sparkling Apple Juice. Golden Birthdays are also known as "champagne birthdays.
Golden desserts: Serve up some golden desserts, such as golden macarons, gold-dusted chocolates, or a Golden Oreo Cheesecake.
Golden snacks: Offer up some golden snacks, such as gold-flecked popcorn, gold-wrapped chocolates, Godiva Gold Boxes, M&Ms customized with birthday greeting, or gold-dusted pretzels.
Gold-themed party favors: Create party favors that fit the golden theme, such as gold-wrapped candies, gold-wrapped cookies, or personalized golden keychains.
Golden decor: Make sure to decorate your party space with golden accents, such as gold balloons, gold streamers, and gold tablecloths.
Remember, the most important thing is to make the celebration special and memorable for the person celebrating their golden birthday. So, choose refreshments that they would enjoy and that fit the overall theme of the party.
Golden Birthday Gift Inspiration:
When it comes to gift ideas for a golden birthday, there are many different options to choose from. Here are a few ideas that might be appropriate:
Personalized Gold Jewelry: Consider getting a necklace, bracelet, or ring that features the person's birthdate or initials. This is a thoughtful and sentimental gift that they can wear every day.
A special experience: Plan a unique experience for the person to enjoy on their special day, such as a hot air balloon ride, a spa day, or a weekend getaway.
Photo album or scrapbook: Compile a collection of photos and memories from the person's life so far, and present it in a personalized album or scrapbook.
Golden-themed gifts: Embrace the golden theme by giving gifts in shades of gold. This could include a gold watch, a gold-plated pen, or even a golden trophy with a personalized message.
Technology gadgets: Tech gadgets are always popular gifts, so consider getting the person a new phone, tablet, or laptop with personalized engraving or custom case.
Ultimately, the best gift will depend on the person's interests and personality, so try to think about what they would enjoy the most and what would be most meaningful to them.
Remember, the most important thing is to show them how much you care and love them on their special day.