Gobblet, by Blue Orange Games, is a fun game of strategy. It's tic-tac-toe mixed with memory and the added fun of game pieces like Russian babushka dolls. Think of tic-tac-toe on steroids as opponents try to take over each other pieces.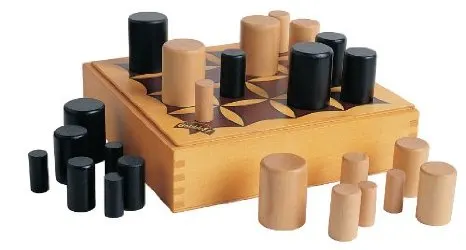 Family games are time spent together, and as the holidays begin to unfold and Santa's Helpers are running themselves ragged in search of the perfect gift for everyone on their list, Gobblet is an excellent choice for those that love board games.
The game includes a solid wooden board, cut and round wooden goblets in four sizes. The wood is a nice touch.
Everyone begins the game with twelve goblets in three stacks; I think this part is like Russian babushka dolls, those nesting dolls that each one, when opened, reveals a smaller one inside. Each player begins with the largest, placing the goblets from the stacks on the board.
Once you're on the board, it's time for the fun to begin. "Gobble" more miniature goblets, both the opponents and your own, with larger ones. As the game proceeds, the board fills up with goblets within goblets–within goblets.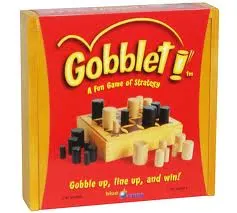 This is where the memory part of the game kicks in. Remember which goblet lies hidden where is how you'll win the game! Fill a row, column, or diagonal with our goblets to win. The catch is moving a goblet exposes any goblet it has previously gobbled. That move, to remove a goblet and become the champion, may leave you with the realization you've revealed an entire row to your opponent and given him the victory.

It's a game recommended for ages seven and older. It's strategy and fun, making it competitive family bonding.

I was sent Gobblet to facilitate an honest review.