This is a guest post/review by Becky, the writer and creator behind the blog Mistakes with Chocolate. She's witty, she's fun, and I adore her.
Scandle Candle Review
There are a few things in life that I avoid pouring on my skin. For your convenience, I've listed them below:
Hot Wax
Boiling coffee
Tar
Battery acid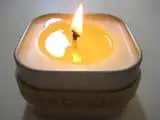 So, when my boyfriend came home with a Scandle Body Massage Candle and told me he wanted to violate the first bullet on my list, I was skeptical.
Okay, fine, yeah, I was uneasy and dismayed. (In his defense, he had never seen the list because I hadn't gotten around to hanging it on the fridge yet.)
He assured me that the candle wax was specifically for massages and wouldn't hurt me.
I agreed to try it out IF we poured it on his skin first.
It turns out that my fears were unfounded.
We just followed the directions on the tin, blew out the flame, and tried pouring a little bit on his arm.
He told me it didn't hurt, so I tried it.
It felt warm and smelled delicious!
He poured some on my back and gave me a shoulder rub, and it was so silky and lightweight, unlike normal massage oils that leave me feeling greasy.
I thought it would congeal once it cooled down, but it stayed smooth.
I was pleasantly surprised by this candle.
If you like warm massages and smelling delicious, then this is the Scandle for you.
Scandle body candles are soy candles that melt into a body lotion you can use for everyday skincare or as a relaxing massage lotion.
With amazing fragrances, these soy candles can be used as aromatherapy or just for a really good smelling room!
The Scandle used for the review was the Scandle Originals Travel Sized Tin, which is fragranced with 100 percent body safe fragrance oils.
This Scandle is packaged in a square lightweight tin and includes a silicone band that can be removed after use and used as an eco-wrist band reminder to "Reduce. Reuse. Recycle."
It's long-lasting with burn time 15-30 hours.
This four-ounce Scandle comes in a large selection of fragrances: Cherry Blossom (limited edition), Gardenia, Eucalyptus, Warm Vanilla Sugar, Margarita, on the Beach, Unscented, Hummingbird, Green Tea Aloe, Love Spell, Sage and Citrus, Lavender, Honeysuckle, Fig and Brown Sugar and Oatmeal, Milk and Honey.
For the review, we received Hummingbird: An original fragrance of kiwi, lilac, tiger lily, with pineapples and pears.
Scandle Originals Travel Sized Tin retails for $13.95 through the Scandle Website, or you can find Scandle at a Retailer near you.
Disclosure: No monetary compensation was offered or accepted for this post. I was sent the item mentioned in this post to facilitate my review. The opinions are my own and in no way influenced by the sponsor. Other experiences may vary.