Don't Lose It! Label It!
with
Lovable Labels
It's Summer. I love the opportunities of the warm weather, kiddos outside, days at poolside, camping trips, and Day Camp!
Know what I don't like about Summer? Things–toys, dishes, shoes, towels, etc. get lost when my kiddos are in charge of them.
I've tried the colored, permanent marker ritual. It doesn't work well on hand-me-downs. They bleed through the fabric. On backpacks and other materials they also get fuzzy around the edges…you know, the lower case a's and o's don't have a center when all is said and done. It's a mess!
Thanks to a mom named Laura Porreca, the permanent marker ritual is a thing of the past. She, like me, didn't want to go through the "Label This. Label That" headache. Unlike me, she created a durable, fun label. It's name? Lovable Labels.
We received the Lovable Labels Nature's Lover Camp Pack for our review.
When it arrived, I was impressed. The labels come in a sticker book. I'm sure I let out a "Hip! Hip! Hooray!" The stickers are all together and confined to book. It's not pages and pages of stickers that get crumbled, lost or written on. Loveable Labels has revolutionized personalized label storage!
Know what else makes the Lovable Label Sticker Book lovable? There are tabs across the top for easy access to the sticker of choice. You'll find "Sticker", "Slimline", "Shoe", "Press n' Stick Clothing Dots" and "Square". It's as simple as turning the page! The back of the sticker book has easy to read and follow instructions to maximize the use of Lovable Labels.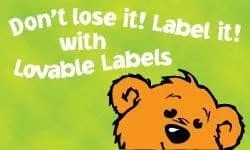 The Lovable Label Ultimate Camp Pack is a selection of awesomeness.
I kid you not. It's a HUGE pack:
15 Regular Sticker Labels
•40 Slimline Sticker Labels
•72 Press n'Stick Clothing DOTS
•12 Shoe Labels
•2 Mini-Metal Tags
•12 Square Labels
The photo to the left depicts the variety of icons used in this ultimate pack! It retails for only $44.95!
We have used the Lovable Labels on our pool gear–beach balls, snorkels, slippers, towels, sun hats, and sunglasses. It was an easy gathering at the pool and because Lovable Labels are waterproof, they stayed put and legible!
Lovable Labels are in our shoes, on our outdoor play gear: bikes, helmets, bats and balls, jump ropes, and more!
My girls have labeled their CDs and DVDs, just in case they want to borrow and share with their friends.
I've used them for BBQ tools, dishes, and camping gear.
Lovable Labels are microwave and dishwasher safe and I don't have to worry about them in the laundry as they are safe there (even bleach safe) as well.
The variety of the Ultimate Camp Pack is perfect for our family. There are feminine, masculine, and neutral designs so there is something for everyone. Our's simply say: "The Morrison's", however, Loveable Labels allows you to personalize your labels to fit your needs.
Lovable Labels offers a huge selection of labels from the Camp Packs to Safety items. You'll find Household Labels, Bag Tags, and Stationery. It's truly one-stop for all your personalization needs. You can select your icons, your font, and really make a label that fits your lifestyle, your personality, and your need.
Disclosure: I received no monetary compensation for this post. I received the product mentioned in the sponsor's post to facilitate an honest review. The opinions are my own and were in no way influenced by the sponsor. Other experiences may vary.
We appreciate your subscription to Mommy's Memorandum