Classical music is a great escape.
It gives pause to the hustle and bustle of a busy day and gives me the chance to regroup.
My children have learned about Classical Music through violin lessons, a grandfather and even television.
Meet Barbara Siesel and Keith Torgan, also known as Flute Sweet and Tickletoon.
They are the creators and artists behind the CD, Green Golly, and Her Golden Flute.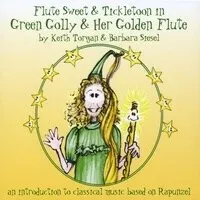 Green Golly is a young lady, similar to Rapunzel, that takes experience in stride. An evil witch captures Green Golly in a tower after being traded by her parents for a salad. Green Golly wastes no time on tears, instead, she makes the best of the situation, writing poetry and playing her flute. The story is silly, but the perfect opportunity to spawn imagination and have your family enjoying the beauty of the piano, the flute and other classical instruments as the story progresses.
When the story is complete, it's uninterrupted classical music. There are many songs I was familiar with and others I was glad to be introduced to as I swayed to the beautiful compositions.
The track list features:
Salut D'Amour
Minute Waltz
Flight of the Bumblebee
Spring Song
Introduction And Variations On a Theme: Trokne Blumen
and more
It is the perfect collection to introduce children, or anyone, to the beauty of Classical music.
My children listened intently and giggled to the story. It is perfect for some rest and relaxation and compliments are quiet time nicely.
The CD reatils for $14.99, or an MP3 version can be purchased for $9.99. Green Golly and Her Golden Flute is available to preview and purchase through CD Baby.
Disclosure: No monetary compensation was offered or accepted for this post. I received the product mentioned in this post for review purposes from the sponsor. These opinions are my own and in no way influenced by the sponsor. Other's experience may vary.