I can't smell.
I have never been able to smell. My maternal grandmother doesn't have a sense of smell either. Most of the time it's a good thing, other times, I really wish I could smell food, flowers, or the world after rain.
The one things my husband and kiddos tell me is nothing smells as rank as body odor. I'm paranoid. I smear my underarms, and beyond with deodorant. I buy the kind that has delicious smelling names. You know. Just to be sure.
My husband can smell. My husband works very hard outside and he perspires. It's gross! He is also one of the cleanest people I've ever met…to the point it drives me bonkers.
Recently he ran out of deodorant. He got into my stockpile and found one that wasn't marked "for women". He wore it and when he got home, our six year old told him he smelled like fruit roll-ups. The fellows on the construction site also commented on his flavorful smell.
Back to the stockpile he went. This turned into a long rant about why could I not just buy UNSCENTED deodorant. Then I remembered I had been sent Certain Dri Deodorant to review. "Here. Try this one."
I'm sure you've seen all these new "clinical strength" antiperspirants on the store shelves lately. Evidently handing the Certain Dri, which is clinical strength to my husband, made him feel I was sending him a message. Yeah, right. I can't smell it.
Certain Dri is the number one over-the-counter antiperspirant recommended by doctors for treating excessive perspiration. Recently the Certain Dri line of antiperspirant products added Certain Dri Solid, which is equally effective and specially-formulated for those with sensitive skin.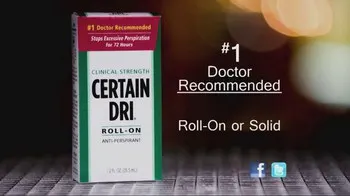 While other over-the-counter antiperspirants claim to be "clinical strength" and "waterproof" the Certain Dri formulations – 12% aluminum chloride and 25% aluminum sesquichlorohydrate – are the strongest available, providing 72-hours of protection with each application from excessive underarm perspiration in a solid application.
Despite what you've heard, aluminum—in any of its many sweat-blocking formulations—doesn't seem to pose serious health risks in clinical studies.
Aluminum-free deodorants have been making a resurgence lately due to a general distaste for the chemical, but there are no substantial scientific medical data. (Deodorants, we should remind you, are an entirely different entity than antiperspirants!)
Certain Dri Solid is equally effective and specially-formulated for those with sensitive skin providing, every day, all-day dryness from excessive underarm perspiration.
The Certain Dri Solid, which is what we were sent, contains 25% aluminum sesquichlorohydrate (Anhydrous).
It is the only over-the-counter antiperspirant with this ingredient, which is more effective than the aluminum zirconium formula found in over-the-counter solid antiperspirants that are labeled "clinical strength."
Certain Dri is unlike any other deodorant in that it should be applied ONLY before bed.
Dear husband griped but followed the directions.
The next day, returning from work, Dear Husband commented on how dry his underarms were all day.
His arms are over his head all day, so the dry gave him added confidence.
My husband loves that Certain Dri isn't a deodorant you have to apply every day.
It's application several times a week works at keeping him dry and easing the worry of body odor.
It does not wash off when bathing or showering.
He also appreciates that his armpits don't smell like fruit roll-ups or cookies and cream.
This is the BEST Antiperspirant he's used.
Retail price is only $5.50-$6, and if you've trolled the deodorant aisle you know that is almost 40% less than the other clinical strength antiperspirant products out there.
We saw it at Target and Walgreens and are delighted we can purchase it conveniently with other personal care items.
And Now you Can Try it Yourself!!
Disclosure: No monetary compensation was offered or accepted for this post. I recieved the item mentioned in this post from the sponsor in order to facilitate my review. The opinions are my own and in no way influenced by the sponsor. Others experience may vary.