Indulge in Autumn's Finest Delight: Irresistible Pumpkin Cheesecake!
As the vibrant hues of autumn paint the world in a mesmerizing tapestry of reds, oranges, and yellows, a delightful treat emerges to celebrate the season's bounty – the luscious and heavenly Pumpkin Cheesecake. This delectable dessert embodies the essence of fall, combining the rich flavors of creamy cheesecake with the comforting warmth of spiced pumpkin. It's a symphony of tastes and textures that will leave your taste buds dancing with delight.
If you're looking to elevate your dessert game and impress your guests at Thanksgiving gatherings or cozy fall dinners, look no further. Our irresistible Pumpkin Cheesecake recipe is a true masterpiece, carefully crafted to capture the spirit of the season while satisfying even the most discerning sweet tooth. Whether you're a seasoned baker or just beginning your culinary journey, this recipe is designed to be approachable and easy to follow, ensuring a flawless outcome that will have everyone asking for seconds.
Get ready to embark on a culinary adventure that will fill your home with the enchanting aroma of warm spices and bring smiles to faces young and old. So, roll up your sleeves, stock up on pumpkin puree, cream cheese, and the finest autumn spices, and let's create a sensational dessert that will be the highlight of your fall festivities. Let's dive into the magical world of Pumpkin Cheesecake!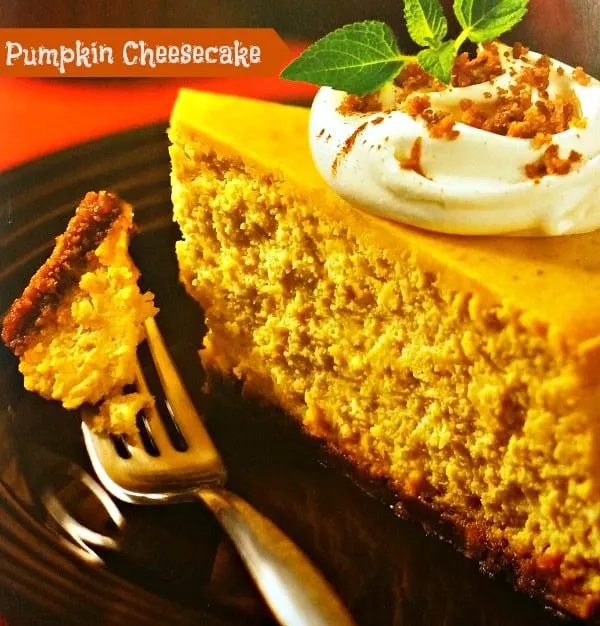 Ginger Snap Pumpkin Cheesecake
Servings: 10-12 servings
Prep Time: 25 minutes
Cooking Time: 1 hour 30 minutes
Refrigeration Time: 4 hours or more
Ingredients:
Ginger Snap Crust:
1 cup Ginger Snaps, crushed
3 tablespoons Butter, melted
1 teaspoon ground cinnamon
2 tablespoons Brown Sugar
Filling:
4 (8-ounce) packages of cream cheese, softened
1 1/2 cups sugar
5 eggs
1/4 cup all-purpose flour
2 teaspoons Pumpkin Pie Spice
1 can (15 ounces) pumpkin puree
2 teaspoons rum
1 cup Heavy or Whipping Cream, whipped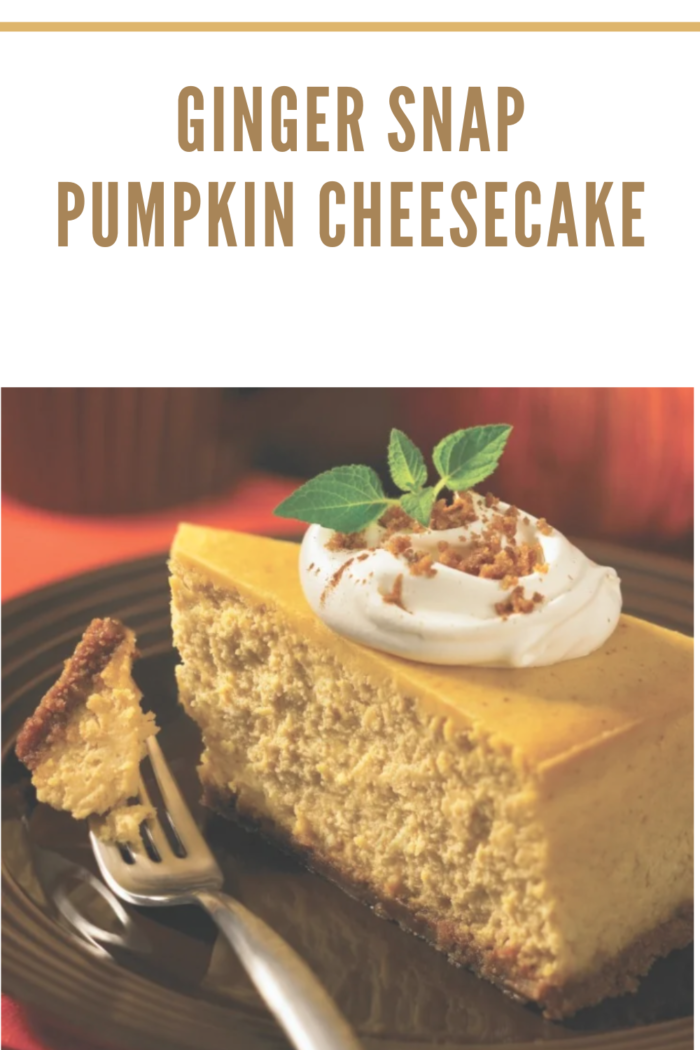 How to Make Ginger Snap Pumpkin Cheesecake
To Make the Crust:
In a mixing bowl, combine the crushed Ginger Snaps, melted butter, ground cinnamon, and brown sugar. Mix until the ingredients are well incorporated.
Lightly grease a 10-inch springform pan and line the bottom with the crumb mixture. Press the mixture firmly and evenly to form the crust. Chill the crust in the refrigerator while preparing the filling.
To Make the Filling:
Preheat the oven to 325 degrees Fahrenheit (160 degrees Celsius).
In a large mixing bowl, beat the softened cream cheese until fluffy and smooth.
Slowly add the sugar to the cream cheese, beating continuously until fully combined.
Add the eggs, one at a time, beating well after each addition.
Gradually beat in the all-purpose flour, pumpkin pie spice, pumpkin puree, and rum. Ensure all the ingredients are thoroughly incorporated to create a smooth and creamy filling.
Pour the cheesecake batter over the prepared Ginger Snap crust in the springform pan.
Bake the cheesecake in the preheated oven for 1 hour and 30 minutes, or until the filling is set. The edges should be slightly puffed, and the center should have a slight jiggle.
Once baked, remove the cheesecake from the oven and let it cool on a wire rack for about an hour.
After cooling, cover the cheesecake with plastic wrap and refrigerate it for at least 4 hours, or preferably overnight. This refrigeration time will enhance the flavors and allow the cheesecake to set properly.
To Serve:
When ready to serve, carefully remove the sides of the springform pan.
Garnish the chilled Pumpkin Cheesecake with dollops of whipped cream and a sprinkle of cinnamon for an elegant finishing touch.
Cook's Tips:
For the Ginger Snap crumbs, you can crush the cookies in a food processor or place them in a sealed plastic bag and use a rolling pin to crush them.
Make sure the cream cheese is softened before beating to ensure a smooth and creamy filling.
To achieve the best texture, avoid overmixing the batter after adding the eggs and flour.
For an added burst of flavor, consider topping the cheesecake with a drizzle of caramel sauce or a sprinkle of crushed pecans.
With its enticing ginger snap crust and velvety pumpkin spice filling, this Ginger Snap Pumpkin Cheesecake will captivate the senses with every heavenly bite. This delectable dessert is a perfect addition to any fall gathering or Thanksgiving feast, making it a seasonal delight that your loved ones will remember for years to come. Indulge in the cozy flavors of autumn and embrace the sweet magic of the season!
Frequently Asked Questions (FAQs) – Ginger Snap Pumpkin Cheesecake
1. Can I use store-bought pumpkin pie spice, or should I make my own?
Absolutely! If you have store-bought pumpkin pie spice, feel free to use it instead of making your own. Both options will provide that delightful pumpkin spice flavor to the cheesecake.
2. How do I know when the cheesecake is fully baked and set in the center?
The cheesecake is done when the edges are slightly puffed and set, and the center has a slight jiggle when gently shaken. Avoid overbaking, as it may lead to a dry texture.
3. Can I use a different type of cookie for the crust, or should I stick with ginger snaps?
While ginger snaps add a delightful spiciness to the crust, you can experiment with different cookies. Try graham crackers, vanilla wafers, or even chocolate cookies to create your unique twist on the recipe.
4. How far in advance can I prepare the cheesecake before serving?
You can prepare the Ginger Snap Pumpkin Cheesecake up to 2-3 days ahead of serving. Simply keep it refrigerated in an airtight container. This make-ahead option can be a time-saver for busy occasions.
5. Can I freeze the cheesecake for later enjoyment?
Yes, you can freeze the cheesecake. After it has been fully chilled and set in the refrigerator, wrap it securely in plastic wrap and then in aluminum foil. Frozen cheesecake can be stored for up to 2-3 months. Thaw it in the refrigerator before serving.
6. What can I use instead of rum in the filling?
If you prefer a non-alcoholic version or don't have rum on hand, you can substitute it with 1 teaspoon of rum extract or simply omit it. The cheesecake will still be delicious without the rum flavor.
7. How do I prevent cracks from forming on the surface of the cheesecake?
To prevent cracks, ensure that the cream cheese is at room temperature before mixing, as this will result in a smoother batter. Additionally, avoid overmixing the batter and bake the cheesecake in a water bath, placing the springform pan in a larger pan with hot water during baking.
8. Can I make mini cheesecakes with this recipe instead?
Yes, you can adapt this recipe to make mini cheesecakes. Simply press the Ginger Snap crust into the bottom of muffin cups lined with paper liners. Then, divide the filling among the cups and bake for a shorter time, approximately 20-25 minutes, until they are set.
9. How should I store leftovers?
Leftover cheesecake should be stored in the refrigerator in an airtight container or covered with plastic wrap. Consume within 3-4 days for the best taste and texture.
10. Can I use a different type of pan if I don't have a springform pan?
A springform pan is ideal for easy release, but if you don't have one, you can use a regular 10-inch cake pan or a deep pie dish. Make sure to line the bottom with parchment paper for easier serving.