Gamewright makes games we bring to family game night. It's wholesome entertainment. We're talking games with outstanding play, our newest favorite is Mermaid Beach.
The kiddos will play Mermaid Beach without me.
They request it when it's their turn to pick the game we play as a family.
It's the first one out of the game closet when friends come to play.
It was created by Emily Ehlers, at eight-year old.
She's now twelve.
The idea came to her while on a long family boating trip.
The first couple of rounds we played involved a lot of reading…there's a lot of rules!
Once we read through it and acted out a hand, addiction set in.
I'm a naturally competitive person and this is one of the first games where I saw those genetics carrying on in my typically quiet, kind, and sharing daughter, The Divine Miss M.
She LOVES Mermaid Beach!
I mean who doesn't love mermaids?
I knew this game reminded me of one I played as a kiddo, but the name of it left me blank. During one play I remembered, Steal the Old Man's Bundle from Activity Village.
Remember that?
Wow!
Gamewright Mermaid Beach is sorta like that with a bit of "Go Fish!" mixed in.
There's a lot going on in this game including counting seashells, matching pairs, and keeping an eye out for sea monsters!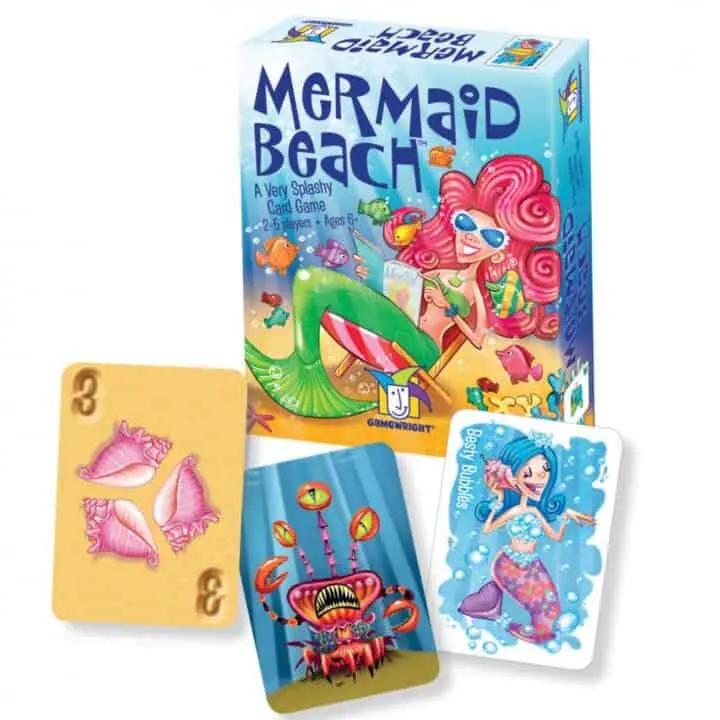 Product Features:
Ages 6 and up
2 to 5 players
Playing time: About 15 minutes
Contains 77 playing cards
Reinforces counting and matching
Game Description:
They say that the ocean is the inspiration for countless works of great art. Such is the case with Mermaid Beach, a game that came about while 8-year-old Emily Ehlers spent an entire year living aboard a sailboat and traveling the world by sea. Emily, along with help from her brothers, Jake, and Drew, came up with this wildly imaginative card game that has all elements of a great Gamewright game: fantastic art, whimsical characters, and a set of rules that are easy to learn, yet engaging enough to lure you back for more.
How to play:
Soak up the fun down at Mermaid Beach! Swim along with Swirly Shirley, Betsy Bubbles, Rip Rider, and a colorful cast of undersea characters as you try to collect the most seashell cards. Watch out for sneaky waves and icky seaweed along the way. Most of all don't get caught holding the sea monster at the end of the game!
Mermaid Beach is a game that my kiddos return to time after time. I've seen one child take the cards out of the box and just look through them, luring the others to want to play. The cards are durable, larger than a standard deck of cards, and have some fantastic artwork that seems to add magic to the gameplay.
We love this game and recommend it as a stocking stuffer, as a birthday gift or for everyday play. It's available for $10.99 directly from Gamewright. Gamewright offers a large amount of fun and learning games for ages 3 and up. Take a peek at their website and discover a great selection of games!