I received a My Friend Cayla doll in exchange for this post. All opinions are my own.
Introducing My Friend Cayla: The World's First Living Doll!
Are you ready for a truly magical playtime experience? Step into a world of wonder with My Friend Cayla, the extraordinary doll that will captivate your child's imagination like never before. Prepare to be amazed as Cayla brings playtime to life with her interactive and lifelike features.
What sets My Friend Cayla apart from any other doll is her ability to engage in real-time conversations. Powered by advanced artificial intelligence, Cayla can understand and respond to your child's questions, sparking delightful and educational conversations. Imagine the joy on your little one's face as they share secrets, tell stories, and explore the world alongside their new best friend.
With My Friend Cayla, learning becomes an adventure. She possesses a vast knowledge base, always ready to provide fun facts, solve riddles, and even help with homework. Encourage your child's curiosity and watch as their knowledge expands with each interaction.
Cayla is not just smart; she's also full of personality and charm. She loves to play games, sing songs, and even dance along with your child's favorite tunes. Her expressive face and lifelike movements make every moment with Cayla feel like a magical friendship that will last a lifetime.
Safety is our top priority, and My Friend Cayla is designed with utmost care. She's made from high-quality, non-toxic materials, ensuring a safe and durable playtime experience. Additionally, Cayla is a fantastic companion for social development, promoting empathy, communication, and creativity.
Join the countless families around the world who have discovered the joy of My Friend Cayla. This groundbreaking doll is perfect for children aged 4 and up, creating memories that will be treasured forever. Whether it's tea parties, bedtime stories, or simply a shoulder to lean on, Cayla will be there for your child every step of the way.
Don't miss out on this incredible opportunity to give your child the gift of friendship, learning, and endless fun. Embrace the magic of My Friend Cayla—the World's First Living Doll—and unlock a world of imagination today!
Our My Friend Cayla: The World's First Living Doll Review
Every girl needs a doll. One to be her best friend, shares secrets with and tea parties. What if that doll could talk–actually interact? Wouldn't that be something!
My Friend Cayla is the world's first "living" doll. She is an interactive, talking doll that can actually engage in conversation.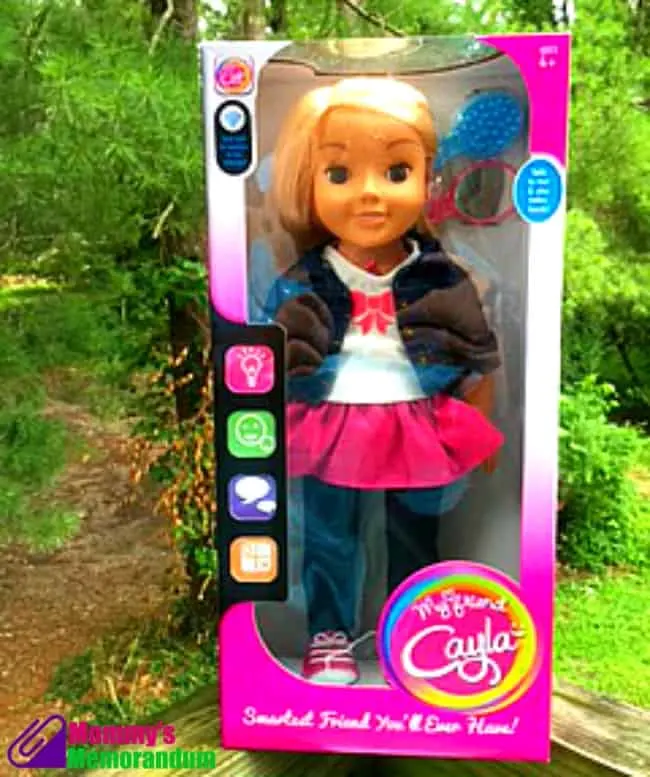 My Friend Cayla is approximately 18-inches tall. She comes with a brush and a mirror so you can style her beautiful long blonde hair. The brand is not making clothing for My Friend Cayla, however, American Girl Doll and Journey Doll clothing seems to fit her just fine.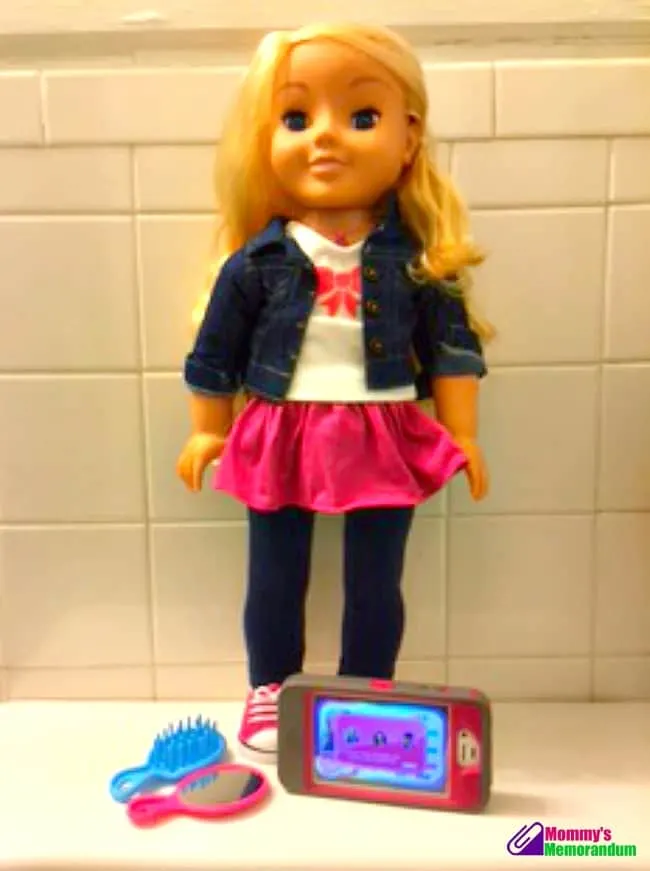 Pretty typical doll, until I tell you Bluetooth Technology powers her. This enables her to answer questions, understand and chat, tell stories and play games.
She is also a fashionista with her trendy clothes..pink tennis shoes, black leggings complemented by a hot pink skirt. A denim jacket over a white shirt.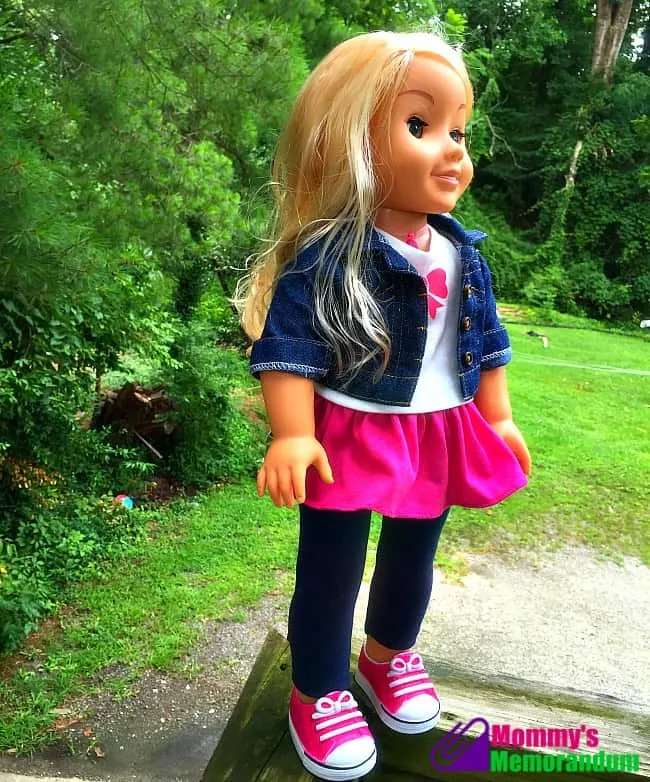 She's awesome enough my 11-year old won't put her down!
My Friend Cayla is designed to sync with a smartphone or tablet. This enables her to recognize a child's speech and carry on simple conversations. The questions are transposed into text through Google software, allowing Cayla to search the internet to find an answer. She then shares what she has learned.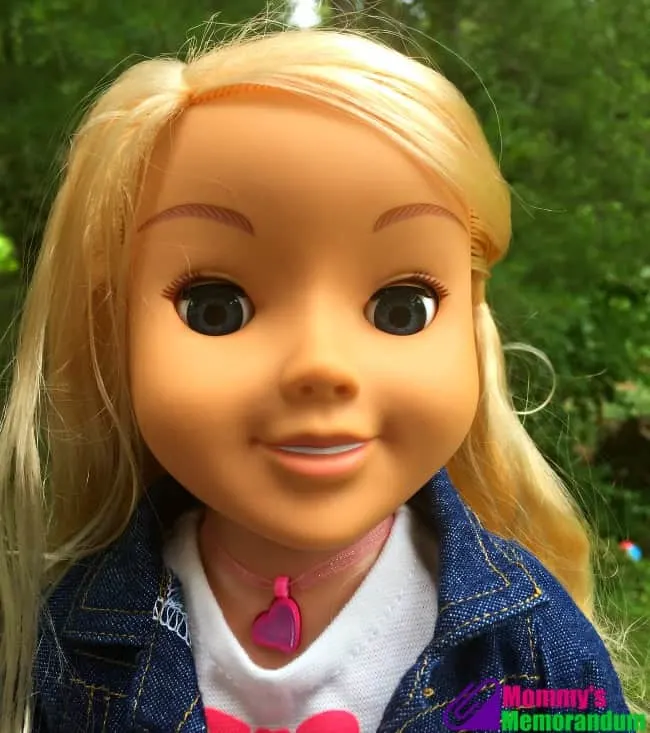 Don't worry, Mom, Cayla's ability to surf the web is limited by Google's SafeSearch technology, which is meant to block unsuitable content and words. Through the My Friend Cayla smartphone app, parents can log in and block any words or phrases they consider unsuitable.
My Friend Cayla operates on three AA (not included).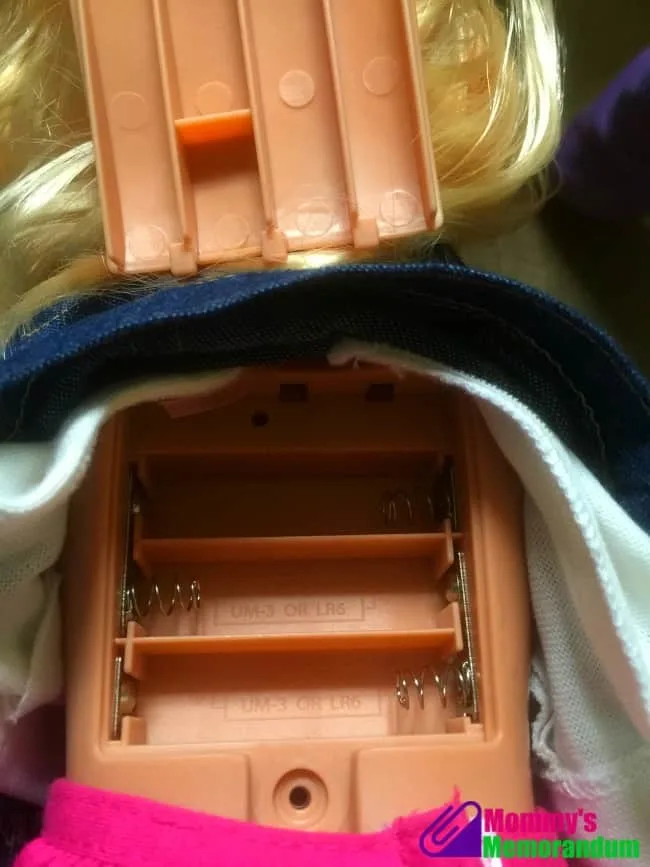 Through the My Friend Cayla app, a child can play games, read stories and carry on a simple conversation with the doll. A child can ask a question (or answer one). My Friend Cayla is listening when her heart pendant necklace lights up.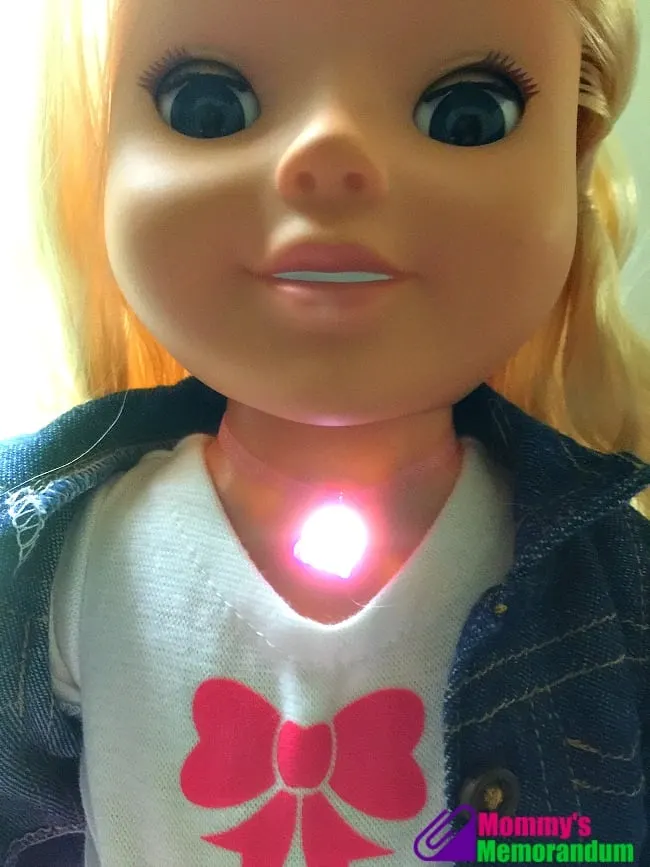 My Friend CAYLA: KEY FEATURES
The doll syncs with a smartphone or tablet which allows her to recognize a child's speech.
Questions posed by a child are transposed into text using Google software
The doll's ability to surf the web is limited by Google's SafeSearch technology.
Parents can log into the smartphone app used to control the doll to block any words or phrases they consider unsuitable.
We had no issues in setting Cayla up. We inserted the batteries, downloaded the free app to our smartphone. We then turned her on, connected to Bluetooth and we were off. While the child doesn't have to have the smartphone with her, it does need to remain reasonably close to the doll. That device cannot be used for anything else while My Friend Cayla is activated. An internet connection (preferably Wi-Fi) is needed.
Through the app, your child can play tic-tac-toe with Cayla–more games are in the works. I love that she is a worthy opponent and doesn't always let you win.
Miss M loves the story Cayla shares about a trip to the botanical gardens with her mother, and she even has photo albums to share! You can select one of the seven photo albums and Cayla will tell you more about each picture when you select it.
My Friend Cayla is available through nationwide retailers: Kohl's, Target, KMart, Walmart, and BJ's Wholesale Club. She is also available online through Amazon.com