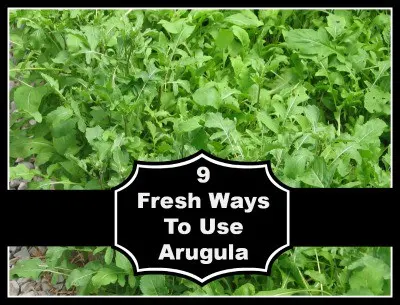 Every now and again, we need a fresh breath of inspiration—or at least just a few new ways to use an everyday ingredient. Chef Anthony Stewart, the executive chef at Pritikin Longevity Center & Spa, is a pro at crafting nutritious yet palate-pleasing dishes. Chef Anthony shares NINE new ways to use Arugula to spice up your recipes—whether you need to spruce up a quick lunch or a family dinner. Arugula, also known as "Rocket" is a peppery tasting, leafy green that is rich in folate, calcium, and vitamins A and C.
Nine Fresh Ways to Use Arugula
Combine the clean, sharp flavors of arugula with sweet peaches for a superb Indian Summer salad. Toss with white balsamic vinegar and some freshly ground black pepper.
Stuff arugula into whole-wheat pita sandwiches for a nice peppery blast.
Sprinkle your homemade whole-wheat pizza with a generous handful or two of arugula. Just add the leaves at the last minute of baking. Order delicious whole-wheat pizza dough to stay healthy.
Add arugula to your whole-wheat pasta dishes. You don't even need to cook your arugula leaves. Just toss them in at the end. The heat from the pasta will wilt them.
A super-easy pasta dish is arugula with canned tuna, minced garlic, and hot red pepper flakes. While the pasta is boiling, sauté the garlic and pepper flakes until the garlic is fragrant. Add the tuna, shredding it into delicate flakes. Reserve a half-cup of the boiling pasta water. Add the cooked and drained pasta, plus the arugula, to the tuna. Toss, moistening with some of the reserved water.
Another easy pasta combination – shallots, garlic, cherry tomatoes, and arugula. Sauté garlic and shallots till golden. Add the cherry tomatoes, cooking till heated through. Toss with the cooked pasta and arugula.
Arugula is so aggressive that it easily stands up to strong fish like salmon. Make a bed of arugula leaves on your entrée dish. Top with your seared fish.
Create a hearty, filling, classic Italian salad by combining arugula, a can of no-salt-added cannellini beans, canned tuna, aged balsamic vinegar, and coarse black pepper. If you're feeling creative, see what other fresh veggies you may have sitting around, like tomatoes and zucchini, and toss them in. Dollop a little nonfat ricotta on top.
Another nifty bean-arugula combination is a lentil and arugula salad. Toss cooked lentils with minced shallot, some freshly chopped Italian parsley, and some delicious red wine vinegar. Throw in a big bunch of arugula leaves, and toss again.
Chef Anthony Stewart, Executive Chef at Pritikin Longevity Center & Spa
Chef Anthony Stewart has won accolades worldwide, including five gold medals in top culinary competitions, for his masterful use of foodstuffs like fresh seafood and tropical fruit from his native Jamaica. When not in the kitchen, he's in the classroom and has inspired thousands of Pritikin guests "to have some fun!"
About the Pritikin Longevity Center & Spa:
Pritikin Longevity Center + Spa is a 650-acre, fully renovated private wellness spa and weight loss health program. Complete with exceptional fitness trainers, award-winning chefs, nutritionists, and renowned spa treatments. The center boasts tons of experts from health to nutrition and fitness to spa and wellness. People from all over the world travel to Pritikin to get their health back on track and get their bodies back in shape. For more information, please visit www.pritikin.com.