There's something about bread that has my family coming to the kitchen. Usually, I make bread and sometimes the children even join in and help knead it. And sometimes, it arrives in the mail, and the kiddos are amazed that other people besides Grandma make bread. And sometimes, they are surprised because it's a bread with a name that seems to be taboo to their world. That bread arrived last week from Flavor Addictions and the kiddos were so curious.
"Mom, what is this?" asked The Divine Miss M.
"It's bread," I answered.
"What kind of bread? It looks weird."
"It's Beer Bread," I said, without turning around from the dishes.
"So? It's just for adults?" inquired The Divine Miss M.
"No. You can have some if you like." I said non-chalantly.
I heard her go into the living room and whisper to Li'l Man, "There's beer bread in the kitchen and Mom says we can have some. Do you think it has BEER in it?"
They sat at the table while I quartered the beer bread and heated it up for them. They smelled it. They licked it and then they bit into it.
"This stuff is so good!"
I tried it too. It was sweet and salty with a golden textured crust. It had a deep yeast flavor, reminiscent of beer. It was by all accounts…magic.
The kiddos asked for seconds, but there were none.
I suggested we see what else came with the bread. They were eager!
I pulled out a wrapped chocolate bar. Flavor addictions customizes their designs so everyone is a one-of-a-kind piece of art and inside is nestled the deliciousness of your favorite candy bar.
The one we received was fun and wrapped in green–my favorite color, with my name in uneven bright pink letters and accented with bright yellow trim.
We loved the bright colors and fun and flirty look. The kiddos thought of a gazillion moments they needed their own custom wrapped candy bar…birthdays, great report cards, cleaning their room, invitations and more! Truly a fun way to enjoy your favorite candy bar!
My two favorite items from Flavored Addictions, however, is the vanilla sugar and pure vanilla extract.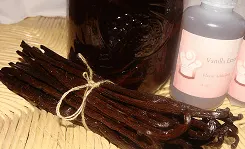 The Flavored Addictions Pure Vanilla Extract is made from fresh bourbon vanilla beans from Madagascar. The beans are long and thin and the vanilla extract has a rich flavor and an aroma that is heavenly! I used it in Peanut Butter cookies and the vanilla gave them a taste that was superior to any I have made!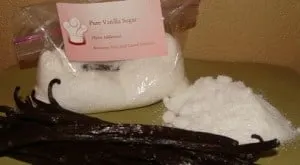 The Vanilla Sugar is made using fresh bourbon vanilla beans from Madagascar and offers a great flavor to beverages, cereal and more. The kiddos used a little on fresh strawberries and thought they were the best ever. Li'l Man couldn't keep his nose out of the bag!
Flavored Addictions also offers candy bouquets!
Flavored Addictions has been chosen to be part of Sampler Village's April Sampler Box (it goes on sale April 21).
If you're looking to improve the quality of your ingredients when baking, want to add a touch of vanilla flavor to anything or simply want to experience some amazing bread, order from Flavor Addictions! They deliver with an amazing turn-around and the experience from beginning to feast is one that will have you raving!
Connect with Flavor Addictions on Twitter @addictiveflavor or on Facebook, where you can view their work.
Disclosure of Material Connection: I received one or more of the products or services mentioned above for free in the hope that I would mention it on my blog. Regardless, I only recommend products or services I use personally and believe will be good for my readers. I am disclosing this in accordance with the Federal Trade Commission's 16 CFR, Part 255: "Guides Concerning the Use of Endorsements and Testimonials in Advertising.".