In anticipation of the upcoming holiday, we have these ador-a-BULL Ferdinand Valentine's Day cards

for any of your last-minute needs.
They're quick, fun and easy to create.
Ferdinand the Bull Synopisis
Ferdinand tells the story of a giant bull with a big heart.
After being mistaken for a dangerous beast, he is captured and torn from his home.
Determined to return to his family, he rallies a misfit team on the Ultimate adventure.
Set in Spain, Ferdinand proves you can't judge a bull by its horns.
From Blue Sky Studios and Carlos Saldanha, the Director of "Rio" and inspired by the beloved book, '
The Story of Ferdinand
" by Munro Leaf and Robert Lawson, "Ferdinand" is a heartwarming animated comedy adventure with an all-star cast including John Cena, Kate McKinnon, Gina Rodriguez, Anthony Anderson and many more.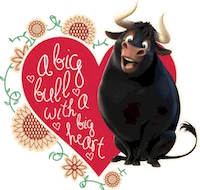 Download Free Printable Ferdinand Valentine's Cards
Want to print out your own Ferdinand Valentine's Day Cards? Simply download the ones below and print out the ones you need! Cut out and give out in school or to your favorite Adora-Bull friends!