I've been fortunate throughout my life to have had the opportunity to travel.
It started when I was small and we celebrated family in Missouri driving from Utah to Independence, Missouri to see Great Grandparents and relatives different from us.
As a family, my siblings and I traveled to Disneyland, the London Bridge, the Grand Canyon, New Port Beach, Portland and more!
When my parents divorced my dad showed love in themed road trips like President's Homes, Oh, Canada! and other memorable journeys that most likely, I didn't appreciate to the fullest.
As a parent, I continued my love for travel, committing my children to the smell of hot asphalt, the sounds of tires rotating and the radio blasting Bon Jovi and Mares Eat Oats and Does eat oats. There were good times.
My favorite road trip? While they have all been wonderful! Probably my favorite was the trip we traveled from Miami, Florida up to North Carolina, across to Utah and back home. It was a scenic undertaking of America and her diversity and glory. The fine people that make her great and the pitfalls that sometimes leave us wondering "Where have all the good folks gone!"
I drove from Miami, Florida to Madison County, North Carolina alone with my two small boys, Jake, and Zac. Here we visited with my sister, Natalie, and spent some lazy summer days in tobacco fields and pumpkin patches.
We mended fences and watched baby goats be born.
We also met up with my dad, who would be driving in a separate car from the boys and myself on our journey to Utah.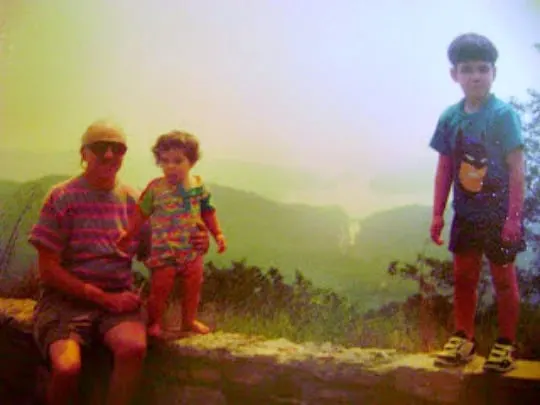 From North Carolina, we packed our cars so there was easy access to books and snacks for the boys in the back. Cassette Tapes were within reach so as to not have me take my eyes off the road to change and my dad and I had a plan…we would stop at the first rest stop inside a new state line.
Our first stopping point was Bean Station, Tennessee. In the picture above you see the Cherokee Indians' warpath, the valley led Daniel Boone to the Cumberland Gap and was also traveled by Davy Crockett.
We wound our way through the green rolling hills of Lexington, Kentucky, and then it happened. Just a few miles from the Illinois State Line Officer Friendly snagged me, The Speed Queen.
Slow Down, I heed!
To be fair, my dad was much faster, which is why I had a lead foot. I explained to Officer Friendly that I was trying to catch up with my dad, who had my oldest child. The last I had seen him was in Santa Claus and I needed him because he had the ONLY map! I left with a warning! Whew!
St. Louis Arch
We slept in the car and then entered the gateway to the West, St. Louis. We spent a wonderful afternoon under the Arch and inside the museum. I had seen the arch many times before and still I was in awe of its height, its architecture, and its sheer beauty.
The other side of the state of Missouri is the small towns of Independence, where my mom grew up and Blue Springs where my great grandparents lived. My Great Grandma Dorothy was always one of my favorite people. She was my Grandma Mazur from the
Stephanie Plum Series
. She was eccentric. She kept a stuffed scarecrow on her front porch with a sign that read, "Quiet, Man Sleeping" to thwart away intruders. She had a thing for Elvis and claimed John the Baptist appeared before her.
My Great Grandma Dorothy and me.
We had a wonderful visit that day with Grandma Dorothy. She shared with us her adventures. Peeled back wallpaper to reveal where she hid her money and showed us her beautiful feet. It was the last time I would see her and it was truly a treasured time!
The Missouri State Fair welcomed us and we spent some quality time with my Mom and Dad.
Kansas (yawn)
Then the dreaded state of Kansas. To the hymn, Beulah! We always sing,
Oh, Kansas Land
Oh, Kansas Land
I stand upon your burning sand
And as I look across the plains
I wonder does it ever rain?
Jake and Zac at Ft. Laramie, Wyoming
Almost home, we entered Wyoming and stopped in Ft. Laramie. Here my almost four-year-old, Jacob proclaimed to his grandpa, "My favorite animal is the buffalo!"
Grandpa asked, "What would you do with a buffalo?"
Without missing a beat, Jake replied, "Kill it and eat it!"
Jake, me and Zac on top of Independence Rock
Across Wyoming, we drove. The landscape barren with rock formations and little green. Then from nowhere there comes a place called Independence Rock. It is a large round rock. We got out, stretched and walked around it looking for the names of pioneers. We saw none.
Zac was 18-months and in his infant clumsiness tripped and fell face first into a thistle. It jabbed his cheek and left a scar that resembles a dimple. The blood took us inside a small building where we discovered, after first aid of band-aid and Mom's loves, that the names were on TOP of the rock.
We ventured out and climbed the rock. It was a magnificent view. In the distance, the wagon tracks of Pioneers heading to Utah are deeply worn into the rock and earth. The top of the rock tells the stories of pioneers who stopped here. Who painstakingly carved their name and date to preserve their legacy. It was magnificent.
Jake at Dinosaur Nat'l Monument
Finally, it was time. We were home. We were in Utah. As promised, we drove to Vernal so Jake could see Dinosaur National Monument. Honestly, I expected giddiness instead I was scolded by my soon to be four years old, "It took you SO long to get here Mom that ALL the dinosaurs died!"
He was a Grumpy Gus and I was obviously the soul responsible for the extinction of the thunder lizards. It wasn't exactly like the vacation I left Florida within my head, but it was ours and it has become one of our favorite stories.
My Grandpa Bill with his Great Grandsons, Stephen, and Jake
Mostly, it was about family. The one who called me Mom and those who I called Grandma, Mom, Dad, Sister and Grandpa. It was meeting cousins and embracing people from my past. It was a celebration of self, family, and country.
The tips I offer for travel are:
1-Make the best of it. You can't plan everything and sometimes that's a good thing.
2-Plan stopping points when traveling with others so there is no panic if you become separated.
3-Keep snacks and entertainment for the children within their reach
4.-Wash windshields and check tire pressure at every gas stop.
"

I wrote this blog post while participating in the TwitterMoms and Discount Tire blogging program, making me eligible to receive a $50 gift card and be entered for a chance to win a prize valued at $1,000. For more information on how you can participate,

click here

."