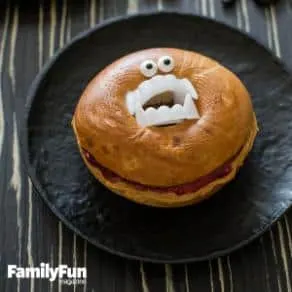 I've long been a fan of Family Fun magazine. They offer great crafts and food fun for families. This Halloween they've outdone themselves with this adorable Bagel of Doom. Great for snack time or breakfast, its sure to be a hit!
Your basic PB&J takes a wicked twist, thanks to plastic pearly whites. More silly than sinister, this bready bad boy makes a great seasonal lunch bag surprise or super-easy party snack.
How to Create the Bagel of Doom
Cut a small rectangle from the top of a sliced bagel so that a pair of plastic fangs will fit snugly in the hole.
Spread the bagel halves with peanut butter and jelly, or other sandwich fillings as desired.
Dab peanut butter on the back of 2 candy eyes (available at craft stores), then stick them in place.