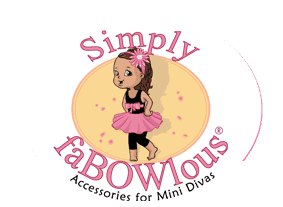 My girls love to glam it up with hair accessories.
It could even be said that they coordinate their wardrobe to which piece of hair flair strikes their mood that day.
When Simply faBOWlous sent two items for review, I'm sure you could hear their screams of giddiness.
They were beside themselves in excitement!
Not only does Simply faBOWlous create amazing hair headbands, crochet hats, and other hair accessories, they give back.
Last year Simply faBOWlous partnered with Bailey Baio Angel Foundation.
While Bailey Baio may not be the front runner to jog your memory, her father certainly will–Scott Baio– from Happy Days, Joanie Loves Chachi and Charles in Charge.
This foundation, created by Scott Baio and his wife, Renee, words to create awareness and help raise funds for expanded newborn screening, while also providing support to children & families that are coping with metabolic disorders.
One of the items we received to review is the BaileyArch Dot Headband from the Bailey Baio Angel Foundation.
This headband is a big hit at our home.
It's popular brown and pink combination work well with so many of our outfits.
The bow is soft on the head and holds securely–even to MacKenzie's super fine hair!
The bow is simple and yet conveys class. It works well for dressing up or just casual jeans and tee-shirt.
The Bailey Arch Dot Headband retails for $14 and a portion of the sales go directly to the Bailey Baio Angel Foundation!
The second item we received from Simply faBOWlous is a white crocheted child's hat with a big white peony.
It reminds me of the flapper style era of the 1920s.
It's the perfect accessory when I don't feel motivated to do anything with the girl's hair (bad, Mom!)
This Peony Crochet Hat has some stretch to it to cover the head and I love that it stays put.
It doesn't creep up and eventually pops off.
The extra-large white peony is a great compliment to the hat and my girls feel like movie stars when they wear this hat.
The white crocheted child's hat with white peony retails for $24 and is sure to be a favorite at your house, just as it is at ours.
Simply faBOWlous has a great selection. They offer crochet hats, baby mesh flower hats, cotton flower hats, toddler tutus, interchangeable headbands, costume tutus and leggings, and Vintage Tatoo Art Baby Hats.
Disclosure: No monetary compensation was offered or accepted for this post. I received the items mentioned in this post from the sponsor for review purposes. The opinions above are my own and were not in any way influenced by the sponsor. Other's experiences may vary.
We appreciate your subscription to Mommy's Memorandum