Satisfying Halloween Sweets without the Sugar Rush
With the spooky season just around the corner, your home is bound to be filled with the tempting allure of sugary treats. But fear not, for there's a clever way to indulge your little ghouls and goblins with delightful confections without setting off a sugar-induced frenzy. Sugar-free candies and cookies are here to save the day, allowing you to revel in the Halloween spirit while keeping a firm grip on those energy levels.
Candy Craze: Let Them Delight in Deliciousness
It's time to embrace the fall colors and whimsical holiday shapes as you embark on a delightful journey of crafting and cooking with your young ones. This culinary adventure also doubles as a valuable lesson in embracing mistakes and fostering self-confidence, a principle recognized by Bright Horizons. Through these culinary escapades, your children not only create delectable treats but also nurture essential life skills.
Spooktacular Sugar-Free Halloween Treats: Crafting, Decorating, and Delighting Together
Halloween Trail Mix Recipe: Customized Treat Extravaganza
Prep Time: 15 minutes
Servings: 4-6
Ingredients:
1 cup almonds
1 cup pistachios
1 cup crumbled pretzels
1 cup peanuts
1 cup cashews
1 cup sugar-free licorice drops
1 cup raisins
1 cup chopped dried fruit pieces
1 cup popcorn
1 cup goldfish crackers
Assorted other munch-worthy ingredients of your choice
Instructions:
Place all the ingredients in separate bowls, creating a delightful spread of options.
Invite your young chefs to assemble their trail mix by selecting their preferred quantities of each ingredient.
Encourage them to mix and match flavors, textures, and colors to their heart's content.
Once their customized trail mix is ready, have them gently hand mix the ingredients in a large bowl.
Enjoy the delightful medley of flavors that your little ones have crafted!
Licorice Crafts Recipe: Sculpting with a Sugar-Free Twist
Prep Time: 20 minutes
Servings: As many as you desire
Ingredients:
Assorted sugar-free and gluten-free licorice in various sizes, shapes, and colors
Instructions:
Lay out a variety of licorice strings, vines, drops, bears, and bats in front of your creative crew.
Let their imaginations run wild as they twist licorice strings into whimsical shapes such as trees, monster eyebrows, antennae, whiskers, and mustaches.
Encourage them to use licorice drops as eyes, noses, or other creative embellishments.
Let the licorice creations come to life, adorning your Halloween scene with a touch of edible artistry.
Oreo Bat Pops Recipe: Not-So-Spooky Treat Adventure
Prep Time: 10 minutes
Cooking Time: N/A
Servings: 6-8 pops
Ingredients:
Sugarless Oreos (seasonal orange filling, if available)
Lollipop sticks
Candy googly eyes
Instructions:
Gently separate two Oreo halves, exposing the cream filling.
Place one half, cream side down, and insert a lollipop stick halfway into the filling.
Cut the other half into two equal halves to form bat ears.
Attach the ear halves to the lollipop stick, allowing them to extend above the cookie.
Conceal the stick, ears, and bottom cookie with another Oreo half, creating the bat's body.
Place candy googly eyes on the Oreo's cream side to form a face.
For added flair, consider cutting angles into the wings or using icing to enhance the design.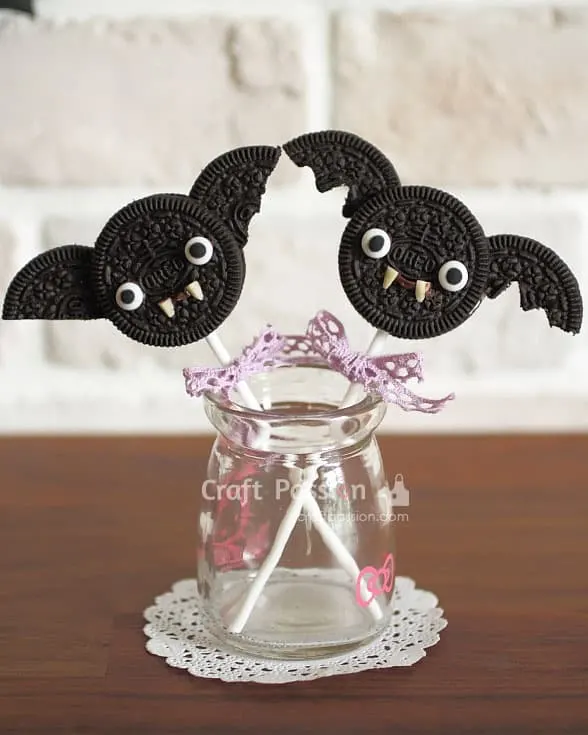 Image Courtesy of www.craftpassion.com
Halloween Cupcakes Recipe: A Decorative Flourish
Prep Time: 15 minutes
Cooking Time: Varies by recipe
Servings: 12 cupcakes
Ingredients:
Cupcake batter of your choice (dark chocolate, orange, red velvet, etc.)
Thematic-colored icing
Assorted decorating candies (crushed or whole Oreos, sugarless candy corn, licorice, jelly beans, etc.)
Instructions:
Prepare your chosen cupcake batter according to the recipe instructions.
Bake and allow the cupcakes to cool completely.
Coat the cupcakes with thematic-colored icing, using a knife or piping bag for an even application.
Set the stage for your young decorators by placing an array of assorted decorating candies within their reach.
Watch as your little artists transform plain cupcakes into thematic masterpieces!
Halloween Cakes Recipe: A Sweet Canvas for Creativity
Prep Time: Varies by recipe
Cooking Time: Varies by recipe
Servings: 1 full-size cake or multiple small cakes
Ingredients:
Sugar-free cake mix in holiday colors and flavors
Icing in white or pale orange
Non-edible decorations or crushed cookies, candy corn, licorice strips, and more
Instructions:
Prepare the sugar-free cake batter as per the instructions on the packaging.
Bake the cake(s) and let them cool completely.
Coat the cake(s) with white or pale orange icing to provide a vibrant backdrop for decorating.
Embrace your inner artist by adorning the cake(s) with non-edible decorations or an assortment of crushed cookies, candy corn, and licorice strips.
Consider making individual cakes for each child, allowing them to unleash their creativity on their very own sweet canvas.
Candy Corn Potted Gifts Recipe: Crafty Table Treats
Prep Time: 30 minutes
Servings: As many as desired
Ingredients:
Mini-terracotta flower pots (2″ top diameter, 1-1/4″ base diameter, 2-1/4″ tall)
Bright orange, white, and bright yellow paint
Candy corn and optional Halloween-themed sticks or messages
Instructions:
Paint the lower portion of the mini-terracotta flower pots in a bright orange hue and allow them to dry completely.
Use paint-proof tape to mark off a stripe about ⅕" above the pot's base, then paint it white.
Paint the rim of the pot with a vibrant yellow shade to complete the candy corn color scheme.
Fill each pot with a delightful holiday mix featuring candy corn and any other festive treats you desire.
For an extra festive touch, insert Halloween-themed sticks or messages into the pots, creating a delightful and personalized gift.
Indulge in the festivities of Halloween with these sugar-free treat recipes that not only tickle the taste buds but also ignite creativity and delight for both young and old alike. Enjoy crafting, decorating, and relishing in the magic of the season!
Decoding the Hyperactivity Myth
While the link between sugar and hyperactivity remains unfounded according to Yale Scientific and the National Institute of Health, the concern lingers among parents. Thankfully, swapping out sugary treats for equally delightful alternatives remains a wise choice, ensuring a joyful Halloween without the energy rollercoaster.
So, get ready to embark on a sugar-free journey filled with creativity, flavor, and endless joy. This Halloween, the sweetness lies not just in the treats but in the memories you create with your little ones.