This Easy Mini French Éclairs Recipe may be one of my favorite desserts. I love the light eclair "bun, " and the filling is delectable. This recipe is incredibly easy; so easy we make them often without even thinking it's a chore.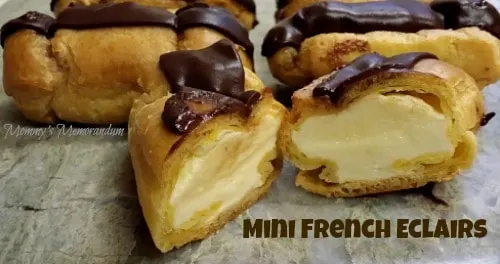 Easy Mini French Éclair
Recipe Ingredients:
¾ cup water
¼ cup butter or margarine
¼ tsp. salt
¾ cup all-purpose flour
3 eggs, lightly beaten
Easy Mini French É
clair Filling
Recipe Ingredients
1-8 oz. container Cool Whip
½ cup powdered sugar
1 box instant vanilla pudding
½ tsp. double-strength vanilla
¼ cup prepared chocolate frosting, melted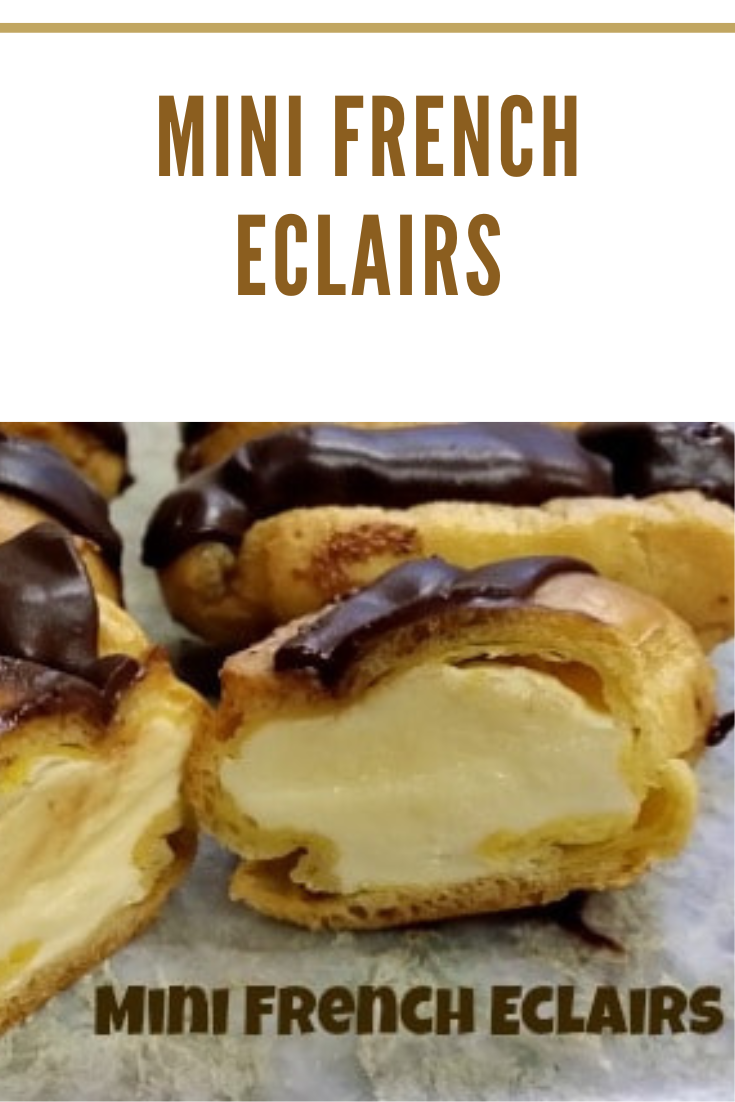 How to Make Easy Mini French Éclairs
Preheat oven to 375°.
For Eclair "dough":
In 1.5 qt. Saucepan, combine water, butter, and salt; boil over high heat.
Add flour all at once.
Using a scraper, stir the mixture vigorously for about 1 minute or until the mixture leaves the sides of the pan and forms into a ball.
Remove from heat; place the dough into the bowl.
Add eggs and whisk until smooth and very thick.
Lightly spray the cookie sheet. Using an icing bag, pipe "dough" into lines. I like short, wide lines, but feel free to make them to your preference.
Bake 22-25 minutes or until deep golden brown.
Remove from the oven and make a small cut on each "log" side to release excess steam. Remove "logs" from the baking sheet to the cooling rack, and cool completely.
For filling:
Combine Cool Whip, powdered sugar, pudding, and vanilla.
Mix gently until well blended.
With an icing bag and decorator tip, fill with filling and pipe into the length of each "log."
For topping:
Place frosting in a microwave-safe bowl; microwave on high for 5-10 seconds or until melted. Drizzle glaze over "logs." Serve immediately.