Get ready for an action-packed adventure that will captivate the whole family. "DUNGEONS & DRAGONS: HONOR AMONG THIEVES" is a thrilling film that will be available for fans to enjoy at home through Premium Video-On-Demand and Digital purchase on May 2, 2023, courtesy of Paramount Home Entertainment.
What the Critics Think
Critics are raving about this epic cinematic experience, describing it as "bursting with action, comedy, and spectacle" (Kristy Puchko, Mashable). According to Scott Mantz from KTLA-TV, the film is "a total blast," while Lex Briscuso from The Wrap proclaims it as "the best movie of the year." With a certified fresh rating on Rotten Tomatoes® and an impressive 93% audience score, this film is receiving high praise. Joe Deckelmeier from Screen Rant even calls it "the perfect movie for the whole family!"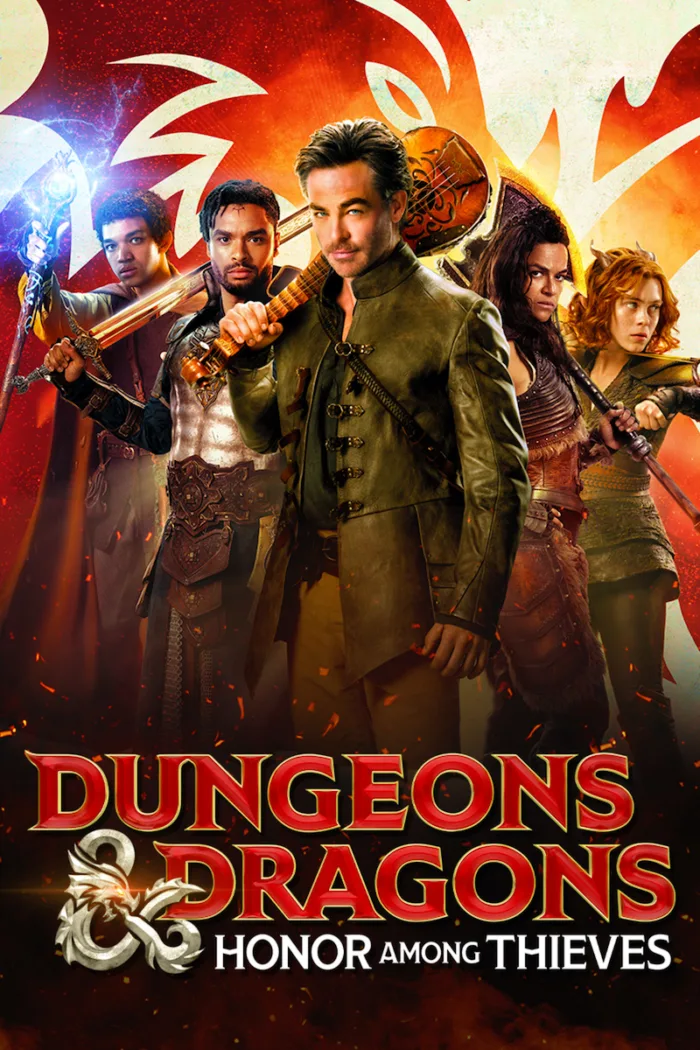 DUNGEONS & DRAGONS: HONOR AMONG THIEVES On Digital
When you purchase the film on Digital, you'll gain access to over an hour of captivating bonus content that delves deeper into the exciting world of Dungeons & Dragons. Join Chris Pine, Michelle Rodriguez, Regé-Jean Page, and more in behind-the-scenes interviews, as they discuss the making of the movie. Explore the universe, meet fascinating characters, encounter magical creatures, witness epic fight sequences, and marvel at the stunning visual effects. Prepare to laugh out loud with a hilarious gag reel and uncover deleted and extended scenes that were not shown in theaters.
The bonus content includes the following features:
From Dice to Dragons: Honoring the Lore: Go behind-the-scenes with Chris Pine, Michelle Rodriguez, and the cast and crew as they bring the classic board game to life in the ultimate D&D experience.
Rogues' Gallery: The Heroes of Dungeons & Dragons: Take an in-depth look at the film's heroes as the cast reveals the secrets behind their characters and the process of bringing them to life on screen.
Fantastic Foes: Explore the dark side of D&D and get a closer look at the complex and captivating villains of the film.
The Bestiary: Dive into the creation of the movie's magical beings and fantastical beasts, witnessing the cutting-edge visual effects, prosthetics, and intricate costumes involved.
Forging the Forgotten Realms: Discover the secrets behind the breathtaking sets and captivating locations that transport viewers to faraway lands.
Broadswords, Battle-axes & Badass Brawls: Immerse yourself in the epic fight sequences with a behind-the-scenes look at the mind-blowing stunts and powerful weaponry that make this action adventure unforgettable.
Gag Reel: Don't miss the hilarious gag reel filled with bloopers and outtakes that will have you in stitches.
Deleted and Extended Scenes: Uncover even more of the thrilling action with deleted and extended scenes that were left on the cutting room floor.
DUNGEONS & DRAGONS: HONOR AMONG THIEVES Synopsis
In "DUNGEONS & DRAGONS: HONOR AMONG THIEVES," a charming thief and a group of unlikely adventurers embark on an epic heist to retrieve a lost relic. However, their plans take a dangerous turn when they encounter the wrong people, leading to a series of hilarious and action-packed moments that will keep you on the edge of your seat.
In "DUNGEONS & DRAGONS: HONOR AMONG THIEVES," get ready for an exhilarating and comedic adventure as a charming thief and a band of unlikely adventurers set out on an epic heist. Their mission? To retrieve a lost relic of immense power. However, their carefully crafted plans take a treacherous turn when they find themselves crossing paths with the wrong people.
As they navigate a dangerous and fantastical world filled with magic, mythical creatures, and perilous encounters, this ragtag group must rely on their wit, skills, and unexpected alliances to overcome the obstacles in their path. Along the way, they discover the true meaning of honor, loyalty, and friendship.
Prepare for non-stop action, side-splitting comedy, and breathtaking spectacle as "DUNGEONS & DRAGONS: HONOR AMONG THIEVES" delivers an unforgettable cinematic experience that will entertain audiences of all ages. Join this fearless team on their daring adventure and witness a tale that combines heart, humor, and high-stakes excitement in equal measure.
4k Ultra HD and DVD
"DUNGEONS & DRAGONS: HONOR AMONG THIEVES" is available on 4K Ultra HD SteelBook™, 4K Ultra HD, Blu-ray™, and DVD.
Please note that the film is rated PG-13 for fantasy action/violence and some language.
This film is presented by PARAMOUNT PICTURES in association with eOne, and it is a JOHN FR