Doodle Roll is perfect for on-the-go or around the house, allowing budding artists to bloom in small areas. I have amazing children. While each is different from the next, the one thing they ALL have in common is they LOVE to draw. We are also a family on the go. This makes for some times when crayons and paper come in handy. Sheets of paper don't travel well and pick any room in our home and you'll see scatters of paper with artwork of the next artist to be featured in the Louvre.
Designed for children aged 3-10, it's the perfect creative play, whether out and about or just hanging out at home. I appreciate its compact size, available in a four-inch wide roll or a six-inch wide roll, conveniently packaged with crayons included; it's the perfect way to entertain a child. Really! My kiddos love the roll. While Doodle Roll comes with an easy paper tear-off feature, my kiddos prefer to roll it all backup and pull it out each time to the blank space. Li'l Man is working on a "banner," and The Divine Miss M wants a "log of my art." I'm content with either option because I am not picking up paper!
To my children, the 15′ of drawing paper on the four-inch roll and the 30′ of drawing paper on the six-inch roll seem endless. They've been drawing on it for a few weeks and there's still naked paper waiting for crayon tattoos. It's a beautiful thing!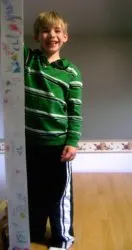 Doodle Roll gets rave reviews at our house. The only thing my kiddos even mentioned that wasn't two thumbs up was the crayons. They are not Crayola, though they still yield beautiful colors.
With the Holidays approaching, Doodle Roll will be a lifesaver on a train, plane or automobile heading to Grandma's house. It's the perfect size as a stocking stuffer, and my kiddos already have it added to our list as a "Go-To" Birthday gift. Priced under $10, it's affordable. Doodle Roll is available online through the Doodle Roll store, or look for them nationwide at a retailer near you.
Doodle Roll
is the perfect way to doodle, draw, design…anywhere, anytime!
*I received Doodle Roll in order to facilitate an honest review. The opinions, where expressed, are my own and were in no way influenced by the sponsor. Others experiences may vary.