There some moments when friends you never have met face to face, make you feel loved by sharing. This recipe from Rani (from the Carnation website) is just such a moment: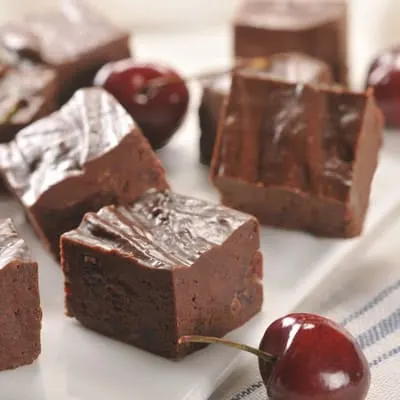 Preparation Time: 8 mins
Cooking Time: 6 mins
Cooling Time: 2 hrs cooling
Servings: 24 servings (2 pieces per serving)
Dark Chocolate Cherry Fudge Recipe Ingredients
1 1/2 cups granulated sugar
2/3 cup (5 fl.-oz. can) NESTLÉ® CARNATION® Evaporated Milk
2 tablespoons butter or margarine
1/4 teaspoon salt
2 cups miniature marshmallows
1 1/2 cups (10-oz. pkg.) NESTLÉ® TOLL HOUSE® Dark Chocolate Morsels
3/4 cup (4 oz.) dried cherries, coarsely chopped
1 teaspoon vanilla extract
Dark Chocolate Cherry Fudge Recipe Directions
LINE 8-inch-square baking pan with foil.
COMBINE sugar, evaporated milk, butter, and salt in a medium, heavy-duty saucepan. Bring to a full rolling boil over medium heat, stirring constantly. Boil, continually stirring, for 4 to 5 minutes (until temperature reaches 235-degrees or use the softball test (learn how on instructables). Using a metal spoon, one teaspoon of the fudge mixture in a cup of ice water. If it forms a soft, pliable ball, then it's done.) Remove from heat.
STIR in marshmallows, morsels, dried cherries, and vanilla extract. Stir vigorously for 1 minute or until marshmallows are melted. Pour into prepared baking pan. Refrigerate for 2 hours or until firm. Lift from pan; remove foil. Cut into 48 pieces.
VARIATION: For an equally delicious fudge, try substituting a 3/4 cup dried berry blend for the cherries.
Why Is My Fudge Grainy?
If sugar crystallizes during the process, the result is grainy fudge.
Sugar will crystalize when the melting sugar splashes onto the sides of the pan.
Instead of stirring the sugar, use a wet pastry brush and slide it down the side of the pan to wipe down any sugar.
Why Did My Fudge Not Set?
If you don't get the sugar hot enough (usually between 234 and 239°F for fudge), it won't set properly.
Use a candy thermometer when making fudge to ensure your temperature is correct.
Wait to Stir
To ensure the perfect texture, allow the fudge to rest 10-15 minutes, or until it reaches a temperature of 110 and 113°F, and then beat the fudge until smooth.
Don't Over Beat:
Only beat the fudge until the glossy sheen is lost.
Storage:
To store this homemade Reese's Pieces fudge, cover tightly with waxed paper, foil, or clear plastic wrap; store in an airtight container in a cool, dry place, or refrigerate.