Top Cute Homecoming Proposals: From Disney's Stitch Surfboard to Tennis Delight
Homecoming season is here, and it's the perfect time to get creative with your proposal ideas. Whether you're a high school student looking to make a memorable impression or simply want to surprise your special someone, these cute homecoming proposals will surely steal the spotlight. In this article, we'll explore two unique proposals that stand out from the rest: Disney's Stitch Surfboard and the Tennis Proposal. Let's dive in!
Homecoming season is the perfect time to make a memorable impression on your date. If you're looking for adorable and creative homecoming proposal ideas, you've come to the right place. Here's a list of cute homecoming proposals to sweep your date off their feet:
Cute HOCO Proposal Ideas:
1. Balloon Bonanza Proposal
Fill your date's room with helium balloons, each one carrying a love note.
Attach a note to the last balloon asking, "Will you go to homecoming with me?"
Surprise them when they open the door to a room filled with floating messages.
2. Scavenger Hunt Surprise
Create a scavenger hunt with clues that lead to different meaningful locations.
At each location, leave a clue or a small gift that hints at the next destination.
End the hunt with you, holding a sign that says, "Will you be my homecoming date?"
3. Disney's Stitch Surfboard Proposal: Riding the Waves of Love
The Disney's Stitch Surfboard proposal is inspired by the beloved character Stitch from Disney's "Lilo & Stitch." This proposal idea gained popularity due to its whimsical and romantic nature. It's a creative way to incorporate your partner's love for Disney into your special moment.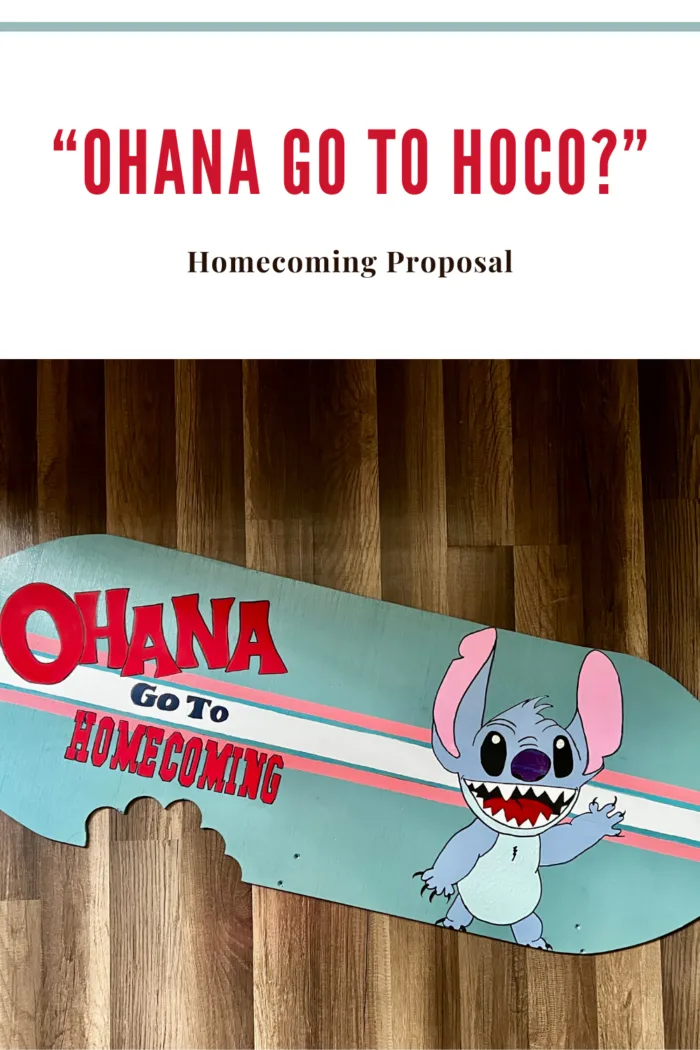 4. Starry Night Proposal
Plan a stargazing date in a secluded spot.
As you gaze at the stars, reveal a constellation shaped like a heart.
Ask your date, "Will you light up my night at homecoming?"
5. Foodie's Delight Proposal
Cook a special meal or order your date's favorite takeout.
Attach a note to the meal container that says, "Homecoming wouldn't be complete without you." (or order a pizza and write on the inside lid: "Pizza this…you + me at Homecoming?")
Share a delicious dinner together and pop the question.
6. Movie Magic Proposal
Create a custom movie poster featuring you and your date as the stars.
Invite your date for a movie night at your place, and unveil the poster before the film.
Ask, "Will you be my leading lady/man at homecoming?"
7. Bookworm's Dream Proposal
Craft a personalized bookmark with a romantic message.
Slip it into your date's current read or a book they've been wanting.
When they discover the bookmark, ask, "Can we write a new chapter at homecoming?"
8. Pet Proposal
If your date has a beloved pet, create a collar tag or bandana with your proposal.
Present their furry friend with the proposal message.
Say, "Even Fido wants to know, will you go to homecoming with me?"
9. Puzzle Piece Proposal
Get a customized puzzle made with a photo of the two of you.
Mail or give your date one piece of the puzzle every day.
On the final day, deliver the last piece and ask, "Will you complete my homecoming?"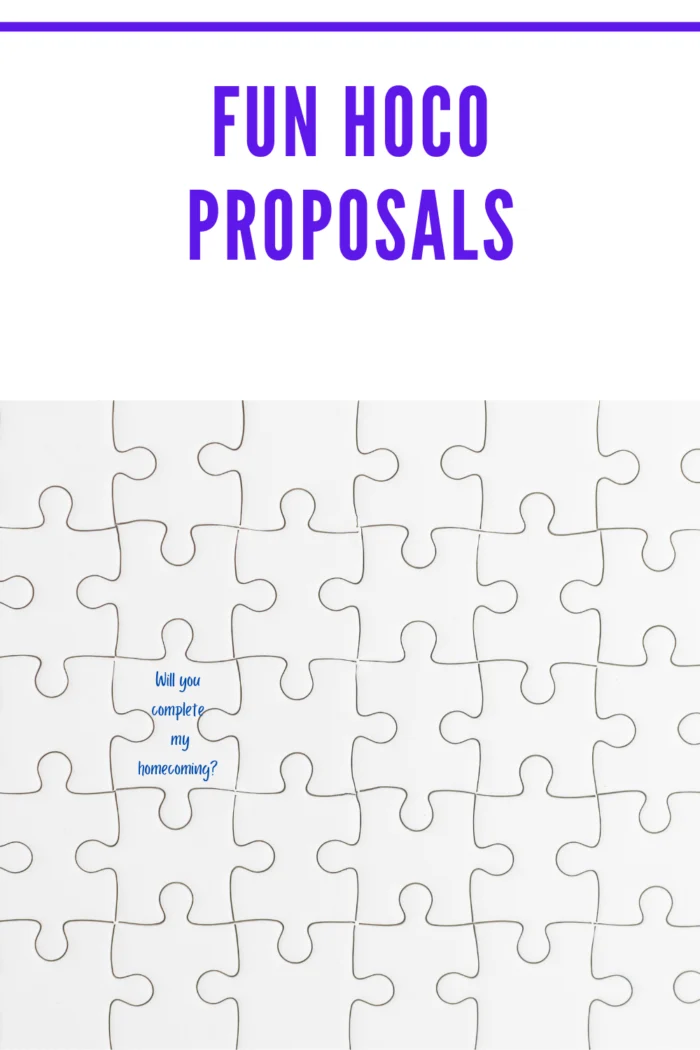 10. Artistic Expression Proposal
Paint a canvas or create a piece of artwork that represents your relationship.
Reveal the artwork during a special date and ask, "Will you artfully dance with me at homecoming?"
11. Musical Serenade Proposal –
Learn to play your date's favorite song on an instrument. – Surprise them by performing it in a romantic setting. – End the performance by asking, "Will you dance to this tune with me at homecoming?"
12. Tennis Themed Proposal
The Tennis Proposal is a sporty and fun way to pop the question. It's perfect for couples who share a passion for tennis and want to add a unique twist to their homecoming proposal.
Final Thoughts:
These cute homecoming proposals are sure to make your date feel cherished and excited for the big night. Choose the one that suits your style and enjoy creating a beautiful memory together. Good luck!
Homecoming season is all about creating lasting memories. Whether you choose a creative proposal idea like the Puzzle Lover's Homecoming Proposal or opt for a Foodie's Delight Homecoming Invitation, the key is to make it personal and unforgettable. Cherish these moments and have a fantastic time celebrating with your date. Here's to a wonderful homecoming experience filled with love and joy!