It's summer, and for many cities and communities, it means tourists invade, leaving you a road warrior, battling the traffic.
Where we live, it seems a long way to anywhere.
Typically, it's smooth driving, enjoying the green scenery, but since summer has arrived, one of my routes has turned to this: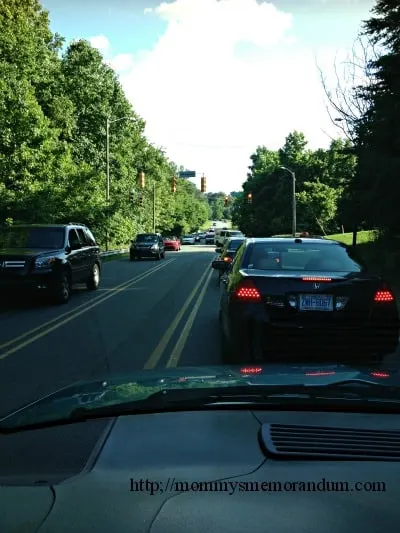 I received a product from Contigo to facilitate an honest review. The opinions where expressed are my own and were in no way influenced by the sponsor.
Take charge, and instead of fighting it, be a Road Warrior ready for anything with Contigo water bottles!
I'm keeping hydrated while listening to the radio and enjoying a pause to reflect on life.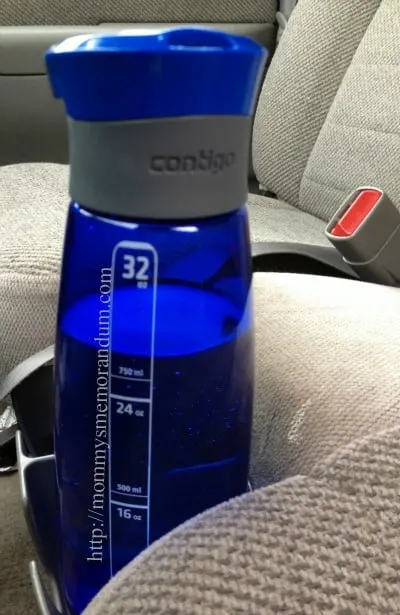 About Contigo AUTOSEAL Products:
Contigo travel mugs and bottles feature the revolutionary new AUTOSEAL patented technology that automatically seals between sips.
The products – to-go coffee mugs, hydration bottles, and kids mugs – are 100 percent leak-proof and spill-proof with superior insulation properties and are FDA approved and BPA free.
Contigo is a brand of Ignite, a company with a passion for great products.
For more information, visit www.gocontigo.com.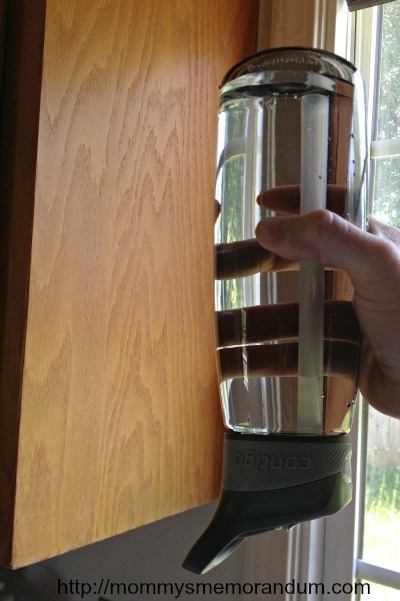 Here is our Video Review of the Contigo Spill-Proof Technology:
Contigo upgrades the sippy cup for kids of all ages with the 14oz Spill-Proof Kids Tumbler!
A no-spill valve in the straw makes it impossible to spill, and a seal around the straw offers extra protection against leaks.
We received the Addison Water Bottle.
It offers a one-touch drink spout for quick and easy one-handed drinking!
A spout shield keeps the dirt and debris out when not in use.
It's also leak-proof when in a closed position–take a look at the photo above.
I was impressed! This water bottle has a soft grip two-finger grip, which is ergonomic for comfortable use.
There's a measure marking on the side where I log my water intake.
It's top-rack dishwasher safe and free of plastic odors and plastic taste with FDA-Approved, BPA-free Tritan Materials.
I'm in love!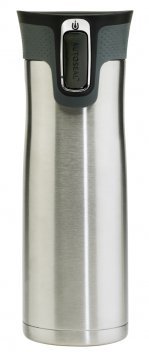 We also reviewed the AUTOSEAL West Loop Stainless Steel Travel Mug.
It's 16 oz of drinking made easy.
Press to sip.
Release to seal.
No spills.
Its vacuum insulated technology
keeps beverages hot
for four hours or cold for 12 hours, Making it the perfect companion for my homemade Dunkin' Donuts iced coffee! (get the recipe on
Today's Best Recipe
!)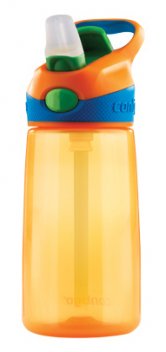 I'm keeping the kiddos hydrated in our Road Warrior adventures with the AUTOSPOUT Striker.
Its one-touch drink spout makes it easy to open and drink.
It's spill-proof thanks to a valve system that also eliminates leaks, even when the spout is in the open position.
We've owned a lot of water bottles, but Contigo ranks high.
They are a perfect size, and the Autoseal feature is incredible.