Experience a scrumptious adventure with Cloudy with a Chance of Meatballs 2 recipes! Step into the whimsical world of foodimals as you create imaginative dishes inspired by Tacodiles, Meatbalrus, and more. Unleash your culinary creativity with fun-filled, delicious treats perfect for family gatherings or movie nights. Craft Tacodile-shaped tacos filled with savory delights, or conjure up Meatbalrus-inspired meatballs that charm both taste buds and imaginations. Embrace the joy of cooking as you bring to life the delightful food creatures from the beloved animated film. Get ready for a feast of flavors and fun that will captivate foodies of all ages!"
The film introduces fans to some curious food-animals. There's the Fruit Cockatiel (half fruit cocktail half cockatiel) and Tacodiles (half taco and half crocodile). They're some fun hybrids. The film also features cheesepiders, hippotatomuses, cantaloupes and more. They are clever characters that make this film fun.
I mean seriously, how adorable is Barry?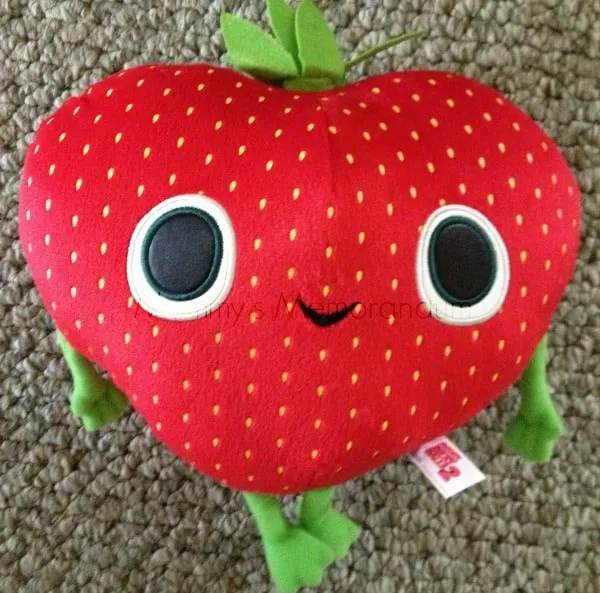 Thanks to Columbia Pictures and Sony Pictures Animation, these crazy creatures are also a blast to create! They've partnered for a Healthier America to create four easy-to-make, healthier option recipes that incorporate a variety of fruits and vegetables in each dish. Gather the family around and create your own Foodimal-inspired recipes and develop healthy habits that will last a lifetime.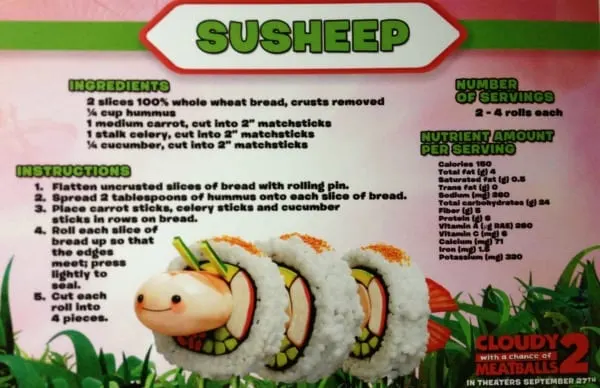 SuSheep Sushi Rolls:
Servings: 2-4 rolls each
Ingredients:
2 slices 100% whole wheat bread, crusts removed
1/4 cup hummus
1 medium carrot, cut into 2-inch matchsticks
1 stalk celery, cut into 2-inch matchsticks
1/4 cucumber, cut into 2-inch matchsticks
Nori sheets (seaweed) for decoration (optional)
Soy sauce, for serving
Pickled ginger and wasabi, for serving (optional)
Instructions:
Flatten the encrusted slices of bread with a rolling pin to make them easier to roll.
Spread 2 tablespoons of hummus evenly onto each slice of bread, covering the entire surface.
Lay the carrot sticks, celery sticks, and cucumber sticks in a row horizontally along the length of the bread slices.
Now comes the fun part! To create the SuSheep shape, start rolling each slice of bread up tightly, ensuring that the edges meet and form a secure seal. The hummus will act as a glue to hold everything together.
Once you have rolled both slices of bread into cylindrical rolls, press lightly along the seam to ensure the rolls stay intact.
Using a sharp knife, carefully cut each roll into four pieces. These pieces will resemble adorable SuSheep sushi rolls!
Optional: For an added touch, you can use small cutouts of nori sheets to create eyes, a nose, and a mouth on each SuSheep roll, making them look even more like cute little sheep.
Arrange the SuSheep sushi rolls on a plate and serve with soy sauce for dipping. If you like a bit of heat, you can also serve them with pickled ginger and wasabi on the side.
Enjoy your delightful and imaginative SuSheep sushi rolls! These whimsical treats are not only fun to make but also delicious to eat. They are perfect for kids' lunches, parties, or whenever you want to add a touch of creativity to your mealtime! Feel free to customize the fillings with your favorite veggies or add a dash of sesame seeds for extra flavor and texture. Let your culinary imagination roam free with SuSheep!
Remember, this recipe is just a creative interpretation inspired by the movie character "Susheep." Feel free to customize the fillings and design according to your preferences and imagination. It's a fun and tasty way to bring the fictional world of "Cloudy with a Chance of Meatballs 2" to your dining table!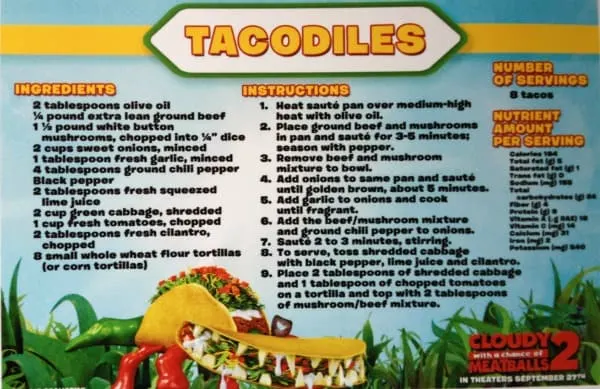 TacoDiles
In "Cloudy with a Chance of Meatballs 2," Tacodiles are another imaginative foodimal creature, which combines tacos and crocodiles. While there's no official recipe for Tacodiles since they are fictional characters from the movie, you can have some fun by creating your own Tacodile-inspired dish!
Here's a creative and delicious recipe for making Tacodiles:
Ingredients:
For the Tacodile Shell:
Large tortillas or taco shells
For the Tacodile Filling:
Ground beef or shredded chicken (you can also use a vegetarian filling like black beans or grilled veggies)
Taco seasoning mix (store-bought or homemade)
Chopped onions and bell peppers (optional)
Shredded lettuce
Diced tomatoes
Shredded cheese (cheddar or any other favorite)
Sour cream
Guacamole or diced avocado
For the Tacodile Eyes and Teeth:
Sliced black olives (for the eyes)
White cheese or sour cream (for the teeth)
Instructions:
Prepare the Tacodile Filling:

If using ground beef or chicken, cook it in a skillet over medium heat until fully cooked. Add the taco seasoning mix and follow the package instructions to season the meat.
If using a vegetarian option like black beans or grilled veggies, cook and season them with your preferred spices.

Warm the tortillas or taco shells according to the package instructions.
Assemble the Tacodiles:

Lay a tortilla or taco shell flat on a plate or clean surface.
Spoon the Tacodile Filling (ground beef, chicken, or vegetarian option) onto the center of the tortilla.
Add shredded lettuce, diced tomatoes, chopped onions, and bell peppers, if using.
Sprinkle shredded cheese on top and add a dollop of sour cream and guacamole.

Create the Tacodile Eyes and Teeth:

For the eyes, place two slices of black olives near the top of the Tacodile, so they resemble eyes.
For the teeth, you can cut small triangle-shaped pieces from white cheese or use sour cream to create teeth along the bottom edge of the Tacodile.

Fold the sides of the tortilla or taco shell up and over the filling, so they meet in the center, forming a Tacodile shape.
Serve your Tacodiles on a plate and enjoy these fun and delicious creatures!
Remember, the best part about making Tacodiles is letting your imagination run wild. Feel free to get creative with the fillings and decorations to bring these adorable and tasty creatures to life on your plate!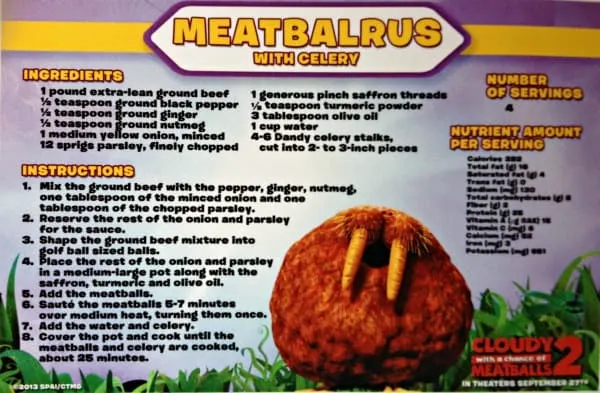 Meatbalrus-inspired meatballs
In "Cloudy with a Chance of Meatballs 2," the Meatbalrus is a delightful foodimal character that combines meatballs and a walrus. Since it's a fictional creation, there's no official recipe for Meatbalrus. However, you can have fun and be imaginative by creating your own Meatbalrus-inspired dish!
Here's a whimsical and tasty recipe for making Meatbalrus-inspired meatballs:
Ingredients:
For the Meatballs:
1 pound ground beef (you can also use ground pork, chicken, or turkey)
1/2 cup breadcrumbs
1/4 cup grated Parmesan cheese
1 large egg
2 cloves garlic, minced
1 teaspoon dried oregano
1 teaspoon dried basil
Salt and pepper to taste
For the Meatbalrus Decoration:
Sliced black olives (for the eyes)
Thinly sliced red bell pepper or cherry tomatoes (for the nose)
Shredded cheese (for the tusks)
For the Sauce:
Your favorite tomato-based pasta sauce
Instructions:
Preheat your oven to 375°F (190°C).
In a large mixing bowl, combine the ground meat, breadcrumbs, grated Parmesan cheese, egg, minced garlic, dried oregano, dried basil, salt, and pepper. Mix everything together until well combined.
Shape the meat mixture into Meatbalrus shapes. You can create oval-shaped meatballs and then shape one end to resemble a walrus face.
Place the shaped Meatbalrus meatballs on a baking sheet lined with parchment paper or aluminum foil.
Bake the Meatbalrus meatballs in the preheated oven for about 20-25 minutes or until they are fully cooked and browned on the outside.
While the meatballs are baking, you can prepare the sauce. Heat your favorite tomato-based pasta sauce in a saucepan over medium heat until warmed through.
Once the Meatbalrus meatballs are done baking, remove them from the oven and let them cool slightly.
Assemble the Meatbalrus:

For the eyes, use two slices of black olives and press them onto the top part of each meatball.
For the nose, use thinly sliced red bell pepper or cherry tomatoes and place them right below the eyes.
For the tusks, use shredded cheese and position them on the sides of the Meatbalrus's mouth to resemble tusks.

Serve the Meatbalrus meatballs on a plate with the warm tomato sauce as a fun and delicious main course!
Feel free to get creative with your Meatbalrus-inspired dish and add other ingredients like green vegetables or herbs for additional decorations. The key is to have fun and enjoy the imaginative world of "Cloudy with a Chance of Meatballs 2" in your culinary creations!