March 22 will be a grand day in Downtown Salt Lake City. City Creek is opening after years of construction. As it opens, we'll be introduced to so many fantastic shops. The one I am most eager to experience is the infamous Tiffany & Co.
On Wednesday morning, Charlotte the Great and I will be having Breakfast at Tiffany & Co. followed by the ribbon cutting ceremony. I'm so giddy you can probably hear my squees everytime I think about about it! Grandma's excited too…we found her a blouse yesterday for the celebration after weeks of her calling me to ask what she should wear!
Some things, however, are far more exciting.
Today's mail being the first.
Tiffany & Co. is known for its exquisite jewelry designs, and they offer a wide range of pendants, including heart-shaped pendants and key-themed designs. The brand is renowned for its quality craftsmanship, the use of high-quality materials, and their iconic designs.
Inside a box was the Tiffany Key necklace: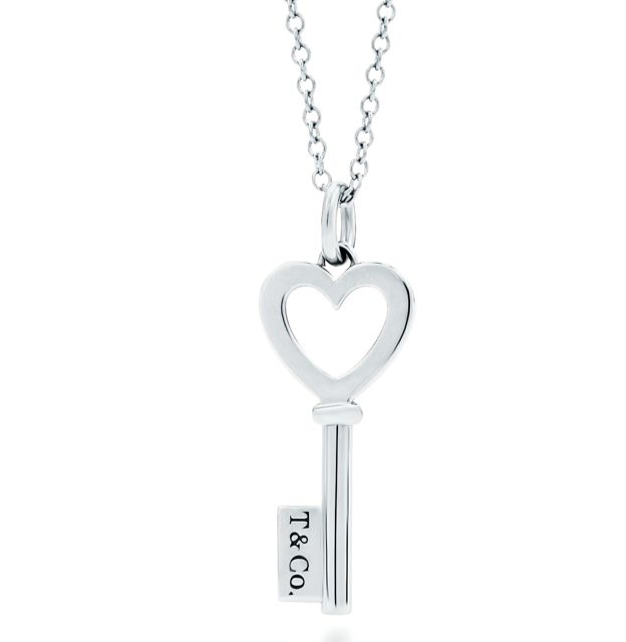 I held it trembling in excitement.
My husband stood with me for about five minutes while I took it all in. Then he said, "Well. Are you going to open it?"
I didn't want to tug the ribbon. It was so beautiful! The glossy white satin elegant against the infamous blue box.
I took the picture and then pondered the pull.
Finally, I gave into curiosity.
I pulled the ribbon, squealing at the site of the imprinted "Tiffany & Co." logo.
I opened it gently…breathless at the Tiffany Blue pouch inside (also imprinted with "Tiffany & Co.")
Then I pulled up from the pouch the MOST beautiful necklace in my history…a simple, yet classic silver Tiffany Key!
Squee!There is NO doubt what I'm wearing on Wednesday and every day thereafter!
May someday the gift of THE blue box light your heart with dreams come true!
Tiffany & Co. In City Creek Mall:
Tiffany & Co. has a boutique located in the City Creek Center Mall in Salt Lake City, Utah. City Creek Center is a large shopping complex in downtown Salt Lake City that offers a range of high-end retail stores, dining options, and entertainment venues.
The Tiffany & Co. boutique in City Creek Center showcases a selection of their iconic jewelry collections, including engagement rings, diamond jewelry, watches, and other luxury accessories. It provides a luxurious and elegant environment for customers to explore and purchase Tiffany & Co. products.
It's important to note that the availability of specific stores and their locations can change over time. Therefore, I recommend checking the official Tiffany & Co. website or contacting the City Creek Center directly for the most up-to-date information on the Tiffany & Co. boutique's status and location within the mall.
About the Tiffany & Co. Blue Box:
The Tiffany Blue Box is an iconic symbol associated with the luxury jewelry company Tiffany & Co. It is a distinctive shade of light blue that has become synonymous with the brand. The color is officially known as "Tiffany Blue" and is trademarked by the company.
The story of the Tiffany Blue Box dates back to the mid-1800s when Charles Lewis Tiffany, the founder of Tiffany & Co., decided to establish the company's identity and packaging. In 1837, Tiffany introduced the famous Tiffany Blue Book, a catalog showcasing the company's exquisite jewelry designs. The catalog was accompanied by the equally distinctive Tiffany Blue Box, which was used to present and protect the precious jewelry pieces.
The Tiffany Blue Box has since become a symbol of luxury and elegance. The color itself is often described as a robin's egg blue or a light turquoise. It is recognized worldwide as an embodiment of the brand's quality, craftsmanship, and timeless beauty.
Tiffany & Co. takes great care in ensuring that their packaging remains consistent and instantly recognizable. The Tiffany Blue Box is made with high-quality materials and features a white satin ribbon tied around it. The box itself is often said to be as precious as the jewelry it contains.
The significance of receiving a gift in a Tiffany Blue Box extends beyond the jewelry inside. The box represents a sense of luxury, romance, and anticipation. Opening a Tiffany Blue Box has become a special moment for many, often associated with important occasions such as engagements, anniversaries, or other significant milestones.
Due to its popularity and association with the brand, the Tiffany Blue color has been used in various contexts beyond packaging. It has inspired fashion trends, interior design choices, and even wedding themes.
In summary, the Tiffany Blue Box is an iconic and highly recognizable symbol associated with Tiffany & Co. It represents luxury, elegance, and the timeless beauty of the jewelry it contains.
About Tiffany & Co.
Tiffany & Co. is a renowned luxury jewelry and specialty retailer founded in 1837 by Charles Lewis Tiffany and John B. Young in New York City. Over the years, Tiffany & Co. has become an internationally recognized brand synonymous with exquisite craftsmanship, timeless designs, and luxury.
Tiffany & Co. is known for its high-quality jewelry collections, including engagement rings, diamond jewelry, watches, necklaces, bracelets, earrings, and more. The brand has established itself as a leader in the industry, showcasing innovative designs and exceptional attention to detail.
One of the most iconic elements of Tiffany & Co. is its distinctive blue color, known as "Tiffany Blue." The Tiffany Blue Box and its elegant packaging have become synonymous with luxury and have been an integral part of the brand's identity for many years.
The company has a rich history of creating extraordinary pieces that have been cherished by generations. Some of their notable designs include the Tiffany Setting, which revolutionized engagement ring design, and the Tiffany Keys collection, inspired by vintage keys and symbolizing personal empowerment and self-expression.
Tiffany & Co. has also collaborated with renowned artists and designers to create exclusive collections, such as collaborations with Elsa Peretti, Paloma Picasso, and Jean Schlumberger, among others.
In addition to its jewelry offerings, Tiffany & Co. has expanded into other luxury categories, including accessories, fragrances, home decor, and gifts. They continue to uphold their commitment to exceptional quality and craftsmanship across all their product lines.
Throughout its history, Tiffany & Co. has maintained a strong commitment to responsible sourcing and ethical practices. The company places a significant emphasis on environmental sustainability, social responsibility, and the welfare of workers in their supply chain.
Tiffany & Co. has a global presence, with boutiques and stores located in major cities around the world. In recent years, the brand has been acquired by LVMH Moët Hennessy Louis Vuitton, a multinational luxury goods conglomerate, but it continues to operate under its own name and maintain its distinct brand identity.
In summary, Tiffany & Co. is a renowned luxury jewelry and specialty retailer known for its exceptional craftsmanship, timeless designs, and iconic blue packaging. With a rich history and a commitment to quality and ethical practices, Tiffany & Co. remains a symbol of luxury and elegance in the world of jewelry and luxury goods.
Disclosure of Material Connection: I received one or more of the products or services mentioned above for free as a Tiffany & Co. Salt Lake City blogger. There was no expectation I would blog about this gift. Regardless, I only recommend products or services I use personally and believe will be good for my readers. I am disclosing this in accordance with the Federal Trade Commission's 16 CFR, Part 255: "Guides Concerning the Use of Endorsements and Testimonials in Advertising."