A courtroom drama is one of the most riveting forms of entertainment. One of the most important things in a movie is its ability to grip the audience's attention. Lawyers, attorneys, judges, and convictions all have the audiences sitting on the edge of their seats in these movies. The plot thickens in these movies because some of these movies have been written by famous and best-selling authors and directors.
A Time to Kill:
The movie starts when two Caucasian men, Billy Rae Cobb and Pete Willard, kidnap Tonya Hailey. Tonya Hailey is a ten-year-old black girl. After the rape, they want to get rid of the girl, so they throw her off a bridge. They think she'll die when she hits the ground, but Tonya doesn't.
Sheriff Ozzie Walls is the one and only black sheriff in Ford County. He overhears these two men bragging about their crime in a bar. Sheriff Ozzie Walls arrests the two men to bring them to justice. But to his surprise, the two rapists walk out days later scot-free, despising.
Before the two rapists could make it outside the courtroom, a man jumps out of the janitor's closet and kills them with an illegally obtained M-16 rifle. The man who shot the rapists is Carl Lee Hailey, Tonya's father. He is quickly subdued trying to leave the courtroom and now must face a murder trial.
This short prologue is proof that the movie has an exceptionally intriguing plot. The entire movie is based on a book with the same title by the author John Grisham. Joel Schumacher directed the movie. Some stars include Matthew McConaughey, Sandra Bullock, and Samuel L Jackson.
Samuel L Jackson plays the role of the father by the name of Carl Lee Hailey. Mathew McConaughey plays the role of Jake Brigance, the lawyer defending Carl Lee Hailey. Sandra Bullock plays the role of the divorce attorney with over 20 years of experience who offers her services for free to defend Carl Lee Hailey.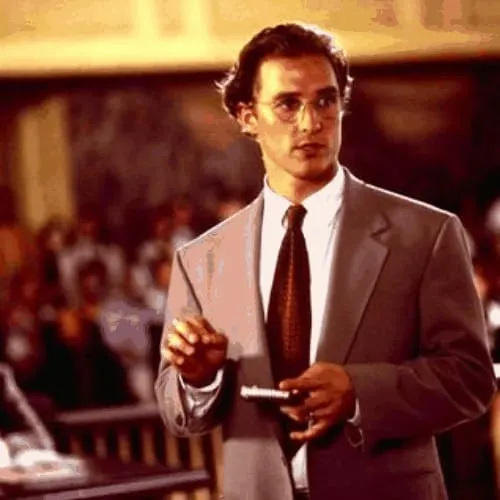 Legally Blonde:
Reese Witherspoon is the star of the 2001 American comedy movie Legally Blonde. In the movie, she goes by the name of Elle Woods. Elle is a fashion merchandising student expecting her boyfriend to propose to her. Her boyfriend is Warren Huntington III, the governor's son.
Warren breaks up with her on the big day instead of proposing to her. He tells her he wants to be an influential politician and has ambitions to go to Harvard Law School. He tells her that being into fashion, she is not much help to him nor capable of becoming a part of the "serious" kind of life of a politician. Elle thinks she can win him back if she also gets into Harvard Law School.
She studies for months to prepare for the admission test at Harvard. She scored 179 on the entry test, and with a GPA of 4.0, she got accepted at Harvard. Once at the institute, she quickly realizes that her style, appearance, and personality are in stark contrast with all the people at her institute. The rest of the story shows some hilarious encounters and experiences a fashion major faces at a law school.
The Rainmaker:
Matt Damon stars in this movie as Rudy Baylor. Rudy is a fresh graduate of the University of Memphis Law. All of his colleagues have good-paying, secure jobs lined up for them. Rudy has to work part-time at a Memphis bar serving drinks while looking for a better work opportunity. Rudy meets J. Lyman "Bruiser" Stone, played by Mickey Rourke, who introduces him to the technique of ambulance-chasing.
With the help of Stone, Rudy meets Deck Shifflet. Danny DeVito plays the part of Deck, a not-so-ethical insurance assessor who has become a paralegal because he has failed the bar exam six times. He may not have qualified for the bar exam, but he has gained exceptional experience compiling information for insurance lawsuits. Rudy acquires a case worth several million dollars in compensation against an insurance company.
Bruiser gets raided by the FBI. Rudy and Deck set up their family law practice to helping Dot and Buddy Black, a middle-aged couple whose son has been denied compensation by his insurance carrier. Their son Donny Ray is diagnosed with leukemia. Donny is coming to his life's end because their insurance carrier denied them compensation for a bone marrow transplant.
Fortunately, Rudy passes the bar exam, but this will be the first time he will face a judge and jury. Francis Ford Coppola directed this movie, and Michael Douglas is one of the three producers. It is a gripping legal drama with audiences on the edge of their seats. The story is based on the book of the same name written by John Grisham.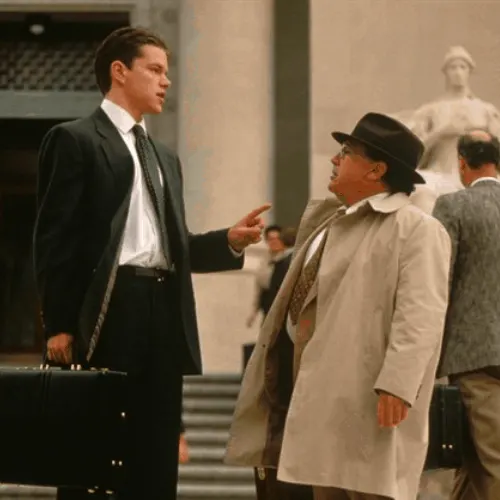 Liar Liar:
Jim Carrey plays the role of an unscrupulous lawyer named Fletcher Reede, who is also a divorced father. Max Reede is his son, played by the actor Justin Cooper. Max often enjoys playing a game called "the Claw" with his father. Fletcher pulls his hand out of a bag in the shape of a claw and starts tickling his son.
Max enjoys spending time with his father, but his father is seldom around. Fletcher is usually busy with his work most of the day. Max anticipates meeting his father on his birthday, but Fletcher cannot make it. Fletcher is busy having sex with his boss Miranda hoping to become a partner.
After waiting a long time, Max blows out the candles on his birthday cake. Before blowing out the candles, he wishes that his father would be unable to lie for an entire day. A wish that comes true. Fletcher cannot lie to his boss that he has had much better sex.
The movie is a collaboration between director Tom Shadyac and Jim Carrey. The movie was an instant hit at the box office on the weekend it was released, earning $181,410,615 across North American theatres.