In the New Tradition of Healthy Eating
Tomatoes. They are red, round goodness and symbolize to me all the warm memories of summer. Now Bella Sun Luci brings tomatoes into my everyday life for cooking, snacking, and kitchen exploration.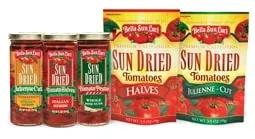 Even before I knew that Sun-Dried Tomatoes contained lycopene and ounce for ounce have twelve times the amount of lycopene than raw tomatoes, I was implementing them into my cooking. One of my favorite dishes is Garlic Rosemary Chicken with Sun Dried Tomatoes. That recipe just became far more fabulous in taste when I made it using Bella Sun Luci's Sun-dried tomatoes. I cannot get over how flavorful they are with their tangy tomato bursting with supreme flavor. It was a given then that I had to make Rustic Focaccia Bread, with the Sun-Dried Tomatoes and Italian Basil which turned out to be A-M-A-Z-I-N-G!
Bella Sun Luci Sun Dried Tomatoes from Mooney Farms is the perfect complement to any dish with their California Sun-Dried Tomato Halves, California Sun-Dried Tomatoes with Italian Basil, California Sun-Dried Tomatoes with Zesty Peppers, Julienne Cut, Tomatoes in Olive Oil and Herbs, and Sun-Dried Tomato Pesto. Aren't your tastebuds in over-drive now?
If one of the recipes I've shared with you doesn't strike your culinary tastes, you'll find more recipes, featuring the sun-dried tomato on the Mooney Farms website. They offer main dishes and appetizers with at glance ease.
For more information on the health benefits of sun-dried tomatoes, or to order, please visit MooneyFarms.com. Have a foodie or tomato fan on your list for the holidays? Consider one of Moody Farms gift baskets!
About Mooney Farms
Mooney Farms began in 1987 as a family-owned kiwi farming operation, selling their products locally at the farmer's markets in Northern California. But when they added sun-dried tomatoes to their offerings, the Bella Sun Luci Sun-Dried Tomatoes in Olive Oil & Herb sold out in a record four hours. Shortly thereafter a focus on Sun-Dried Tomatoes and the Mediterranean diet commenced. Built on a foundation of family values, Mooney Farms has grown into the largest producer of Sun-Dried Tomatoes in Olive Oil in the United States.
I received Bella Sun Luci products in order to facilitate an honest review. No other compensation was received. The opinons are my own and were in no way influenced by the sponsor. Others experience may vary.