Embraced by God
, I fell in love with the book, from its beige cover and elegant script to the thick, non-slick pages inside. I took a few moments to read a few paragraphs and was taken away by the soft words that lay on the pages.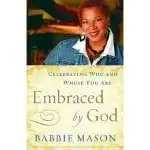 If you're like me, you don't know who Babbie Mason is. It's okay. She's a teacher, a songwriter, a gospel singer, and the author of this book, Embraced by God, a 21-day devotional book created for women who want to "celebrate who and whose you are." It's that simple.
I love the tone of this book. It's soft and flowing, like engaging in a conversation with a dear friend you've known forever. The words will be embraced and help growth through investing in the reader's spiritual growth. It's about Christ, your identity within Him, and how it all translates into your life.
One of the things that made me sit in awe and reread was when Mason shared that even if I were the ONLY person in the world, God would have still sent His son, Jesus Christ, to die for me.
My heart swelled with so many emotions as I read this book and grew closer to my God, His promises, and the reality that everything ends and begins with God's love. Truly a John 3:16 moment.
Mason takes the scriptures and shows you how they apply in everyday life.
There are seven promises that Mason covers in her book, Embraced by God:
God's passion for you is unconditional
God's picture of you is beautiful
God's presence in you is perpetual
God's provision for you is immeasurable
God's plan for you is exceptional
God's power in you is accessible
God's promise in you is incomparable
This great devotional will have you rediscovering love in all things.
About the Book: Embraced by God
Have you ever wondered, "Does God love me? Do I matter to him?"
HE LOVES YOU.
God loves you just as much as he loves His own Son.
In the pages of this heartwarming, thoughtful, and life-affirming 21-day journey, award-winning gospel singer, songwriter, and teacher Babbie Mason reminds you, when you know God loves you and that you are in His eternal plan, you'll never again wonder if your life matters.
About the author, Babbie Mason:
Babbie Mason is a Dove Award-winning and Grammy-nominated gospel singer, songwriter, author, creator of the Embrace: A Worship Event for Women ministry, professor of songwriting at Atlanta Christian College and Lee University, and a television talk-show host. She was inducted into the Christian Music Hall of Fame in 2010 and has appeared on numerous national television and radio programs. Babbie has been honored to perform for Presidents Gerald Ford, Jimmy Carter, George H. W. Bush, George W. Bush, Lady Margaret Thatcher, Colin Powell, Steve Forbes among many others. Babbie performs a holiday special at Carnegie Hall every year. Babbie lives near Atlanta on a farm with her husband, Charles.

*I received Embraced by God to facilitate an honest review. The opinions, where expressed are my own and were in no way influenced by the sponsor. Others experiences may vary.

As soon as I received a copy of