I appeared in a post over at Fishhook Road, the supplemental blog for TLC's Sarah Palin's Alaska yesterday. It was so much fun to work with Danielle Johnson and I'm thankful for the opportunity to share about my one of my favorite sports and drivers.
I'm sharing only the part where I am featured. The full article can be viewed at Ladies Who Love to Watch the Races.
For Julee, her experience with racing starting back in high school when she was watching racing on the TV with her dad and Jeff Gordon was still a rookie. Her dad was so excited that his little girl was into racing that they then began looking to it as a tradition for them. Throughout the years Julee has begun to appreciate modified racing, and became a huge fan of modified driver Harvey Howard. He had been paralyzed in a motorcross incident eight years before he got into modified racing. Julee has loved seeing someone with such a touching story use car racing to get tough and prove you can do anything that you want. She gets a sense of pride when her drivers win or do well and she loves being in the stands cheering them along. It is has also remained a bonding technique for her and her dad and she recommends other women would gain the same benefit from getting into racing.
Ironically, two years after this article, my family moved across the country and I found employment in a race town, Martinsville, Virginia.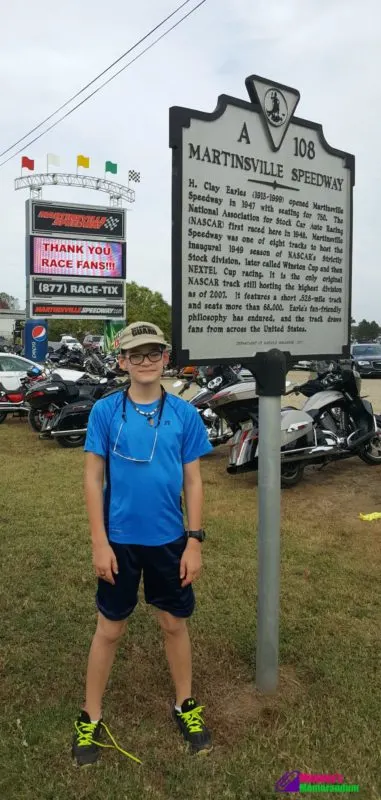 While living here I have attended my first NASCAR race. Taken my son to his first NASCAR race, which he found too loud.
My favorite memory, however, is taking my dad, who started my love affair with NASCAR to his first race. He was going through chemotherapy for his leukemia and was weak. It was a bit much for him to walk into the track and then climb the bleachers to our seats, but overall, he had a wonderful time and says it is one of his lifelong dreams come true.