Decades ago, I experienced an Abuela. She was pint-sized had the greenest eyes, often smiled and oh, man! Could she cook.
The drawback was she only spoke Spanish.
It was a good arrangement. She cooked, I showed up and ate.
Then came Thanksgiving and food delegations.
I cannot remember the specifics, like whether I volunteered or it was assigned, but I was bringing the Black Beans…for 70 people.
I was on my own.
I'm going to share the recipe.
It can be eaten as a bowl of soup, Morros (mix it into the rice), black bean dip (simmer until no longer soupy), you can even use leftovers to make black bean burgers! Versatile; right?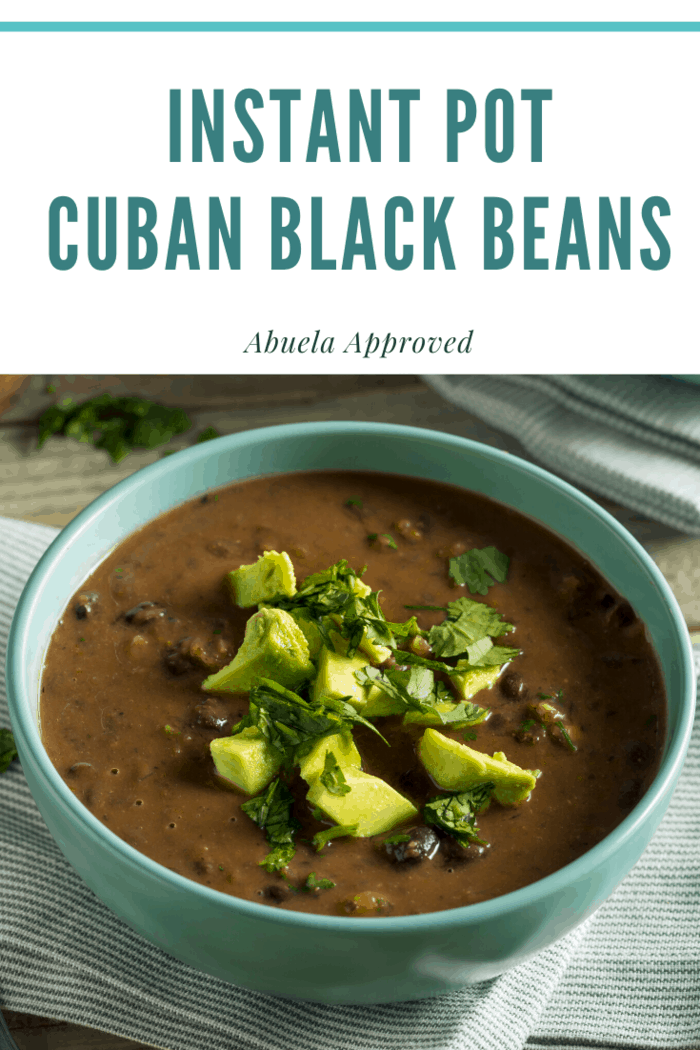 The only thing that's changed is modern cooking appliances, like the Instant Pot.
Cooking time has gone from 2 hours to 35 minutes.
That's a game-changer right there.
It should also be noted, that when I walked in with the huge pot of these black beans, Abuela told my husband,
"La Gringa cree que puede haer frijoles negros."
Which when translated is, "The American thinks she can make black beans?"
Then after several samplings, she said, "Not bad. Not bad."
You may also want to check out my Pinterest Instant Pot board for more great recipes like this pressure cooker Black Beans!
Here is the Instant Pot Black Beans Recipe: Abuela Approved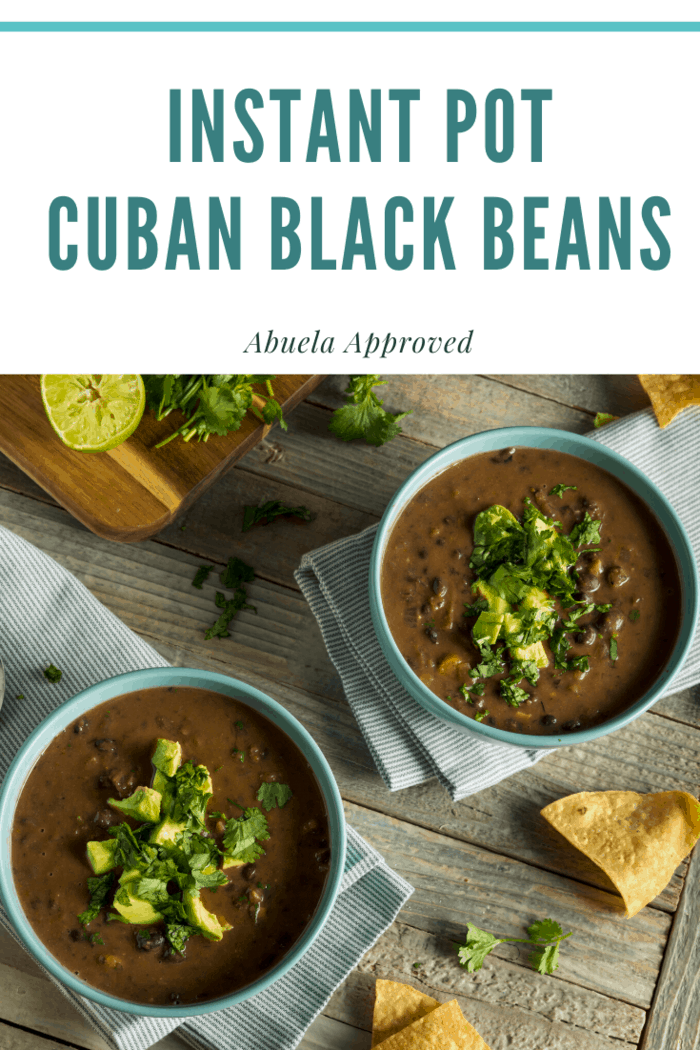 Instant Pot Black Beans Recipe Ingredients:
-1 lb. black beans
-1 large green pepper, seeded and chopped
-1 medium onion, peeled and chopped
-8 sprigs coriander (you can use cilantro)
-1 tsp oregano
-1 Bay Leaf
-1/4 pound salt pork, quartered (or ham hocks)
-14 ounce can diced tomatoes
-1/4 cup white, distilled vinegar
-1 tsp sugar
-32 oz. chicken stock
Sofrito Ingredients:
-2 green bell peppers, seeded and cut into thin strips
-1 large onion, cut into thin strips
-3 Tbsp. Olive Oil
-1 Clove Garlic, minced
Instant Pot Black Beans Recipe Directions:
Add all ingredients, except vinegar, sugar, and sofrito, to Instant Pot.
Chicken Stock should cover the beans to a depth of 1.5 inches above beans–you may need more or less water by this measurement.
Place lid on Instant Pot
Close vent and set to manual 25 minutes.
While the beans are cooking, add all sofrito ingredients to the pan and cook until onions and peppers are soft.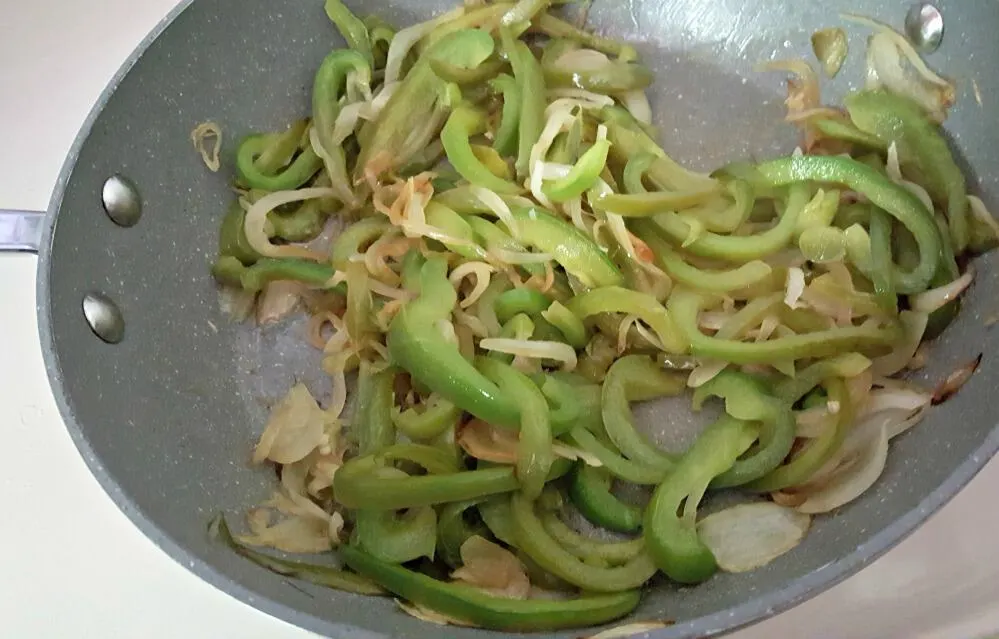 When Instant Pot beeps, let rest on natural release for 10 minutes.
Release pressure.
Once depressurized, remove the lid.
Add sofrito to beans and stir well
Add vinegar and sugar to beans and stir well.
Mash some of the beans against the Instant Pot and stir to make thicker.
Serve and enjoy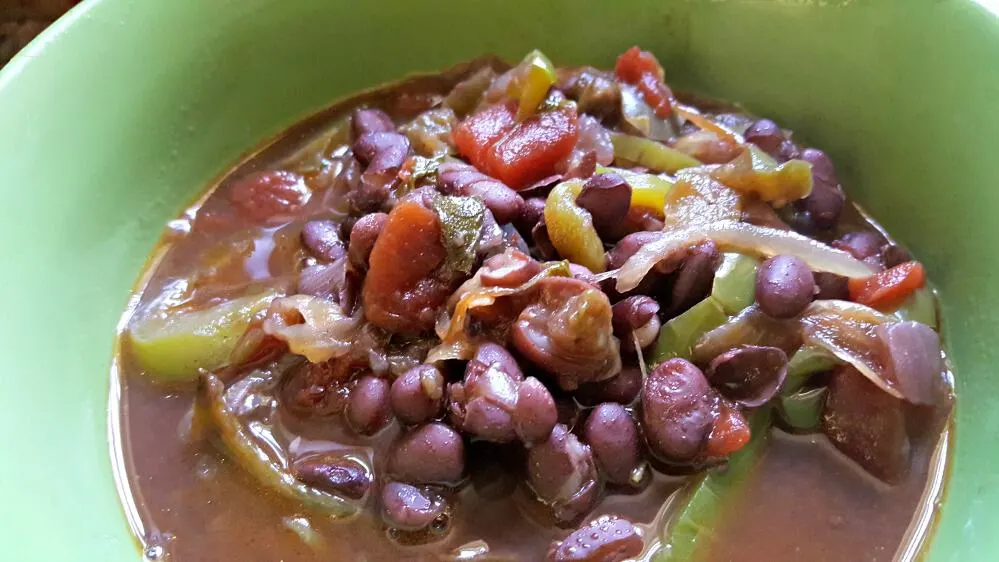 Makes 6-8 Servings.
Instant Pot Black Beans Recipe
Instant Pot Cuban Black Beans. So delicious, they're Abuela approved.
Ingredients
1 lb. black beans
1 large green pepper, seeded and chopped
1 medium onion, peeled and chopped
8 sprigs coriander (you can use cilantro)
1 tsp oregano
1 Bay Leaf
1/4 pound salt pork, quartered (or ham hocks)
14 ounce can diced tomatoes
1/4 cup white, distilled vinegar
1 tsp sugar
32 oz. chicken stock
Sofrito Ingredients:
2 green bell peppers, seeded and cut into thin strips
1 large onion, cut into thin strips
3 Tbsp. Olive Oil
1 Clove Garlic, minced
Instructions
Add all ingredients, except vinegar, sugar, and sofrito, to Instant Pot.
Chicken Stock should cover the beans to a depth of 1.5 inches above beans–you may need more or less water by this measurement.
Place lid on Instant Pot
Close vent and set to manual 25 minutes.
While the beans are cooking, add all sofrito ingredients to the pan and cook until onions and peppers are soft.
When Instant Pot beeps, let rest on natural release for 10 minutes.
Release pressure.
Once depressurized, remove the lid.
Add sofrito to beans and stir well.
Add vinegar and sugar to beans and stir well.
Mash some of the beans against the Instant Pot and stir to make thicker.
Serve and enjoy
Nutrition Information:
Yield:

8
Serving Size:

1
Amount Per Serving:
Calories:

343
Total Fat:

21g
Saturated Fat:

5g
Trans Fat:

0g
Unsaturated Fat:

12g
Cholesterol:

16mg
Sodium:

760mg
Carbohydrates:

28g
Fiber:

8g
Sugar:

7g
Protein:

12g
Nutritional Information may not be accurate